23rd ASEAN Summit opens in Brunei
Updated: 2013-10-09 11:14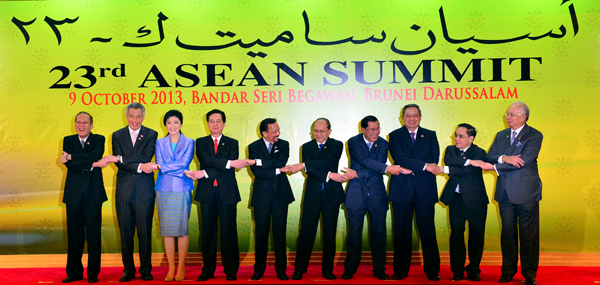 Philippines' President Benigno Aquino, Singapore's Prime Minister Lee Hsien Loong, Thailand's Prime Minister Yingluck Shinawatra, Vietnam's Prime Minister Nguyen Tan Dung, Brunei's Sultan Hassanal Bolkiah, Myanmar's President Thein Sein, Cambodia's Prime Minister Hun Sen, Indonesia's President Susilo Bambang Yudhoyono, Laos' Prime Minister Thongsing Thammavong and Malaysia's Prime Minister Najib Razak link hands as they pose during the family photo at the 23rd ASEAN Summit in Bandar Seri Begawan, Oct 9, 2013. [Photo/Agencies]
BANDAR SERI BEGAWAN - The 23rd Association of Southeast Asian Nations (ASEAN) Summit kicked off here Wednesday morning, gathering leaders from 10 ASEAN member states.
Themed "Our People, Our Future Together," the summit is expected to review the progress towards the realization of the ASEAN Community by 2015 and discuss ways to consolidate the achievements, in order to meet the 2015 target of having an economically integrated, politically cohesive and socially responsible ASEAN Community.
In addition, the ASEAN leaders will meet with their counterparts and leaders of ASEAN's dialogue partners to discuss wide-ranging cooperation in the political-security, economic and socio-cultural spheres.
The summit will also see the handover of ASEAN chairmanship to Myanmar, which will assume leadership of the regional bloc for the first time on January 1, 2014.
Formed in 1967, ASEAN groups Brunei, Cambodia, Indonesia, Laos, Malaysia, Myanmar, the Philippines, Singapore, Thailand and Vietnam.
Related
2013-10-09 08:15:56
2013-10-09 07:20:50
2013-10-09 06:41:54
2013-10-09 00:49:23
Oct 9-11: Attend East Asia Leaders' Meetings and Pay State Visit to Brunei

Oct 11-13: Pay State Visit to Thailand

Oct 13-15: Pay State Visit to Vietnam