Asian 'safety net' stressed
Updated: 2013-10-11 00:52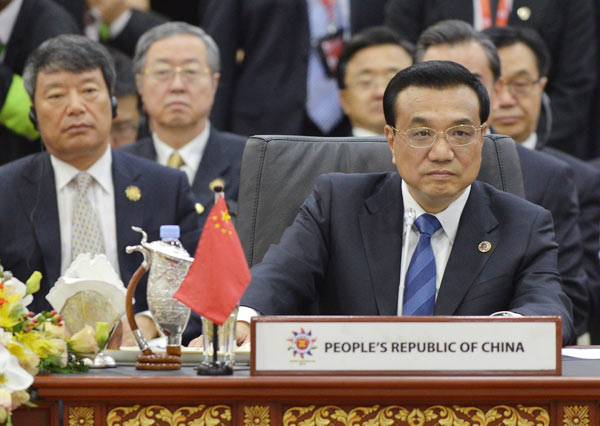 Premier Li Keqiang attends a summit with leaders from ASEAN, China, Japan and South Korea in Bandar Seri Begawan, Brunei, on Thursday. Philippe Lopez / Agence France-Presse
Premier calls for better use of regional foreign exchange pool
Premier Li Keqiang called on Southeast and East Asia to improve the regional financial firewall on Thursday by better using a regional foreign exchange fund, among other measures.
A multilayer regional financial safety net should be improved to help withstand global market volatility, Li said at a summit that brought together leaders from the Association of Southeast Asian Nations plus China, Japan and South Korea, in Bandar Seri Begawan, Brunei.
Analysts said Li's call comes as Asian markets have recently been hit hard by the US plan to pull back from a liquidity-boosting program, a decision that Washington later said it would reconsider.
Li said measures to strengthen regional financial cooperation can include boosting domestic foreign exchange reserves, expanding the regional foreign exchange pool and improving bilateral currency swap mechanisms.
Li pledged to "improve and work out the details of operating procedures for the $240 billion foreign exchange pool and explore the possibility of improving the use of local currencies" under the framework of a currency swap arrangement known as the Chiang Mai Initiative Multilateralization.
These measures can help maintain financial stability and enhance economic efficiency, a former official said.
Wei Benhua, former deputy chief of the State Administration of Foreign Exchange, said the initiative has become an important fighting fund for Asia during financial crises.
The $240 billion bailout fund is a firewall to protect Asia from the spillover effect of financial meltdowns in other regions, Wei said.
He said the fund needs to be expanded as it appears small compared with the $590 billion value of its European equivalents, the European Financial Stability Fund and the European Stability Mechanism.
The initiative was signed by finance ministers of the 10 ASEAN member states along with China, South Korea and Japan in 2000 in Thailand.
In recent years, China has signed many currency swaps with other economies to facilitate trade and cut reliance on the US dollar.
According to the People's Bank of China, the central bank, China has signed currency swap agreements worth more than 1.4 trillion yuan ($228 billion) with ASEAN countries.
From 2009 to June, yuan-denominated cross-border settlements had exceeded 1.12 trillion yuan. So far, the yuan can be exchanged directly with the Malaysian ringgit and the Thai baht.
In the first half the year, trade between China and ASEAN reached $210.6 billion, up 12.2 percent year-on-year. Last year, trade was $400 billion, nearly six times the level 10 years ago.
China is ASEAN's largest trading partner, while ASEAN is China's third-largest.
Song Hong, a senior researcher at the Institute of World Economics and Politics under the Chinese Academy of Social Sciences, said the regional currency cooperation is expected to stabilize trade in East Asia and help internationalize the yuan.
"China and ASEAN will face challenges when the US decides to quit the monetary easing policy, which may bring fluctuations in exchange rates, cross-border trade, property and equity prices," Song said.
Steve Brice, chief investment strategist of Standard Chartered Bank, said Asian currencies are likely to drop sharply when the US decides to quit the quantitative easing policy.
"Asian policymakers will need to address external imbalances or risk facing renewed currency weakness," Brice said.
On Thursday, Li also called to push forward economic integration in East Asia and complete negotiations on the Regional Comprehensive Economic Partnership before 2015.
The moves will make China and ASEAN serve as a main growth engine of the world economy, Li said.
The global economic recovery remains difficult, he said.
Contact the writers at lixiaokun@chinadaily.com.cn and chenjia1@chinadaily.com.cn
Related
2013-10-10 23:18:33
2013-10-10 21:17:22
2013-10-10 19:43:17
2013-10-10 18:58:31
2013-10-10 18:52:27
2013-10-10 14:59:49
Oct 9-11: Attend East Asia Leaders' Meetings and Pay State Visit to Brunei

Oct 11-13: Pay State Visit to Thailand

Oct 13-15: Pay State Visit to Vietnam