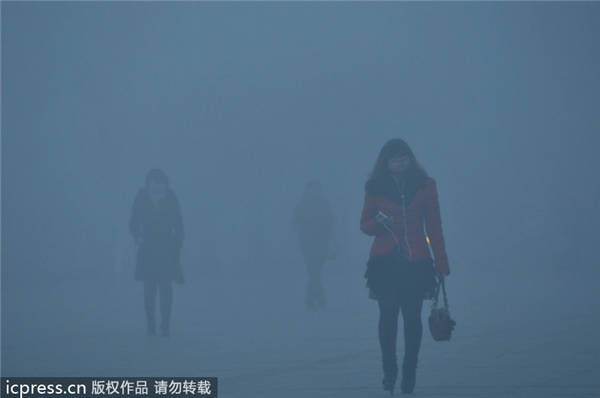 Pedestrians walk in thick smog in Wujiaqu city of Northwest China's Xinjiang Uygur autonomous region on Nov 20, 2013.[Photo/icpress.cn] 
HANGZHOU -- Municipalities and provinces of East and North China started seeing a new round of smog on Friday after days with no wind.
The National Meteorological Center issued a yellow warning on haze at 2 pm on Friday, forecasting medium or serious haze in Beijing, Tianjin, and the provinces of Hebei, Shanxi, Shaanxi, Henan, Shandong, Anhui, Jiangsu and Zhejiang.
In east China's Zhejiang Province, smog lingering from late Thursday left the air quality in the cities of Hangzhou, Huzhou, Jiaxing and Shaoxing at seriously polluted levels, according to the website of provincial environment protection department.
"The sun is right out there, but the sky is grey. My newly washed car has turned dusty," said Lu Jing, a resident in Hangzhou, the provincial capital, wearing a mask on street.
According to the provincial weather station, the smog will not disperse until late Saturday, when a cold front with rain is expected to hit the province.
The polluted air also caused traffic accidents.
In Zhejiang's neighboring Anhui province, a pile-up involving at least 20 vehicles triggered a fire, which engulfed six of the vehicles at around 8 a.m. on Friday along the expressway between Shanghai and Shaanxi Province. At least four people were killed in the incident, according to local firefighters.