Xi to US: Ease up on economic, trade blocks
Updated: 2012-02-19 08:12
By Wu Jiao and Chen Weihua (China Daily)
| | | | | | | | | | | |
| --- | --- | --- | --- | --- | --- | --- | --- | --- | --- | --- |
|   | | Comments() | | Print | | Mail | | Large Medium  Small | 分享按钮 | 0 |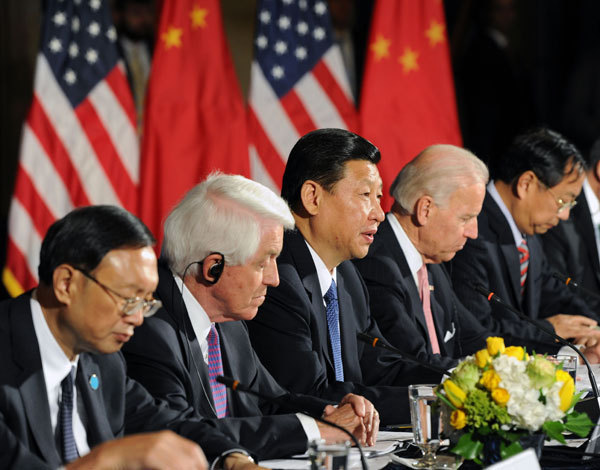 Vice-President Xi Jinping (center) and US Vice-President Joe Biden (second right) participate in a US-China roundtable with business leaders at the US Chamber of Commerce in Washington on Tuesday. [Photo/Xinhua] 
Vice-President urges United States to do its part in advancing economic and trade ties with China
LOS ANGELES / NEW YORK - Visiting Chinese Vice-President Xi Jinping urged the United States to remove trade barriers to further advance economic and trade ties between the two countries.
"The most effective way to reverse the China-US trade imbalance is not to restrict China's exports to the US but rather to expand US exports to China," Xi told the US-China Economic and Trade Cooperation Forum held on Friday morning in Los Angeles, the last stop of his five-day trip.
He was more specifically calling for the US to ease its restrictions on high-tech exports to China, a call he made repeatedly during the visit.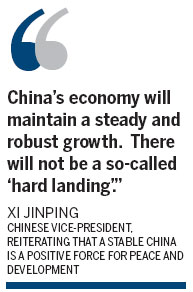 "The restrictions have caused many competent US companies to lose the potential opportunities in the Chinese market," Xi said.
Between 2001 to 2011, China's high-tech imports expanded from $56 billion to $463 billion, with a yearly increase of 23.5 percent on average. Yet in the same period, the share of US high-tech products in China's total high-tech imports plunged from 16.7 percent to 6.3 percent.
"If in 2011, the share of US products in China's total high-tech imports had been kept at the 2001 level, then the US exports to China would have increased by as much as $50 billion," Xi said.
"It is clear that relaxing export control on China is highly beneficial to the US," he said.
Xi said that a prosperous and stable China will not be a threat to any country and it would only be a positive force for peace and development.
Xi described the year 2012 as a crucial year for the implementation of the 12th Five-Year Plan (2011-15).
"China's economy will maintain a steady and robust growth. There will not be a so-called 'hard landing'," he said.
Xi also noted that during the 12th Five-Year Plan, China will expand domestic consumption, import, outward investment and innovation, while the US government is promoting its National Export Initiative and vigorously attracting foreign investment.
"These mutually complementary macroeconomic policy goals offer new, important opportunities for China and the US to deepen economic cooperation and trade," he said.
By 2015, China's total social retail sales are expected to reach 32 trillion yuan ($5 trillion), its domestic market will become one of the largest in the world, its total imports are expected to hit $8 trillion, and its total outbound investment will surpass $500 billion, according to Xi.
"This will create enormous business opportunities for countries around the world. We hope that the US will seize the opportunities to increase the export of competitive civilian high-tech products to China," he said.
Although the US relaxed barriers on some of its high-tech exports to China in 2007, many of the past restrictions still remain in place.
Hot Topics
Wu Ying, iPad, Jeremy Lin, Valentine's Day, Real Name, Whitney Houston, Syria,Iranian issue, Sanyan tourism, Giving birth in Hong Kong, Cadmium spill, housing policy