Open letter about father tugs Party chief's heartstrings
Updated: 2012-03-02 08:23
| | | | | | | | | | | |
| --- | --- | --- | --- | --- | --- | --- | --- | --- | --- | --- |
|   | | Comments() | | Print | | Mail | | Large Medium  Small | 分享按钮 | 0 |
Son's protracted search for hospital highlighted problems in system
SHANGHAI - The day after he wrote an open letter to the Party chief of Shanghai complaining about problems in the healthcare system, Qin Ling was shocked when he answered his phone.
"Hello. This is Yu Zhengsheng," said the Shanghai Party chief.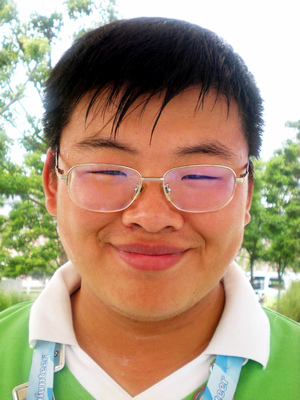 Qin Ling: son of a patient with terminal cancer who just passed away. [Photo/China Daily]
Qin had written the letter on Tuesday after spending months trying to find a hospital to admit his father, who had terminal cancer.
He wanted to raise his concerns about the healthcare system but never expected the Party chief would call him personally and inquire whether his father has found a hospital for treatment.
"Yu responded to all my requests. My heart is full of gratitude to many people," said Qin on Thursday morning.
Unfortunately, Qin's 59-year-old father, who was set to retire from a State-owned enterprise next year, passed away on Thursday night.
He had been diagnosed with advanced lung cancer three months ago.
"I felt at ease after this call. Yu told me they are aware of the difficulties for patients with advanced cancer getting hospitalized owing to current problems in the healthcare system, and they will try for an early breakthrough," continued Qin, 26, a Chinese teacher at Shanghai No 3 Girls' High School.
After being sent from one hospital to the next and turned down because the hospitals want to be available for more patients with good prospects, Qin wrote an open letter about the experience to Yu through social networking services on Tuesday.
The letter was forwarded widely on micro blogs.
He proposed four appeals in the letter, including providing a dignified, stable and safe medical treatment environment for patients in advanced stages of cancer.
"An intense environment of seeing patients trapped in pain and hardship seeking treatment made me reflect on the dignity of patients. I just wanted my father to live a better life, and for other fellows to experience less pain," he said.
Before making the phone call, Yu wrote back to Qin on Wednesday through the official micro blog of the Shanghai municipal government and expressed the heartache he felt reading Qin's story, and promised to try his best to help him.
"We are all in favor of your four appeals, especially the one about the care for patients with advanced cancer, and we will fight to make progress with the system. I cannot guarantee the problems can be solved soon, but I believe our common view will propel us forward," reads the letter.
Qin said he didn't write the letter to put pressure on hospitals.
"I can feel that doctors are dedicated and reliable. Yu said we will make progress, and I'm sure I can see it," Qin said, trying to keep his tears back after having just heard his father's situation was deteriorating earlier on Thursday.
With his chubby baby face, Qin impresses people with his cheerfulness and optimism. He hoped the public could move the focus from him onto healthcare reform so that more patients like his father will get relief.
Yet such problems with the healthcare system are not restricted to Shanghai.
"Patients with terminal cancer are rejected by almost all the hospitals. Even if they find a place by pulling strings, they can only stay in emergency rooms or corridors. It's like they can only fend for themselves," a micro-blogger named "huy0319" commented on Thursday.
Sun Liying, head of the transplant medicine department at Tianjin First Center Hospital, said doctors sincerely hope all patients receive good treatment.
"But with limited resources, hospitals can only maximize the benefits of effective treatment for the majority," she said.
She also suggested training more special nursing workers, because nursing care is important for terminally ill patients.
"This can also help solve the problem that critically ill people are rejected by nursing homes, and their families often fail to provide good care owing to a lack of professional practice," said Sun.
Qin said what he wanted was just to fulfill his duty as a son.
"Changes in the system will not happen overnight, but we can push it forward with our strength," he said. "I believe more people suffering from terminal cancer like my father will have a good environment for medical treatment in the future."
Hot Topics
Wu Ying, iPad, Jeremy Lin, Valentine's Day, Real Name, Whitney Houston, Syria,Iranian issue, Sanyan tourism, Giving birth in Hong Kong, Cadmium spill, housing policy