A date with customers leaves everyone happy
Updated: 2012-02-28 08:22
By Wang Ru and Liu Mingtai (China Daily)
| | | | | | | | | | | |
| --- | --- | --- | --- | --- | --- | --- | --- | --- | --- | --- |
|   | | Comments() | | Print | | Mail | | Large Medium  Small | 分享按钮 | 0 |
CHANGCHUN - Mehmet didn't expect to find so many warm hearts during such a cold winter far from home.
The 23-year-old, from Moyu county, Hotan prefecture in the Xinjiang Uygur autonomous region, on Monday sold out his 6,500 kilograms of jujubes from his hometown, which relies on the Chinese dates for income.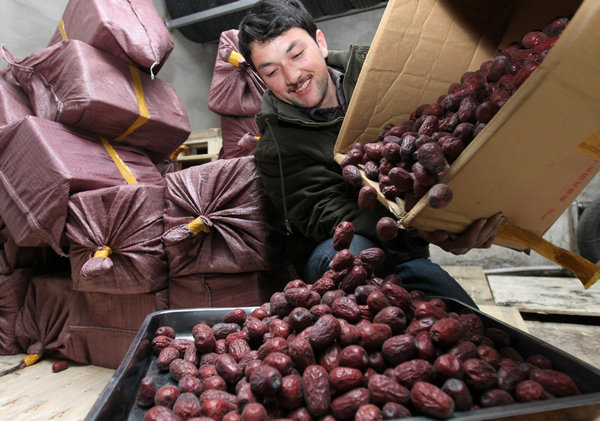 Mehmet unpacks jujubes, which he introduced to a local supermarket, in Changchun, Jilin province, on Sunday. [Che Ying / for China Daily]
A junior student in Jilin University of Agriculture, Mehmet studied agricultural techniques, but like others in his village was unable to predict the market.
On Monday, however, at two supermarkets in Changchun, Jilin province, hundreds of customers lined up to buy Mehmet's jujubes, which had traveled 5,300 kilometers from his hometown.
"Hotan jujubes are very famous," said Zhao Xin, marketing director of the supermarket, which helped Mehmet without taking a profit.
"I think people really want to lend a hand to help the young man and his villagers," Zhao said.
Seventeen volunteers organized themselves to help Mehmet sell his jujubes in the supermarket, while the Changchun Longjia Airport coordinated to transport the jujubes.
Wang Song, who lives in Changchun, went to Xinjiang 10 years ago for his transport business.
He came to help Mehmet in the early morning.
"Many local people in Mehmet's hometown helped me when I was in trouble, now I want to return the favor," said Wang.
Last October, Mehmet's family and another 70 households in his village in Moyu had another harvest of jujubes, their major source of income, they but didn't feel happy at all.
Usually, many wholesalers come to the village to collect the jujubes. However, few appeared last year.
More than a million kilograms of jujubes were piled up in the villager's yards. Most of the villagers can barely speak Mandarin or use the Internet.
They put all their hope on Mehmet, the only college student studying out of town and with direct connection to the market.
Mehmet's family planted 2 hectares of jujube trees and collected more than 10,000 kilograms of jujubes last year, all unsold.
Mehmet brought some jujubes to sell on campus and online, but it didn't help much in the beginning.
Then Tong Xin, Mehmet's campus instructor, heard of his struggle and offered her help.
"Mehmet is a hardworking and excellent student who is always helpful when others are in need. I don't want to see him suffering from this. By helping to solve his worry, we hope to bring him back to focusing on his studies," said Tong.
Tong sent messages to more than 500 students about Mehmet's problem and within two days she received an order for 200 kilograms.
She asked Mehmet to deliver the jujubes.
Cheap and delicious, Mehmet's jujubes sold out quickly. Within one month, Mehmet sold more than 3,000 kg jujubes on campus.
"I didn't know most of the buyers," said Mehmet, often impressed by the line out of his dormitory and lab as people waited for the jujubes.
"I'm even selling jujubes in my dreams. No matter how hard it is, I will help my fellow villagers," said Mehmet, who used any spare time to sell jujubes.
Earlier this month after Mehmet's story was picked up by China Central Television and spread on micro blogs, orders from across the country started to flood in.
"I'm the son of a farmer and I don't know how to express my gratitude," said Mehmet, who has transferred the sales of jujubes to his uncle as his new semester starts.
"It still takes time to sell all the jujubes from our village, but I've done my best. As a student I shall focus on my study."
Hot Topics
Wu Ying, iPad, Jeremy Lin, Valentine's Day, Real Name, Whitney Houston, Syria,Iranian issue, Sanyan tourism, Giving birth in Hong Kong, Cadmium spill, housing policy