Girl attacked by spurned classmate
Updated: 2012-02-27 07:59
By Shi Yingying and Ma Chenguang (China Daily)
| | | | | | | | | | | |
| --- | --- | --- | --- | --- | --- | --- | --- | --- | --- | --- |
|   | | Comments() | | Print | | Mail | | Large Medium  Small | 分享按钮 | 0 |
HEFEI - A pretty teenager suffered horrific burns to her face and body when she was splashed with lighter fluid after she had spurned the advances of a classmate.
Zhou Yan, 17, incurred second and third-degree burns to 30 percent of her body, particularly around her head, neck and chest, following the alleged attack by 17-year-old Tao Rukun in the bedroom of her home last September.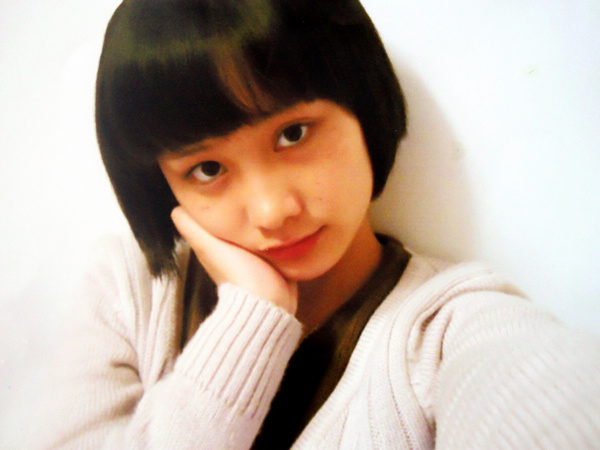 A picture of Zhou before she was disfigured in the attack. [Provided to China Daily]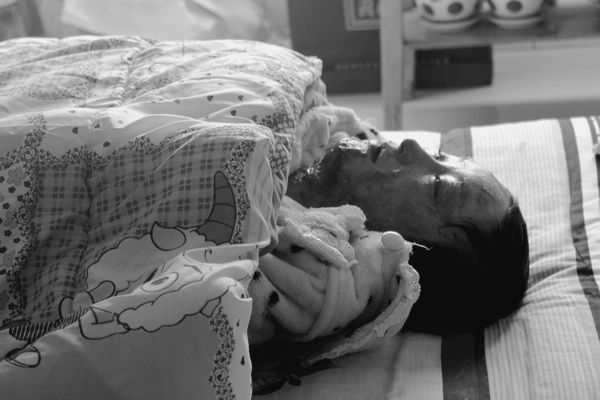 Zhou Yan receives treatment for her burns on Sunday in her bedroom, where the attack took place. [Sun Lingjuan / for China Daily]
Zhou required intensive care in hospital for a week before she was out of danger, but after months of treatment, she has had to leave hospital prematurely and is now recovering at home - in the bedroom where the attack took place.
This is due to a dispute between her family and Tao's over payment of medical expenses.
According to Zhou Yan's mother Li Cong, Tao started asking Zhou to be his girlfriend a few years ago. Li then transferred her daughter to another junior middle school to get away from Tao, but to no avail.
"Tao's parents were nice to us and frequently visited my daughter in hospital at first. But all that changed when Xu Congxiao, Tao's mother, asked me to sign the paperwork for her son's bail appeal while he awaited trial," Li Cong said in an interview with local television.
Li added that Tao's parents were local government officials. Tao's father works for Hefei urban planning bureau and his mother is with Hefei Audit Bureau.
"My sister refused to sign the paper as it did not represent what happened," said Zhou's aunt Li Yun, who was the only witness to the scene.
"Fire engulfed Zhou, especially her head, and Tao was in shock. He neither tried to help nor dialed 120 and he didn't voluntarily stay in our company that night when Zhou Yan got burnt. We asked him to stay."
After help with their son's bail request was refused by Li Cong, Tao's parents refused to pay any further medical bills. Zhou Yan was then transferred to her home in December when her family fell into arrears of more than 100,000 yuan ($15,900)in medical expenses, said local media.
"Tao's parents paid a total of 338,000 yuan and left the rest uncovered," said Li Yun. "But that was not what they promised. They said they'd even go to South Korea to get Zhou cosmetic surgery."Li Yun was in tears when she recalled her niece's condition just after the horrific attack.
"She was in an extremely unstable situation when she first woke up. She refused to eat, cried every day and kept biting her tongue in agony because she couldn't move.
"I can't forget her face when she heard she had to go back to her own bedroom," Li Yun said, adding she had redecorated and furnished Zhou's bedroom. "Her old headboard was burned black."
Both Zhou's parents worked for Unilever. "But Li Cong quit her job after her girl was burned and their lives depend on the 1,500 yuan monthly salary of the father," said a neighbour, who did not wish to be named.
But the family's plight received wide media and public attention last week, when Li Cong posted their story and "before and after" pictures of her daughter on Sina Weibo.
Li Zhixian, a lawyer assigned to Zhou Yan after Li Cong applied for legal aid, said Tao Rukun may face a jail sentence of at least 10 years or even the death penalty for the crime of intentional injury.
"However, a lesser sentence is also possible as Tao is under 18 years old," said Li, a lawyer with King A&P Law.
"In the meantime, Zhou's mother wants Tao's family to cover her daughter's medical expenses in full, which is unlikely to happen, going by their response at the moment," she said.
Tao Rukun was arrested by Hefei police on Sept 18, the day after the attack, and is currently being held at the First Detention Center in Hefei.
His father Tao Wen posted an apology letter on weibo on Saturday, saying he would do everything possible to help Zhou Yan and would accept the legal judgment on his son.
Cao Wei and Sun Lingjuan contributed to this story.
Hot Topics
Wu Ying, iPad, Jeremy Lin, Valentine's Day, Real Name, Whitney Houston, Syria,Iranian issue, Sanyan tourism, Giving birth in Hong Kong, Cadmium spill, housing policy