Thousands in lead-laden area to move
Updated: 2012-02-27 07:42
By An Baijie and Xiang Mingchao (China Daily)
| | | | | | | | | | | |
| --- | --- | --- | --- | --- | --- | --- | --- | --- | --- | --- |
|   | | Comments() | | Print | | Mail | | Large Medium  Small | 分享按钮 | 0 |
Many children still being treated for health effects of poisoning
LINGBAO, Henan - Thousands of villagers in the lead-contaminated regions of Lingbao, in Central China's Henan province, are scheduled to move in May into newly-built houses that are a safer distance from lead refineries, local government officials said.
Zhao Tie'an, head of Yuling township in Lingbao, told China Daily that the government has built 102 houses for the residents of Xiayao village, where 355 out of 364 children under age 14 were found to have excessive lead in their blood last July.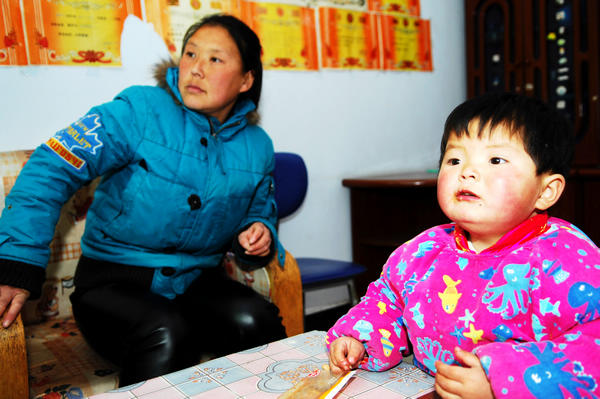 A 2-year-old girl, who was found with twice the normal level of lead in her blood last July, after media exposed pollution at local factories, is cared for at home by her mother Ren Hongmei in Jiankou village, Lingbao. [Xiang Mingchao / China Daily]
By the end of May, more than 3,000 villagers in Jiankou village, which neighbors two lead factories, will also move to a safer place 5 kilometers away, the official said.
The government suspended production at the lead factory in Yuling township immediately after the exposure by China Central Television on July 9 that, in a sample investigation, as many as 87 percent of children in the township had excessive lead, Zhao said.
The soil around the township's lead factory had lead measuring more than four times the normal level, according to the China Central Television report.
Children are the group most vulnerable to lead poisoning, since the metal is heavier than the air and usually floats in the lower air or sinks into the soil, Liu Ren, deputy director of the Lingbao bureau of health, told China Daily.
Absorbing excessive amounts of lead can affect the function of the neural, digestive and reproductive systems and cause many symptoms, including stomachaches, anemia and convulsions, Liu said.
Two other lead factories in the south suburb of Lingbao's downtown region also have halted production, Feng Xiaolong, an official of the publicity department of Lingbao government, said.
Historical problem
The lead pollution in Lingbao is a "historical problem" that used to be even worse over the past several years when refinery technology was not as advanced, Feng said.
"Before 2005, there used to be at least 37 small-scale lead refinery plants run by individuals who seldom had any sense of environmental protection and had caused serious lead pollution at that time," Feng said. "The government closed all of the small-scale factories in 2005 and restructured them into three big lead refinery factories with advanced equipment and technologies."
Lingbao is full of lead mineral reserve, with a detected amount of 600,000 tons, and the local government intended it to become the "capital of lead", according to a report of the Zhengzhou-based Dehe Daily in 2005.
Feng said the government has downplayed the label "capital of lead" since 2006 because of the possible environmental problems.
"Even though the local government has closed all of the three lead factories in July, the financial revenue has also increased by more than 20 percent, showing that we could develop well enough without the lead industry," Feng said.
Ren Hongmei, a 37-year-old woman in Jiankou village whose 2-year-old daughter was found to have excessive lead in her blood in July, said that her daughter kept losing hair, which made her quite worried.
"I did not know what the reason was until the doctor told me that she has a higher level of lead in her blood, which is two times higher than normal," she said.
Lu Wuqiang, 43, from the same village as Ren, said his 7-year-old son complained of feeling weak and was sweating excessively last year. A test in July showed that he had a high level of lead in his blood.
"My son is less than 1 meter high and shorter than his peers in the urban area, and I don't know whether it was caused by the lead in his blood or by malnutrition," Lu said. He added that his family's annual income is less than 5,000 yuan ($790) and the family could not afford nutritious food for the child.
Lu said the factory used to pay the villagers a health allowance of 1 yuan for each adult per day and 2 yuan for each child in 2008 and 2009, but he used all of the money for the family's daily expenses.
The local government implemented a package of measures following the discovery of lead-poisoning cases in July, and some of the measures have proved effective, according to Feng Xiaolong.
"We have conducted a nutrition intervention plan, under which all of the children in the polluted regions will be moved to a safer place and have special food every day to help them expel the lead from their bodies," Feng said.
The food provided to the children includes at least one egg, one bottle of milk and three hot dishes for every meal. The aim of the nutritious food is to help children expel the lead from their bodies.
Difficult to recover
Hot Topics
Wu Ying, iPad, Jeremy Lin, Valentine's Day, Real Name, Whitney Houston, Syria,Iranian issue, Sanyan tourism, Giving birth in Hong Kong, Cadmium spill, housing policy