Man of steel offers China solid advice
Updated: 2012-02-24 07:48
By Du Juan (China Daily)
| | | | | | | | | | | |
| --- | --- | --- | --- | --- | --- | --- | --- | --- | --- | --- |
|   | | Comments() | | Print | | Mail | | Large Medium  Small | 分享按钮 | 0 |
Editor's note: China announced its top science awards - considered the country's answer to the Nobel Prize - on Feb 14. Among the laureates were eight foreign scientists, who won the International Science and Technology Cooperation Award for their contribution to China's science and technology progress. China Daily talked with two of them and shared their experience and vision about China's future in the sector.
BEIJING - Chinese steel companies are rapidly catching up with their Japanese counterparts in manufacturing high-quality products.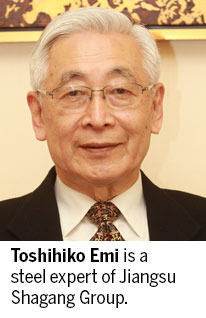 That's the message from Toshihiko Emi, director of the Institute of Research of Iron and Steel, Shasteel, who was awarded the International Science and Technology Cooperation Award in Beijing earlier this month.
The difference between the two steel industries is narrowing month by month, said Emi, 77, who also acts as assistant to the chairman of Jiangsu Shagang Group.
Emi, who has been in charge of construction and operations at the institute for six years, said he joined the group when the company needed to integrate advanced technology into production.
His research and development work proved very successful for the Chinese steel industry. He launched 101 research projects, which contributed to 2 million tons of new products with sales of 8.8 billion yuan ($1.4 billion) by the end of 2010.
"It is easier to buy advanced equipment than to train people to operate it and control the production process," he said. "But the latter is much more important for a company."
The Japanese steel industry has a longer history and better technology than its Chinese counterpart, but Emi said China now has some advantages in development.
"The major Japanese steel companies suffered a loss last year because of the rising value of yen, tripled labor costs and rising raw material prices," he said. "But China, because of its high import levels, can buy iron ore and coal at relatively lower prices with a discount."
To support domestic production, China also has been seeking to invest in mines in countries such as Australia, Canada and several in Africa, Emi said.
"In addition, China has a steadily growing domestic market for steel products, while the Japanese steel industry depends highly on exports, which adds to its difficulties in sales," he said.
However, Emi estimated that the Chinese steel industry will face similar problems in 10 years' time.
Iron ore prices have been increasing and steel prices have been falling in recent months, which has resulted in big losses for many Chinese steel companies.
But Emi believes this is due to the depressed international market and will not continue for long.
Meanwhile, he advised Chinese steelmakers to concentrate more on making products with the end customers in mind.
"Steel products are the same as other products and need to better meet demand from customers," he said. "It is very important for the design sectors to realize what the customers really want, and then come the profits."
Hot Topics
Wu Ying, iPad, Jeremy Lin, Valentine's Day, Real Name, Whitney Houston, Syria,Iranian issue, Sanyan tourism, Giving birth in Hong Kong, Cadmium spill, housing policy