To fugitives: there's nowhere to hide
Updated: 2012-02-14 07:22
By Zhang Yan (China Daily)
| | | | | | | | | | | |
| --- | --- | --- | --- | --- | --- | --- | --- | --- | --- | --- |
|   | | Comments() | | Print | | Mail | | Large Medium  Small | 分享按钮 | 0 |
84% arrested following operation aided by modern technology
BEIJING - Fugitive numbers have been slashed by 84 percent following a seven-month crackdown, an officer from the Ministry of Public Security said.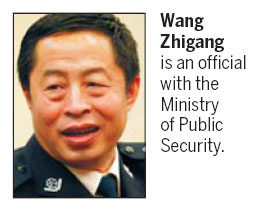 The crackdown, launched at the end of May, targeted nearly 320,000 fugitives who were listed online, said Wang Zhigang, deputy director of the police supervision department under the ministry.
A total of 2 million police officers nationwide participated in the crackdown and nearly 270,000 fugitives were arrested.
Police arrested 190 A or B-level fugitives, those wanted for the most serious crimes, such as murder, kidnap, drugs and rape, and 12,000 suspects were apprehended for questioning in relation to homicide.
Of those arrested, 23,000 had been on the run for more than 10 years.
Moreover, police arrested or persuaded 900 suspects to turn themselves in.
The number of prosecutions taken against the fugitives nationwide is not yet available but in Shenyang, capital of Northeast China's Liaoning province, 97 percent of the 3,400 fugitives detained will face trial.
"Many fugitives are allegedly involved in serious violent crimes, such as homicide, kidnapping, rape, drug trafficking and smuggling, which threaten social order," Wang said.
Fugitives were able to take advantage of shortcomings in law enforcement technology, but this has been tackled as can be seen by the results, Wang said.
"On committing crimes the first reaction was to escape and change their identity, getting new ID cards, even by having operations," he said.
However, loopholes still exist, he said and fugitives can sometimes find shelter in poorly regulated areas.
But generally speaking, technology has improved and is an increasingly useful tool in the fight against crime, he said.
"DNA, fingerprints, skull reconstructions and other technical advances have helped us catch suspects on the run."
A special pursuit unit, with 247 police officers, was established in Shenyang, Xu Wenyou, director of its public security bureau, told China Daily.
"Criminals leave traces of their activities and phone calls, and we use these traces to track them down," Xu said.
Besides, Wang said, some who have escaped overseas have been persuaded to turn themselves in with the help of other police forces.
China has signed extradition treaties with 37 countries and criminal justice agreements with 47 others, he said.
The public have also helped by reporting anything suspicious. Last year the public provided 30,000 items of information but these led to more than 19,000 arrests, he said.
As for the fugitives still at large, Wang hoped they would offer to turn themselves in.
"We will adhere to relevant international conventions to protect human rights and other legitimate rights of fugitives in line with China's laws and regulations," he said.