Smuggled dinosaur nest may be a fake
Updated: 2012-02-09 08:14
By Cheng Yingqi (China Daily)
| | | | | | | | | | | |
| --- | --- | --- | --- | --- | --- | --- | --- | --- | --- | --- |
|   | | Comments() | | Print | | Mail | | Large Medium  Small | 分享按钮 | 0 |
Experts' opinions differ over veracity and worth of fossil back in China
BEIJING - A well-preserved nest of fossilized dinosaur eggs that was smuggled to the United States but returned to China may not be as valuable as first believed.
The 22 eggs are expected to clear customs at Beijing Capital International Airport this week and will be put on display at the Geological Museum of China.
According to a report in the Los Angeles Times, the dinosaur eggs, believed to be at least 65 million years old, were unearthed in Guangdong province in 1984 and purchased by an American collector in 2003 from a source in Taiwan. They entered the US through Florida.
However, Chinese experts now question their value.
Zhao Zikui, leading dinosaur expert at the Chinese Academy of Sciences' Institute of Vertebrate Paleontology and Paleoanthropology, believed the nest was probably faked and then sold outside China.
"Since the 1990s, a fascination for dinosaurs has swept across both China and the West, so dinosaur fossils, especially eggs, rose sharply in value," Zhao said.
"And making fake fossil eggs is simple, just using soil and fossilized eggshell fragments ."
In 2000, he said he saw farmers selling fossilized eggshell for between 100 and 120 yuan ($16 - 19) a kilogram.
According to Zhao, the farmers have been digging up actual fossil eggs and selling them for less than 10 yuan. The price rises to around 100 yuan when they reach Guangdong province or the place where they leave the country. After reaching Western countries, the price can increase tenfold.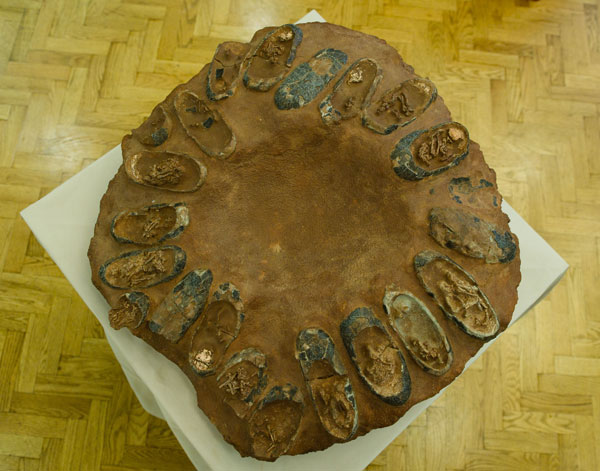 Twenty-two dinosaur eggs were returned to China in December. The nest, dated 65 million years old, is believed to have been smuggled to the United States. Mao Jianjun / China News Service