Govt aims to close income gap with wage hike
Updated: 2012-02-09 07:52
By Chen Xin (China Daily)
| | | | | | | | | | | |
| --- | --- | --- | --- | --- | --- | --- | --- | --- | --- | --- |
|   | | Comments() | | Print | | Mail | | Large Medium  Small | 分享按钮 | 0 |
BEIJING - The government aims to raise its minimum wage at least 13 percent each year from 2011 to 2015, according to a national employment promotion plan released on Wednesday.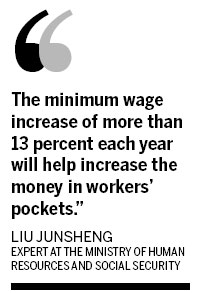 China raised its minimum wage by an average of 12.5 percent annually during the 2006-10 period, official figures showed.
The plan issued by the State Council stipulates that the minimum wage should be lifted to at least 40 percent of the average Chinese citizen's salary by 2015.
The proportion of the minimum wage to the average salary varies in different places, ranging from about 20 percent to 30 percent, according to Yang Yiyong, director of the social development research institute under the National Development and Reform Commission.
In Beijing, the minimum wage is 1,260 yuan ($200) a month, and in downtown Chongqing municipality, 870 yuan.
Liu Junsheng, a researcher with the labor and wage institute affiliated with the Ministry of Human Resources and Social Security, said a continuous rise of the minimum wage would most benefit low-income workers.
In many places, including more-developed coastal regions, many enterprises, especially small-and medium-sized ones, do not have a complete wage distribution system and still set workers' wages at a level meeting or slightly higher than the minimum standards, he said.
"The minimum wage increase of more than 13 percent each year will help increase the money in workers' pockets and will also be conducive to an elevation in the level of their social security," said Liu.
China's social security system ensures that the higher salary an employee earns, the more social security funds will be deducted from one's salary, meaning a higher pension after retirement. But there are upper limits that vary in different places.
According to the five-year wage plan, the country will continue and further reform its income distribution mechanism and encourage enterprises to set up scheduled salary increases by promoting collective negotiation on wages.
The government plans to extend collective bargaining to cover 80 percent of corporate work units in the country by 2015. The figure was 50 percent at the end of 2010, according to Xinhua News Agency.
Liu Junsheng said most State-owned enterprises have their own mechanisms for awarding pay raises, but many small-and medium-sized firms still do not have trade unions, through which the country pushes enterprises to conduct collective bargaining.
For firms that employ no more than 10 workers, they could join local industrial associations and then they could sit down with industrial trade unions to negotiate on collective contracts, Liu said.
"Collective bargaining might be the most efficient way for workers to get a raise in pay," he said.
About 450,000 catering industry employees in Wuhan, capital of Central China's Hubei province, would benefit from a collective contract signed by members of a local labor union and their employers in May last year, in which they would receive a monthly minimum salary that is 30 percent higher than the minimum wage paid in the city and they would enjoy at least a 9 percent increase in their wages within a year.
The employment promotion blueprint also promises to make adjustments to income distribution in some industries to close the income gap.
Yang Yiyong said the average income in the industry with the highest-paid workers is about seven times higher than that of the industry with the least paid. In the United States, the gap is about 3.5 times, he said.
The primary task in evening out the distribution of income is to ensure that low-income workers' wages increase faster, Yang said. An increase of only 13 percent is not enough for them to catch up with others because people in all classes will have their wages increased each year, he said.
"High-income workers in monopoly industries should have their wage increases awarded at a much slower pace. More financial and fiscal policies should favor small-and medium-sized enterprises to leave room for them to raise workers' salaries," he said.
The plan also aims to create 45 million jobs from 2011 to 2015 and keep the registered urban unemployment rate under 5 percent for the next five years.