Hit-and-run victim's family U-turn on compensation
Updated: 2012-02-08 16:12
(chinadaily.com.cn)
| | | | | | | | | | | |
| --- | --- | --- | --- | --- | --- | --- | --- | --- | --- | --- |
|   | | Comments() | | Print | | Mail | | Large Medium  Small | 分享按钮 | 0 |
The family of a woman who was stabbed to death to cover up a hit-and-run accident has demanded the 200,000 yuan ($31,780) compensation offered from the family of Yao Jiaxin who was executed for her murder.
The family of Zhang Miao initially refused to accept the financial offer eight months ago fearing it would lead to a more lenient sentence.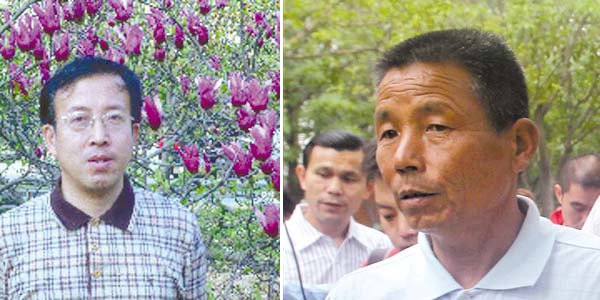 Yao Qingwei (L), father of Yao Jiaxin, and Zhang Pingxuan, father of Zhang Miao.[file photo]
"We refused to accept the money from Yao Qingwei (Yao Jiaxin's father) during the review of Yao's death sentence because we thought it was conditional – he was seeking a less punishment on his son. " Zhang Xian, attorney for Zhang Miao's family, wrote in a statement on behalf of the family on his Sina blog on Tuesday morning.
"(But)It's been eight months and Yao Qingwei still keeps the message on his microblog, which suggests his genuine and solid attitude. So we will accept the unconditional 200,000 yuan and will take the money from Yao on the morning of February 8."
And when Zhang Pingxuan, Wang Hui and Zhang Xian stormed in to Yao's downstairs apartment in Xi'an at around 11:30 am on Wednesday morning, their demand for the return of compensation was not well received.
Yao Qingwei did not appear, but Ma Yanming, his attorney did. And he was fully prepared for a faceoff with the trio.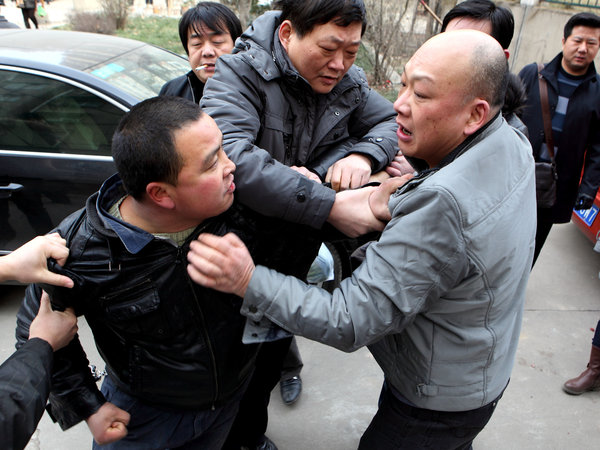 Wang Hui (L), husband of Zhang Miao, tussles with Ma Yanming (R), attorney of Yao Qingwei outside a residential building where Yao Qingwei lives in Xi'an, Northwest China's Shaanxi province, Feb 8, 2012. Wang, along with Zhang Pingxuan (father of Zhang Miao) and his attorney Zhang Xian came to Yao's house on Wednesday to collect 200,000 yuan compensation promised by the latter for his son's hit-and-run accident that killed Zhang Miao on Oct 20, 2010. [Photo/CFP]
A video clip (courtesy of the Chinese Business newspaper) showed that Zhang Xian yelled angrily outside Yao's residential building; and Wang Hui soon threw a couple of punches at Ma. The two engaged in a 10 seconds-long scuffle but were quickly separated by onlookers. Police arrived at around 12:30 pm and took both parties to a police station for mediation.
The notorious hit-and-run accident occurred on October, 20, 2010, when 21-year-old Yao Jiaxin, a college student in Xi'an city, knocked down cyclist Zhang Miao and stabbed her to death in order to cover up the incident. The Xi'an Intermediate People's Court handed him a death sentence for intentional killing on April 22, 2011 and his appeal of the sentence was rejected by the Shaanxi Provincial Higher People's Court on May 20.
The Supreme People's Court approved the capital punishment and he was executed on June 7.
According to Yao Qingwei, he and his wife visited Zhang Miao's family on May 26 and left them 200,000 yuan as a pension fund as Yao Jiaxin wished. The money was returned by Zhang's parents days later. But Yao Qingwei insisted keeping the fund for Zhang's family for future needs.
"This compensation is Yao Jiaxin's last wish, and we as parents will take good care of it." wrote Yao on June 5, 2011, two days before his son was executed.
Zhang's family admit they are now dealing with a financial crisis.
"It's our time of need now," said Zhang Pingxuan, father of Zhang Miao, in a telephone interview with the Beijing Times on Tuesday.
He revealed that his wife has become sick of late and it just hit him that they were promised the compensation fund kept by the family of their daughter's killer.
Donations from the public have also reportedly been generous. Fu Weigang, a Shanghai-based scholar, collected 545,000 yuan (400,000 in insurance) through fundraising on the Internet. Zhou Bin, a journalist from Guangdong, added around 220,000 yuan through a special foundation, said the newspaper.
However, Zhang Pingxuan claimed he wasn't aware of the sum, and that he has ran out the 100,000 yuan donation to cover his wife's medical expenses.
Yao Qingwei is also now refusing to honor the offer.
"I have no obligation to give them the money now, since Zhang refused to take it then and returned it." He said to the newspaper on Tuesday.
According to Yao, Zhang Pingxuan accepted the money at the first place, but returned it days afterwards. What's more, Zhang allegedly lied in later interviews about Yao's visit, insisting that he was not at home when Yao called.