Failure of mission hits Mars research
Updated: 2012-01-20 07:36
By Cheng Yingqi and Xin Dingding (China Daily)
| | | | | | | | | | | |
| --- | --- | --- | --- | --- | --- | --- | --- | --- | --- | --- |
|   | | Comments() | | Print | | Mail | | Large Medium  Small | 分享按钮 | 0 |
New objectives must be defined for next probe to the Red Planet
BEIJING - The loss of China's first interplanetary probe, attached to an ill-fated Russian spacecraft, has cost scientists the chance to conduct breakthrough research on Mars, a top scientist said.
New objectives must now be considered for a Mars exploration mission, probably in 2016, said Wu Ji, director-general of the National Space Science Center under the Chinese Academy of Sciences, in an exclusive interview with China Daily.
Yinghuo-1, launched in November two years later than originally planned from Kazakhstan on a Russian spacecraft, crashed into the Pacific Ocean on Monday.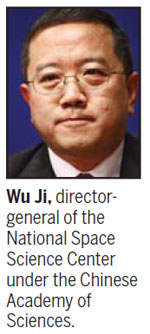 The Russian Phobos-Grunt spacecraft the probe hitchhiked on failed to fire two booster engines that would have set it on course for the Red Planet. No reason was given for the failure of the booster engines.
Wu said that the failure cost the center a chance to conduct research and come up with breakthrough findings before their counterparts in the United States.
"We had hoped that the micro-satellite could help us discover something about the atmosphere on Mars," Wu said.
The US will send a probe to Mars in 2013, he added.
As China's first probe to Mars, the Yinghuo-1 mission had been expected to explore the Red Planet's environment, climate history and look into why water had vanished from the surface, he said.
Those specific objectives were selected by the center in 2006 to differentiate China's mission from those of other countries. "Previous missions mainly focused on whether there is water and life on the planet, consequently humans have limited knowledge of the Martian atmosphere," he said.
NASA's Mars Atmosphere and Volatile Evolution (MAVEN) spacecraft, scheduled to launch in 2013, also aims to find about the Red Planet's atmosphere and climate history, among other tasks.
The MAVEN mission was selected in 2008 from 20 proposals submitted in response to a NASA Announcement of Opportunity in 2006.
Both countries are interested in the Martian atmosphere as it continues to be a cause of intrigue for scientists.
Mars once had a denser atmosphere that supported the presence of water on the surface. But it suddenly changed and scientists are unsure as to what exactly was behind it.
Wu said that with Yinghuo-1's failure, China has to wait until 2016, at the earliest, to launch a Mars probe.
"This means that the US MAVEN mission will get there before we do, and therefore we have to change our goals for the next Mars exploration mission to avoid findings being repeated," he said.
The China National Space Administration declined to comment on Yinghuo-1's failure and future Mars exploration plans.
According to a white paper, China's Space Activities in 2011, released by the China National Space Administration last month, China is conducting studies on a preliminary plan for an independent exploration of Mars.
Though the government has not yet approved the project, scientists agreed that exploring the planet is an inevitable route for China, a growing space power.
Ye Peijian, chief scientist of deep space exploration at the China Academy of Space Technology, told China Daily last year that China has developed the ability to closely monitor the Red Planet. This is due to a deep space network under construction, progress in developing the necessary launch vehicle and two lunar satellites.
China has launched two lunar probes since 2007, believed to be the first step of space exploration.
It marked a key success in November last year when it completed its first docking in orbit above Earth, a crucial step toward fulfilling its ambition to set up a manned space station by 2020.
In 2003, it became the third country to send humans into space, after Russia and the US.
Wu said the failure of Yinghuo-1 will not prevent China from conducting more interplanetary explorations.
Some 40 Mars probes have been launched in the past five decades but two-thirds have ended in failure.
China Daily