Government 'must utilize blogs better'
Updated: 2012-01-19 07:47
By Zhao Yinan and Wang Huazhong (China Daily)
| | | | | | | | | | | |
| --- | --- | --- | --- | --- | --- | --- | --- | --- | --- | --- |
|   | | Comments() | | Print | | Mail | | Large Medium  Small | 分享按钮 | 0 |
Minister stresses importance of keeping public fully informed
BEIJING - The government should better utilize micro blogs to provide information and improve transparency, a senior official said.
In the latest call for Party and government agencies to reach an increasingly Internet-savvy population, Wang Chen, minister of the State Council Information Office, said on Wednesday that agencies should open micro blog accounts to better understand public opinion and to respond to issues of public concern.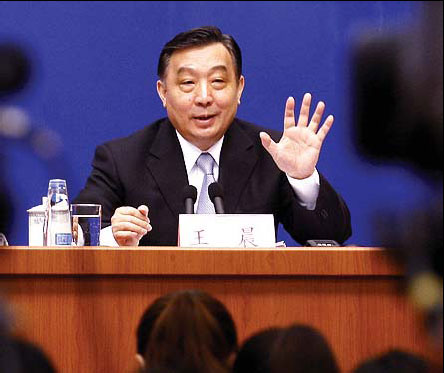 Wang Chen, minister of the State Council Information Office, talks to reporters at a news conference in Beijing on Wednesday. The coming year will see an enhancement of China's engagement with the international community so that the world can have a better understanding of the country, Wang said. [Photo/China Daily]
Describing micro blogs as an "important platform" for information and "a bridge" between the government and the public, Wang urged officials to keep their blogs up to date.
"Government micro blogs should provide information useful to the people, such as information about commerce, daily life and education," he said.
Micro blogs are increasingly popular in China, which has more than 500 million Internet users, more than any other country and far greater than the total population of the European Union.
More than 330 million Chinese people are registered micro blog users and at least 150 million entries are made daily.
Government agencies and Party departments at all levels have opened more than 50,000 micro blog accounts, and many of them help officials communicate with the general public.
Wang cited one particular micro blog as an example.
Chen Shiqu, head of the Ministry of Public Security's anti-trafficking task force, "has done tangible things for the public", Wang said.
Chen opened a micro blog on Dec 12, 2010 after being told that it would help authorities combat human trafficking, and this turned out to be true, he said. More than 2,000 tip-offs have been submitted to the blog, he said.
Chen also used the platform to raise public awareness of various legislation and show how his office can help reunite families.
Chen's micro blog has 1.36 million followers. These are people that he could not reach by conventional means, he said.
Zhang Jianshu, director of information service at the Beijing Municipal Health Bureau, however, said making a government micro blog popular is not easy.
The bureau opened its micro blog in November 2010 and has so far posted about 170 articles of information and has 48,000 followers.
Netizens don't respond much to our postings and we are trying to overcome this problem, Zhang told China Daily earlier.
An industry expert said government agencies should not open micro blogs just for show.
"The government should make full use of existing communication channels, while keeping pace with the latest technology," said Zhu Lijia, a professor at the Chinese Academy of Governance.
Internet supervision
With the growing popularity of micro blogs, Wang said regulations, such as registration, are needed to ensure the "rapid and healthy growth of the Internet".
A policy was introduced in Beijing last month requiring the names of micro bloggers to be registered. This was later extended to other major cities, including Shanghai and Guangzhou.
Wang said the policy now only requires that new micro blog users register "backstage" with their real name. This means that website administrators will see their names instead of Net users.
"The micro blog has changed the way we exchange information," but irrational, negative and harmful opinions can also be expressed, he said.
"Pornography, fraud and rumors" can be found on the Net and this can harm society, he said.
China established the State Internet Information Office in May last year to oversee cyberspace. The office, headed by Wang, aims to coordinate and supervise online content as well as investigate and punish websites violating laws and regulations.
Zhang Yan contributed to this story.