Weather puts rail system to test
Updated: 2012-01-16 08:17
| | | | | | | | | | | |
| --- | --- | --- | --- | --- | --- | --- | --- | --- | --- | --- |
|   | | Comments() | | Print | | Mail | | Large Medium  Small | 分享按钮 | 0 |
Snow, rain and fog may hamper plans of millions bound for their family reunions
BEIJING - Two high-speed rail lines were hit by extensive delays in the past few days and the system will be tested by snow and rain forecast for the coming week.
More than a dozen services on the Beijing-Shanghai high-speed line were held up for as long as two hours on Saturday, just as the Lunar New Year travel rush began to reach full swing.
Some passengers at the Shanghai Hongqiao Railway Station said they heard a loud explosion and saw a flash of light at about 1:30 pm on Saturday, according to posts widely distributed on micro blogs.
The most-distributed post on Sina weibo under the username NJ Zhou Hongwei, who is identified as the general manager of Nanjing-based Renren International Travel Service, said the G121 train he was on stopped on the Beijing-Shanghai high-speed railway near Wuxi, Jiangsu province, next to a G15 train that was "caught in fire".
"It is just electrical sparks, which is normal people should not spread rumors," said the Shanghai Railway Station on its official micro blog later Saturday. The station said the G15 train had arrived safely at Shanghai Hongqiao Railway Station at 5:35 pm on Saturday.
The Ministry of Railways confirmed train services were interrupted, blaming the technical problems on the weather.
"The influence of rainy and misty weather reduced the electrical insulation on the high-voltage equipment on the roof of a Beijing-Shanghai high-speed train, causing circuit breakers on the electrical supply to jump and the high-voltage equipment on the high-speed train to switch off as a safeguard, resulting in delays to a number of trains," the ministry said.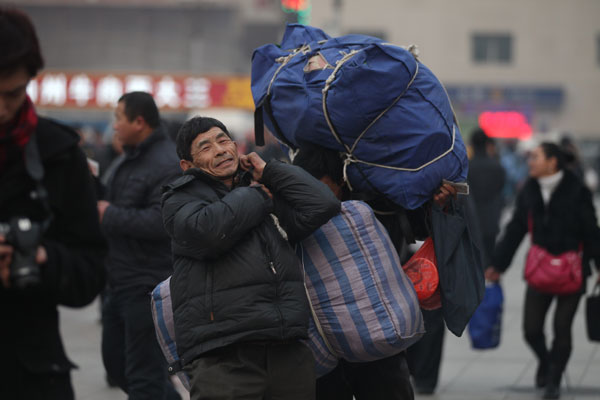 A migrant worker carries his baggage preparing to enter the Beijing Railway Station on Sunday. With the Spring Festival approaching, at least 400,000 passengers leave the capital every day. Wang Jing / China Daily 
The incident came only hours after Minister of Railways Sheng Guangzu got on a train at Shanghai Hongqiao train station for an inspection tour during the Lunar New Year travel rush, which started on Jan 8.
Separately, on Jan 11, a high-speed train from Changsha to Guangzhou needed repairs soon after departure due to problems with its electrical equipment.
Another high-speed train running south on the Wuhan-Guangzhou high-speed railway halted on the same day, just a couple of hours earlier, because a passenger who smoked triggered a smoke alarm on the train, causing at least 20 trains to be delayed.
Many travelers felt angry and worried, especially following a year when the railway authority was under intense criticism due to the fatal Wenzhou crash in July.
A micro-blogger with the username Konglaoshi, who was on the G117 train that stopped twice en route to Shanghai on Saturday, said no crew showed up to offer information or reassurance.
Many netizens who have bought high-speed train tickets prayed for good weather for their holiday trips.
Gang Xiaoli, a Beijing resident, said: "I have just discovered the convenience and relaxation of high-speed rail travel. Pray! Please do not go wrong."
But as rain and snow are forecast for the next few days, the high-speed rail system could face more harsh tests.
Yang Guiming, top weather forecaster for the National Meteorological Center, said that in the coming week, parts of the north will be hit by heavy fog and snow, while regions in the south will see heavy rain.
"Though the weather will not be as bad as during the Spring Festival holiday in 2008 and 2010, the disruption to transport can't be ignored," he said.
The railway network and highways were crippled during the 2008 Spring Festival by the worst weather in at least five decades and millions were left stranded.
Hu Yadong, deputy minister of railways, said earlier that the railway system, which is expected to handle 235 million trips in the 40 days of the travel peak, or 5.88 million a day, has learned its lesson.
The measures include preparing 500 diesel locomotives on trunk lines, in case weather disrupts the power supply for electric and bullet trains, and putting 1,000 electricity generators on emergency standby.
Traffic surged over the weekend, as the railway system estimated there would be 6 million passenger trips on Sunday, with more to come during the following six days.
Heavy fog disrupted nationwide public transportation on Sunday, grounding flights in some cities.
On Sunday morning, more than 1,500 passengers were stranded at Hedong Airport in Yinchuan of Northwest China's Ningxia Hui autonomous region due to low visibility. Police also closed five highways in the area.
Also because of fog, China Southern Airlines said 44 flights at Haikou airport were affected by Sunday noon, and an unidentified number of flights to Shenzhou were canceled.