Saudi oil refinery deal shows close ties
Updated: 2012-01-16 07:10
| | | | | | | | | | | |
| --- | --- | --- | --- | --- | --- | --- | --- | --- | --- | --- |
|   | | Comments() | | Print | | Mail | | Large Medium  Small | 分享按钮 | 0 |
Strategic partnership confirmed as Wen tours key energy region
RIYADH, Saudi Arabia - In what Riyadh calls "the largest expansion by any oil company in the world", Sinopec's deal on Saturday with Saudi oil giant Aramco will allow a major oil refinery to become operational in the Red Sea port of Yanbu by 2014.
The $8.5 billion joint venture, which covers an area of about 5.2 million square meters, is already under construction. It will process 400,000 barrels of heavy crude oil per day. Aramco will hold a 62.5 percent stake in the plant while Sinopec will own the remaining 37.5 percent.
The deal "represents a strategic partnership in the refining industry between one of the main energy producers in Saudi Arabia and one of the world's most important consumers", said Aramco president and CEO Khalid Al-Falih.
Sinopec, the largest producer and supplier of oil products in Asia, is already Aramco's top crude oil customer, according to Al-Falih. Sinopec Group chairman Fu Chengyu said the project propels the two companies' strategic cooperation and contributes to enhancing the partnership between China and Saudi Arabia.
Al-Falih called the endeavor the latest chapter in a long history of cooperation, collaboration and trade between China and the Arabian Peninsula.
The setting up of the refinery would promote economic development, said Shen Yamei, a researcher with the China Institute of International Studies.
The deal was signed during Premier Wen Jiabao's six-day trip to the Middle East. He will fly to Abu Dhabi, capital of the United Arab Emirates, on Monday.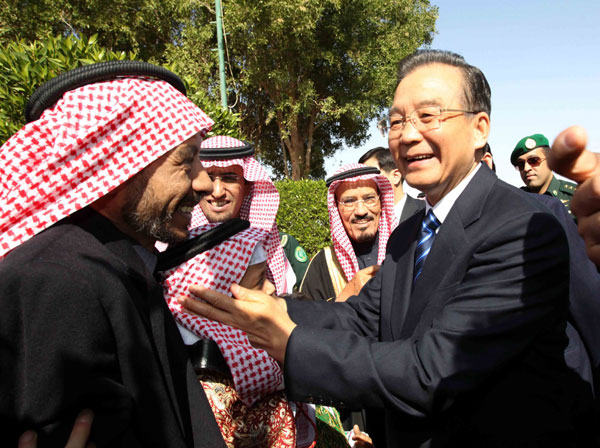 Premier Wen Jiabao talks with family members of Abdul-Rahman Ali Al-Jeraisy, president of the Saudi Arabia-China Friendship Association, during a visit to his home in Riyadh on Sunday. Liu Weibing / Xinhua  
Saudi Arabia, the only G20 member that is also a member of the Organization of Petroleum Exporting Countries, was the first leg of his visit.
Beijing and Riyadh, strategic partners since 2006, agreed to boost bilateral relations during Wen's visit.
The move reflected the two countries' "firm willingness to join hands in coping with challenges and safeguard common interests amid profound adjustments to global situations", Wen told Saudi Crown Prince Nayef bin Abdul-Aziz upon arrival in Riyadh late on Saturday.
Wen, the first Chinese Premier to visit Saudi Arabia since 1991, said that both countries should expand trade in crude oil and natural gas and deepen their energy partnership.
Riyadh is Beijing's largest supplier and the world's top exporter of crude oil.
Imported oil accounted for 56.5 percent of China's total oil consumption in 2011, according to an earlier statement by Liu Tienan, director of the National Energy Administration.
Beijing encourages Chinese companies to participate in Saudi Arabia's infrastructure construction such as rail, ports, electricity and telecoms, Wen said on Saturday.
Nayef, who was appointed Crown Prince in October and is also Riyadh's deputy prime minister and minister of interior, said Saudi Arabia is willing to further cooperation across a wide range of areas, including trade, energy, infrastructure, culture, and security.
Wen had a number of meetings on Sunday, including with the Saudi Arabian King and Prime Minister Abdullah bin Abdul-Aziz, Organization of Islamic Cooperation (OIC) Secretary-General Ekmeleddin Ihsanoglu, and Abdullatif al-Zayani, Secretary-General of the Gulf Cooperation Council.
Wen called for an end to violence against civilians in West Asia and North Africa during the meeting with Ekmeleddin Ihsanoglu.
Wen said China and the OIC shared common interests in safeguarding peace and stability in West Asia and North Africa, adding the OIC and the Arab League could play an important role in this regard.
"This trip promotes the current strategic partnership between China and Saudi Arabia to a higher level," said Hua Liming, a former ambassador to Iran.
With political turbulence in West Asia and North Africa, Saudi Arabia carries a great deal of influence, Hua said. China hopes to take this chance to boost good relations.
Earlier on Sunday, Wen visited Abdul-Rahman Ali Al-Jeraisy, president of the Saudi Arabia-China Friendship Association.
Abdullah Saeed Al-Mobty, chairman of the Saudi Chamber of Commerce and Industry, told Wen that trade cooperation should deepen between Beijing and Riyadh. Wen said that the two countries should be "long-term, stable" energy partners and that China will support infrastructure development in Saudi Arabia.
Wen will address the Fifth World Future Energy Summit in Abu Dhabi on Monday. After meeting local leaders, he is scheduled to leave for Doha for the final leg of his Middle East visit on Wednesday.
Cui Haipei and Zhou Yan contributed to the story.