Hunt for Nanjing killer intensifies
Updated: 2012-01-09 07:36
By Wang Zhenghua (China Daily)
| | | | | | | | | | | |
| --- | --- | --- | --- | --- | --- | --- | --- | --- | --- | --- |
|   | | Comments() | | Print | | Mail | | Large Medium  Small | 分享按钮 | 0 |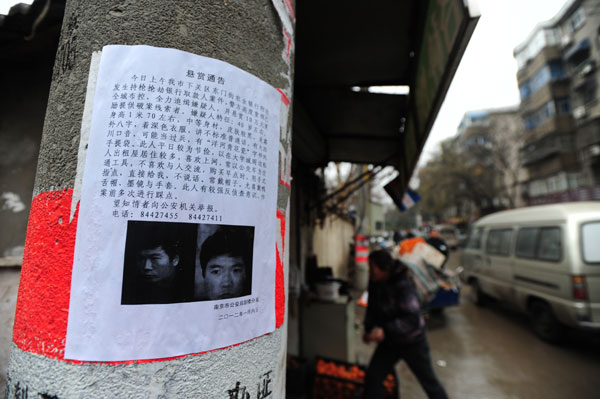 A notice offering 100,000 yuan ($15,800) to anyone who provides information leading to the capture of Zeng Kaigui, suspected to have killed a man who withdrew money from a bank and robbed 200,000 yuan cash on Friday in Nanjing, Jiangsu province, put up in a Nanjing street. Wang Chengbing/For China Daily
SHANGHAI - More than 10,000 armed police officers in Nanjing are still hunting for a man believed to be responsible for a series of robberies and shootings as the police released more details about the suspect.
In a blanket search effort, about 13,000 police officers in Jiangsu's provincial capital, remained on the alert during the weekend to hunt down Zeng Kaigui, suspected to have killed a man who withdrew money from a bank and robbed 200,000 yuan ($31,700) cash on Friday.
Intense patrolling and screening was carried out in major roads, train stations, bus stops and ports. Internet cafes, hotels and other sites frequented by the migrant population were being searched meticulously.
Two police helicopters were put into service as part of the search.
Zeng, 42, a native of Sichuan province, served as an armed police officer in Dali, Yunnan province, between 1989 and 1992. He is suspected to have committed a series of similar crimes in Changsha and Chongqing, killing at least six people and heavily injuring another two, according to Nanjing police.
According to the sub-police bureau of Xuanwu district, the suspect is a skilled shooter and can disguise himself to avoid detection.
In addition to the sketches of Zeng released by the police on Friday, details about his lifestyle were circulated. Apparently, he practices thrift and does not like communicating with others; he uses gestures and body language when buying breakfast rather than uttering words; he prefers wearing a peaked cap, sunglasses and gloves.
The Public Security Bureau of Nanjing has circulated photos and videos, recorded by the surveillance cameras, in public, offering a reward of 100,000 yuan for information that could lead to his arrest. The Xuanwu sub-police bureau has promised another 50,000 yuan reward for useful clues.
Wanted notices have been pasted across the city as police strengthened security checks at financial service outlets. Photos of the suspect were reached to every driver of taxis and buses, as well as subway drivers, security guards and management personnel in Nanjing.
While the police received hundreds of reports of possible clues, none of them has led to the capture of the suspect.
The incident has shocked local residents and raised their concerns about the city's security, with China's Lunar New Year round the corner.
"It's shocking. It's scary to imagine that the deadly shooting was conducted during the day and the suspect is still at large despite such a large number of police on his trail," said Deng Chuanhua, a 56-year-old Nanjing native.
She said people were likely to carry cash on them to make purchases before the Chinese Lunar New Year, adding that she would caution her family members not to do so and rely on bank cards instead.
Local police also said on Saturday that those withdrawing more than 50,000 yuan in cash from banks at one go could call police hotline 110 to ask for a police escort. The service is free of charge.
Local media Yangtze Evening News reported on Saturday that the police escorted a local resident surnamed Cui as she withdrew 80,000 yuan from a bank and accompanied her to another bank where she deposited the money.