Giving back to those who gave
Updated: 2011-12-29 10:15
| | | | | | | | | | | |
| --- | --- | --- | --- | --- | --- | --- | --- | --- | --- | --- |
|   | | Comments() | | Print | | Mail | | Large Medium  Small | 分享按钮 | 0 |
School helps homeless children learn to be productive in society
BEIJING - Once homeless and begging on the streets, Shi Qinghua scrounged for leftovers in garbage bins to keep his wife and son alive.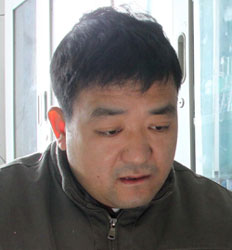 Shi Qinghua is principal of the Guang'ai Waifs Schoo. 
"I was helped by homeless children during my most difficult times on the streets," Shi recalled. "They shared food with us even when they didn't have enough."
So strong was his appreciation for their help that when he got back onto his feet he set up a school to assist homeless children in 2004.
Since then, more than 100 children have found a home at the Guang'ai Waifs School, and some have re-entered society and live independent lives.
"It's so joyful for me to see these children have changed so much, and I feel all my efforts have paid off," said the 40-year-old Shi.
Nestled in a remote village in Beijing's northeast suburbs, the two-story main brick building sits inconspicuously among villagers' bungalows.
On a brilliant Sunday morning, children of all ages play games in the courtyard, some gathering around the visiting volunteers and posing for photos.
Loud music floats down from a dancing room on the second floor, where several girls rehearse to Western music.
"At first there were only seven children in the school. Now we have 87 children, and around 20 are studying in vocational schools," Shi said.
As more and more children were saved from homelessness, the need for stable financial support became urgent.
"I can't imagine how we went through all the difficulties. Sometimes children could only have cabbage because we did not have money to buy any other food, and that is why was I dubbed 'cabbage dad'," he recalled.
"Sometimes I thought I would collapse and couldn't help crying, but I had to hold on as I couldn't give up the children," recalled Shi.
In 2007, a commercial about Shi and his school put him in the limelight and brought an outpouring of donations.
Now, the China Foundation of Culture and Arts for Children allocates annual funding to support the school, and in addition to governments, various non-governmental organizations and volunteers also keep donating.
"Thanks to their help, now we don't have financial difficulties any more," Shi said.
However, helping these children get rid of the shadows of past misfortunes and rejoin society has proven far more difficult.
"Most of the homeless children have a negative attitude to life when they're sent to the school. They're not willing to communicate with us."
"You need love, unselfish love, to move them, and it requires great patience," he said.
A 15-year-old Tibetan girl named Tse Lhamo, for example, wouldn't speak to anyone in her early days at the school. Shi later found she was fond of dancing.
"I bought dancing clothes with her, and sometimes I tried to dance with her even though I wasn't a good dancer at all," said Shi, who gradually won her trust.
"Once they trust you, these children will say anything to you, and you can see they change very quickly," Shi said.
Children in the school study Chinese, math and English, in addition to art classes such as music, dancing and painting. And when they reach a certain age they are recommended for a vocational school or a job.
Li Shasha, 17, from Henan province, who stayed at Guang'ai for two years, is now studying computer design in a vocational school in Beijing.
Guang'ai school covers all of his fees and he returns to the school once a month to get a living subsidy, and to visit Shi and his teachers and friends.
"I'm deeply grateful for Father Shi. Without him I couldn't have what I have today," Li said.
"It's very amazing to find these children are so talented and kind. It's hard to see they have encountered such difficulties. I hope there can be more people like Shi in China," said Tomasz Sajewicz, a Polish journalist and volunteer at the school.
Shi believes his own effort is far from enough.
"I'm only one person. And taking care of homeless children requires efforts from government and the whole society," he said.
Shi is currently compiling a set of books with other teachers, recording their experiences caring for and educating homeless children.
"I hope it may be useful for other similar organizations and have a more far-reaching effect in helping homeless children," he said.