Toxins found in tainted milk brand product
Updated: 2011-12-27 08:01
| | | | | | | | | | | |
| --- | --- | --- | --- | --- | --- | --- | --- | --- | --- | --- |
|   | | Comments() | | Print | | Mail | | Large Medium  Small | 分享按钮 | 0 |
BEIJING - Cai Mengsha bought two boxes of milk produced by the Chinese dairy giant Mengniu Group over the weekend. But she was having second thoughts after learning excessive levels of a cancer-causing toxin were found in a batch of milk manufactured by the company.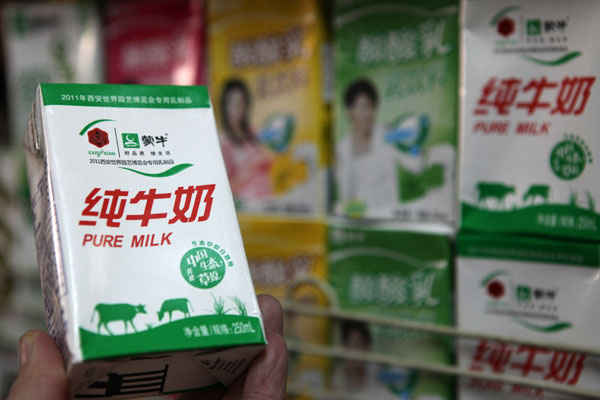 A batch of milk produced by Mengniu Group has tested to have excessive aflatoxin, a cancer-causing substance, over the weekend. Provided to China Daily 
The General Administration of Quality Supervision, Inspection and Quarantine on Saturday published the result of a random check of 200 dairy products in 21 provinces, and two products, including one manufactured by Mengniu, were found to contain excessive aflatoxin.
Despite the company's declaration on Monday that the entire tainted batch was destroyed in its branch plant in Meishan, Sichuan province, before it could reach the market, Cai, a college student in Zhejiang, said she was still confused as to whether the milk she had bought was safe to consume.
While the national standard allowed a maximum of 0.5 micrograms carcinogenic content in a kg of milk, the official test found 1.2 micrograms of the toxic substance in the Mengniu sample. The sample product was a 250 ml pack of pure milk produced on Dec 18, according to the test result published on the website of the general administration.
Aflatoxin is virulent in terms of toxicity and is classified as a first-class carcinogen by the World Health Organization.
"Experiments on animals have demonstrated a strong carcinogenic effect of the substance, and studies about epidemic diseases indicate that the content of the substance in food is relevant to the incidence of liver cancer," said Fan Zhihong, associate professor with China Agricultural University's college of food science and nutrition engineering.
She also says the carcinogen can accumulate in the human body, and is resistant to heat. "It dissolves when the temperature reaches nearly 300 C, which means high temperature disinfection or pasteurizing (a common disinfection method used in the dairy industry) cannot kill it at all."
Dairy experts said the source of the problem might be traced to cattle feed being contaminated by aflatoxin. "Cattle feed, such as corn, rice and soybean, will produce the poison after having been stored for a long time," said Wang Dingmian, chairman of the Guangzhou Dairy Association.
It is mandatory to have the carcinogen levels in raw milk and end products tested by manufacturers. Lu Jianjun, a spokesman for Mengniu, said: "We inspect every batch obeying the country's requirement."
However, experts said the appearance of faulty products meant the company omitted to check some of the batches. "If the company carried out checks and didn't find a problem, then their case is suspect," Wang said.
Mengniu apologized to consumers on its website on Sunday, without mentioning the cause of the incident.
Lu told China Daily the company has checked other batches, and no faulty products were found. "Now Mengniu products in the market are all safe," he said.
But some consumers have lost faith in the brand.
"Manufacturers always claim they do not allow substandard products to enter the market, but how could one be so sure that the numerous products on the store shelves have all passed the test?" asked Chen Kai'en, a 23-year-old freelancer in Shanghai.
Fang Zhouzi, a famous Chinese blogger known for his efforts toward exposing academic fraud, reminded consumers to keep away from products manufactured by brands with counterfeit records.
"A stained history means the company has problems in its professional ethics, so we shouldn't trust it anymore," Fang wrote on his Sina micro blog on Monday.
The company got entangled in a string of scandals in recent years.
In 2009, experts claimed a high-end milk product manufactured by the brand could cause cancer. Later that year some batches of the brand were found containing melamine, an industrial chemical added to dairy products to make them appear to have a higher protein content. Two incidents occurred in April 2010 and April 2011, that sent more than 200 children to hospitals after consuming milk at school that was produced by Mengniu.