Qingdao gang faces trial for a slew of crimes
Updated: 2011-12-22 10:03
By Xie Chuanjiao (China Daily)
| | | | | | | | | | | |
| --- | --- | --- | --- | --- | --- | --- | --- | --- | --- | --- |
|   | | Comments() | | Print | | Mail | | Large Medium  Small | 分享按钮 | 0 |
QINGDAO, Shandong - Nie Lei, the 44-year-old mastermind of the largest gang-related case ever in Qingdao, and his 31 confederates have been brought to trial on Tuesday, long after the notorious gang was quashed in June last year.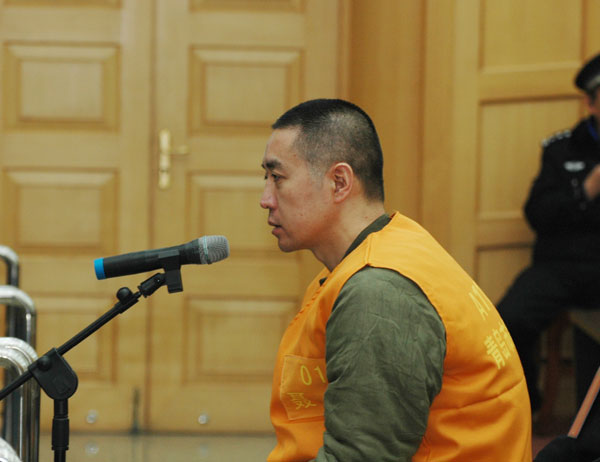 Nie Lei sits on trial in a court in Qingdao, Shandong province, on Tuesday. He is charged with organizing gang crimes since 1995. [Photo/Xinhua] 
The 32 core gang members were taken to Jiaozhou, a county of Qingdao, where Qingdao Intermediate People's Court handled the trial.
The trial is estimated to last till the end of this month. Prosecutors accused the 32 suspects of a series of crimes, including organizing illegal gangs, causing deliberate injury, organizing sex trade, gambling and illegal gun trading, Xinhua News Agency reported.
Meanwhile, the rest of the 129 suspects, with relatively lighter charges, are also under trial in Qingdao's Shinan, Licang and Sifang district people's courts.
More than 200 people heard the trial on Tuesday, mainly the defense council, suspects' relatives and victims' families. Only a small number of the local media people were allowed in.
"Each suspect in the Nie Lei case has two defense lawyers and is accompanied by two bailiffs," said Dong Yizhi, president of Qingdao People's Procuratorate.
On Tuesday it took more than two hours for prosecutors to finish reading the 80-page indictment. The court then started interrogating each suspect. By 5:40 pm, when the court adjourned, it had merely finished interrogating seven suspects.
Though detained for more than a year and accused of 10 crimes, Nie seemed to be in a good mood in his yellow prison suit on Tuesday, according to Qilu Evening News.
Nie's parents have invited Qian Lieyang to be his defense counsel. Qian is a sophisticated defense counsel who has handled major criminal cases such as the Xiamen Yuanhua smuggling case and mainland veteran actress Liu Xiaoqing's taxation evasion case. He refused to make any comment after the first-day trial.
The gang was claimed to be the biggest criminal organization of Qingdao since 1949.
The 161 arrested comprise 16 police officers, including Yu Guoming, head of Shibei district bureau under the Qingdao public security bureau, and Feng Yuexin, head of the Licang district bureau.
The court hearing was expected to begin in May, but was postponed to August and then delayed until now, as more criminals were traced over time.
According to prosecutors' indictments, Nie Lei, Jiang Yuan, Ren Hao and other subordinates committed organized crimes a number of times since 1995.
They registered several illegal real estate companies, and were also making money through gambling and prostitution. The gang committed a series of evil deeds, including intentional injury. They caused the deaths of two people, seriously injured one, and lightly injured another 21.
Over the past 15 years, Nie and other members reaped undeserved profits of over 20 million yuan ($3.2 million) by organizing prostitution and opening underground casinos.
Their downfall began in March last year. On March 27, one of Nie's subordinates surnamed Gao took four women to a night-club in Qingdao for sex trade and got into a fight with the hotel's security guards. Later dozens of Nie's gang members, armed with knives and sticks, went to the hotel and attacked a number of people. Later, Nie helped the criminals to abscond and go underground, according to police investigation.
Nie was imprisoned twice before for robbery, in 1983 and 1992.
Once Nie had incited his subordinates to shoot a man identified as Wang who had walked into his room in a discotheque by mistake on April 10, 2000. Wang was severely injured in the neck and chest. Afterwards, Nie's two subordinates gave Wang 250,000 yuan and threatened him not to report to the police.
Wu Binbin in Qingdao contributed to this story.