Worth his weight in bronze
Updated: 2011-12-22 09:43
By Guo Rui (China Daily)
| | | | | | | | | | | |
| --- | --- | --- | --- | --- | --- | --- | --- | --- | --- | --- |
|   | | Comments() | | Print | | Mail | | Large Medium  Small | 分享按钮 | 0 |
XIANGYANG, Hubei - It's a cold winter morning and Yi Zelin has started mending a bronze horse in his workshop.
The 40-square-meter bungalow looks dark and dirty, with bronze pieces scattered around the floor, and putting them together is like assembling a jigsaw puzzle.
"Usually I have to face a pile of metal scraps, without knowing what the item used to look like," said the 54-year-old in Xiangyang, Central China's Hubei province.
"I have to study the patterns and material of every chip over and over again to decide the exact place it should fit in."
Yi first began fixing bronze ware 23 years ago, and since then has restored nearly 200 cultural relics, including about 100 pieces of bronze.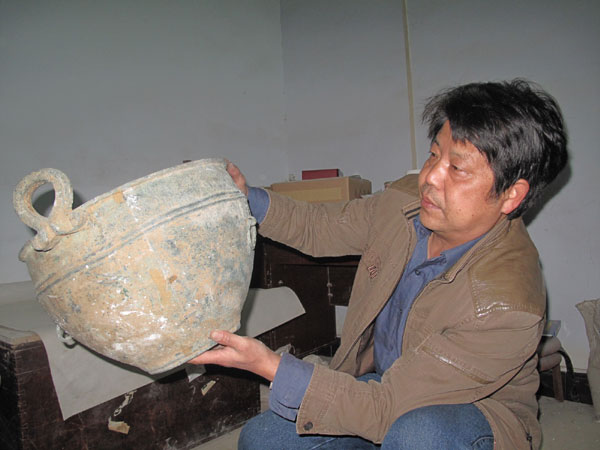 Yi Zelin checks a newly mended piece of bronze ware at his workshop in Xiangyang, Hubei province, in Central China on Nov 23.[Guo Rui / China Daily]
"He displays a particularly extraordinary technique in restoring bronze horses, which is based upon his profound studies of historical documents and a long-time commitment," said Wang Xianfu, dean of the Xiangyang Museum where Yi works.
Before turning his hand to bronze, Yi, the son of a farmer, dreamed of performing in traditional opera and enrolled in a local opera troupe when he was 13.
But when his voice changed during puberty and he could no longer sing as well as before, he became a martial arts actor. He also learned to make stage properties such as costumes, instruments, weapons, furniture and decorations.
The turning point came in 1988 when an international conference on cultural relics was held in Yicheng county, Xiangyang. Local authorities wanted to display excavated relics, which first needed to be restored.
Because no professional repairer could be found, Yi was selected to do the job. His good performance landed him a job at the Yicheng museum.
"I had never had such a sense of achievement before. I felt myself being full of vitality and enthusiasm," Yi said.
"Repairing makes me find the meaning of life."
Yi also participated in excavation.
"Relics are the only survivors through the long course of history and they are the evidence that proves historical events," said Yi.
Without timely and appropriate restoration, he said, those precious cultural relics would silently slip away - even the well-preserved ones.
Because many techniques for manufacturing bronze have vanished and the same pigments can't be reproduced today, he had to do a lot of experiments to find replacements.
Moreover, "breathing dust and harmful pungent chemical gas is a common thing," Yi said.
In 2003, Yi was transferred to the Xiangyang Museum, where he has a workshop.
His colleague at the museum, Zhang Jing, said that repairers should work on the archeological sites, for the studies of the excavation environment are of great help during the restoration.
"Many people quit halfway, while Yi has always been devoted to the course of relic restoration despite harsh working conditions," Zhang said.
Yi devotes a lot of time to repairing bronze ware at county-level museums in Hubei.
He only charges them basic costs, around 3,500 yuan ($550) for a piece.
"The funding for restoration in rural regions is not sufficient," he said. "If I didn't voluntarily help them, then the historical relics would disappear."