A very shocking display
Updated: 2011-12-21 09:27
| | | | | | | | | | | |
| --- | --- | --- | --- | --- | --- | --- | --- | --- | --- | --- |
|   | | Comments() | | Print | | Mail | | Large Medium  Small | 分享按钮 | 0 |
SHENZHEN, Guangdong - Lu Yulong made his shocking entry onto the public stage when he placed his hand on an electric coil on national television.
The resulting flashes of purple electricity sparked oohs and aahs from the audience, and catapulted the high school student to fame.
"For me the show was a turning point," Lu, 16, told China Daily.
After that appearance on China Talent Show, sponsors came to give him and his family full support, and he made up his mind to continue his scientific research without attending university.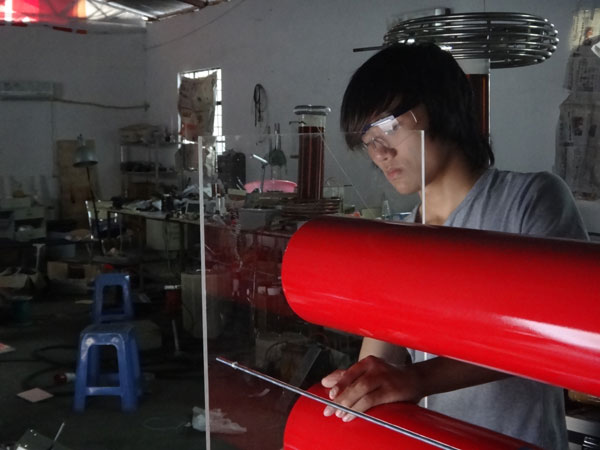 Lu Yulong works on a MAX generator - a machine he invented - in his rented storehouse in Shenzhen, Guangdong province. Provided to China Daily 
Now he has two full-time researchers in Shenzhen, Guangdong province, and more than 10 part-time ones all over the country. Most are electricity fanatics at a top science website where Lu is one of the moderators. Since he is not legally old enough to set up a company, Lu calls it a "laboratory" or "team".
They develop high-voltage devices for performances, some civilian products as well as some devices for industrial use, said Lu.
So far the team has been working in a rented 200-sq-m storehouse, but soon the situation will get better: An education group has offered them a 600 sq m place - for free!
Fuyuan Education Center, which includes a kindergarten, primary school, junior and senior high school in Shenzhen, offered Lu free use of the ground floor of the kindergarten building for research.
"In return, Lu helps the science training for our students," said Zhang Xihuai, president of the education group.
Zhang is confident in the "audacious" cooperation with a teenager. "On the one hand we show our support to a science teenager, on the other we hope our students can see him as a role model, learn from him and raise their interest and capability in science."
He said Lu has chosen 10 boys from the center's junior high school and developed an electronic hip-hop dance with them.
"Last week they did a performance in a lecture hall and we invited 500 students. They all got excited at once!" Zhang recalled. "You could only see dancing lights following the beat of the music as if no one were on stage, but in fact the boys were there, only combined with electronic devices and the computer."
"The program was sent to the talent show's producers for next year and has passed the first round of selection, now the 10 students expect they could one day bring this performance to a national stage."
The school not only provides a place for free research, but also board and lodging for Lu and his team. That's good news and a great relief for Lu's father, Lu Xuedong, who has been running around searching for places and sponsors.
The father devotes himself to helping his son, who has been drawn to science since the age of seven.
"My son is always definite with his goals and knows how to plan his life," he said.
The younger Lu cannot yet tell how his team and lab will grow over the years. He hopes his effort will arouse more attention and interest in science, especially from youngsters, and more influential folk science groups will emerge and play an important role.
"Like in the United States, some research results from folk science group can shake an industry," he said, full of expectations far beyond his age.