Toll fraud case retried; lesser sentence passed
Updated: 2011-12-16 07:26
By Liu Xiangrui and Zhang Leilong (China Daily)
| | | | | | | | | | | |
| --- | --- | --- | --- | --- | --- | --- | --- | --- | --- | --- |
|   | | Comments() | | Print | | Mail | | Large Medium  Small | 分享按钮 | 0 |
PINGDINGSHAN, Henan - A case involving the evasion of a huge amount of expressway tolls, which drew widespread attention when one defendant was sentenced to life in an earlier trial, was reheard in Henan province on Thursday.
Prosecutors lowered the amount of tolls evaded from the 3.68 million yuan ($577,000) in the first trial to about 600,000 yuan.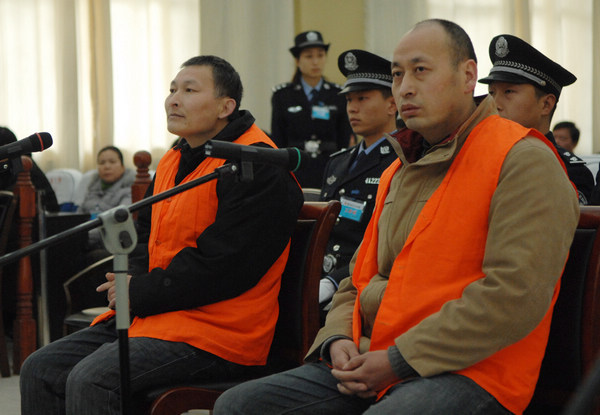 Shi Junfeng (right) and Shi Jianfeng, who are accused of evading a huge amount of expressway tolls, sit at a court in Lushan county, Henan province, on Thursday. Shi Junfeng was sentenced to seven years in prison, while his co-defendant received a 30-month term. Li Bo / Xinhua
That change, a focal point of the hearing, gave rise to heated public debate when it was recently announced,
In December 2010, Shi Jianfeng, a villager from Henan, was sentenced to life in prison for evading 3.68 million yuan in tolls by using fake military vehicle licenses, fake drivers licenses and soldiers' identity cards.
The huge amount of tolls involved and the severe sentence passed set off heated public discussion. Prosecutors subsequently withdrew the case. Pending further investigation, and the presiding judge was removed from office.
Shi retracted his confession after receiving the life sentence.
According to Shi, his brother Shi Junfeng illegally bought licenses from two military police officers. The licenses, which were later determined to be fake, were used with two trucks the brothers owned that were driven by hired drivers to move construction material.
Shi Jianfeng said the military police officers signed a contract with his brother, in return for a 1.2 million yuan bribe, to help them if there were any problem with the licenses.
Both brothers were convicted of fraud at Thursday's hearing in Lushan county court.
Shi Junfeng, who prosecutors considered the principal offender, was sentenced to seven years in prison and fined 50,000 yuan for fraudulently evading 492,000 yuan in tolls. Shi Jianfeng, the accessory, was sentenced to 30 months in prison for evading 117,660 yuan in tolls.
The frauds were committed on the Zhengzhou-Yaoshan Expressway between May 2008 and January 2009, the indictment said.
The reduced amount of tolls involved was a major factor in the less severe sentencing.
Under Chinese criminal law, sentences depend on the quantity of money involved, and only fraud cases involving "extremely large amounts of money" - such as the initially estimated 3.68 million yuan - bring sentences longer than 10 years to life.
The sentences passed on Thursday were according to the toll amounts estimated by the trucks' "approved carrying capacity", said Liu Chunsheng, the presiding judge, after the hearing.
"The extra fees were for 'over-freighting' and were punitive. They shouldn't be taken as part of the fraud quantity," he said.
Both brothers accepted their sentences and said they will not appeal.
"I know nothing about laws. I didn't know which law I had broken, but I knew I definitely had done something wrong," said Shi Junfeng during the three-hour hearing.