Putting high-speed travel back on track
Updated: 2011-12-13 07:59
By Xin Dingding (China Daily)
| | | | | | | | | | | |
| --- | --- | --- | --- | --- | --- | --- | --- | --- | --- | --- |
|   | | Comments() | | Print | | Mail | | Large Medium  Small | 分享按钮 | 0 |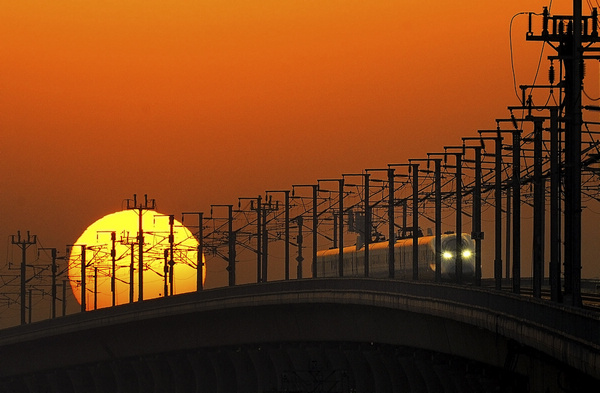 A train runs on the Shanghai-Hangzhou high-speed railway as the sun sets in Jiaxing in East China's Zhejiang province. [Photo/Agencies]
Experts call for reforms as ministry looks to restore confidence in rail network. Xin Dingding reports in Beijing.
China's bullet-train ambitions hit a number of snags in 2011 and ultimately slowed down. It was not what the Ministry of Railways had pictured.
Last December, when China became the first Asian nation to host a global high-speed rail summit, Liu Zhijun, the country's railways minister at the time, said China had 7,531 kilometers of railways running at 200 km/h and faster, including 4,322 km of newly laid track.
More than 10,000 km of high-speed railways were also being rolled out across the country, he said, with the majority set to open to public in 2013. By 2020, China's high-speed network would increase by 16,000 km, he said.
"People were excited and optimistic about the prospect," said Li Kun, a researcher specialized in railways at the comprehensive transport institute of the National Development and Reform Commission (NDRC), the country's top economy planner.
"Soon after, though, they were gripped by a feeling of insecurity and sadness, and society began to question the development of high-speed travel," he said.
First, Liu was investigated and subsequently removed from his post for graft in February, and then probes were launched into other senior railway officials.
When it emerged that some unqualified contractors and suppliers could have won contracts through their special relationships with corrupt officials, people began to wonder how much of the new railway might have quality problems.
To address the issue, Sheng Guangzu, who replaced Liu as railways minister, said in April that high-speed trains would be operated at slower speeds, adding that more services would also be laid on.
On June 30, the landmark Beijing-Shanghai bullet train was launched, offering services at both 300 km/h and 200 km/h, both slower than its designed speed of 380 km/h.
In its first month, the 1,318-km line reported some glitches, which fueled suspicion over its safety.
Again, the Ministry of Railways moved to allay fears by calling the faults teething problems, and insisted its high-speed system had been built to the highest standards.
Not long after that, a bullet train rear-ended another one on July 23 near Wenzhou, East China's Zhejiang province, killing 40 people and injuring almost 200 more.
The tragic accident rocked the nation, prompting calls for authorities to carry out checks on high-speed rail services.
Under pressure, the Railways Ministry ordered another slowdown, this time including the two short lines - Beijing to Tianjin and Shanghai to Hangzhou - that had been kept at 350 km/h as symbols of China's technological advancement.
Then came the third scandal in October, when railway tunnel expert Wang Mengshu disclosed to the media that high-speed rail projects spanning some 10,000 km had been halted because of funding shortages.
He said the money from the central government's stimulus plan, worth 4 trillion yuan ($586 billion at the time), had dried up, and that the ministry could not borrow any money from the banks due to its tarnished image after the Wenzhou crash and the country's tightened monetary policy.
Insiders said the funding problem emerged at the beginning of this year.
"Too many rail projects have been started in a rush since 2008," said the manager of a Beijing company that helps the railway authority get land permits for construction, who spoke on condition of anonymity.
"The government needed as many railway projects to start as possible so that it could trigger demand following the global financial crisis," he said.
The rush saw many projects start without careful planning, he said, and some routes that did not have on-site tests pass through land that could subside in the future.
The manager added that his company had received no business from the high-speed railway sector since the start of 2011.
Wang said that without the money from the ministry, contractors were left owing large sums to suppliers and had failed to pay workers' salaries for up to six months.
In November, the central government allocated 200 billion yuan to helping the Ministry of Railways pay off its creditors.
Wang and other experts said the money would be enough for the ministry to settle most of its debt, worth an estimated 250 billion yuan.
To resume construction and complete the projects, however, observers said it would take at least another 200 billion yuan.
"No one knows exactly what the central government will do about the railway sector," said Zhao Jian, a professor of transport at Beijing Jiaotong University. "It's something the government has to think carefully about."