Frenchman leaps from kungfu to cabernet
Updated: 2011-12-11 09:02
By Shi Yingying (China Daily)
| | | | | | | | | | | |
| --- | --- | --- | --- | --- | --- | --- | --- | --- | --- | --- |
|   | | Comments() | | Print | | Mail | | Large Medium  Small | 分享按钮 | 0 |
SHANGHAI - Pairing exquisite wines from Shanghai's biggest wine cellar, facing the Huangpu river along the Bund, Selim Chiali shows off what the French have long been famous for- the passion for the drop and the perfect tie for his business suit.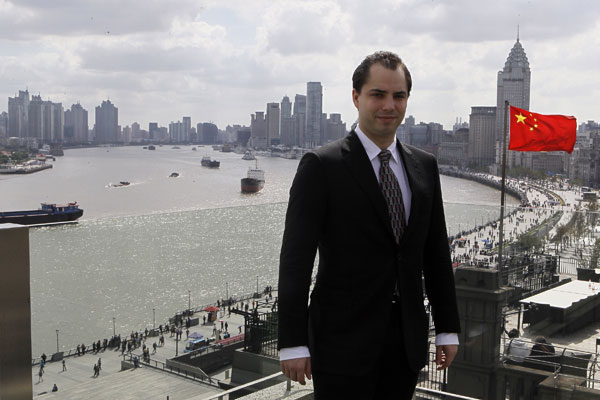 Chiali says living and working on the Bund is all about the great view. Shi Yingying / China Daily 
But the 29-year-old has another side that doesn't match his foreign appearance and that includes hot Sichuan culinary skills he learned from Chinese restaurant Sichuan Folk, his familiarity with qigong, a deep breathing set of exercises with roots in traditional Chinese medicine (TCM) and martial arts; as well as something he can't even explain himself - the strong connection with China since the day he was born.
"I was born in a hospital located in Paris' China town, an area of the 13th arrondissement, while my family was staying at Saint-Germain-des-Prs of the 6th arrondissement then. I had no clue why I was born in China Town."
It wasn't until after his 19th birthday that Chiali finally mustered words to cement his bond with China.
"I was in my mom's car when she picked me up from the airport, I had just flown back to Paris from China.
"I remembered I told her, 'Sorry, Mom, but I'm going to live in China from now on.' and she thought it was a bad joke.
"She said, 'Don't be silly, that won't happen.'"
Nineteen-year-old Chiali spent his next 10 years proving to her he was not joking.
After a crash course in judo and taekwondo, young Chiali was carried to China for the first time by his curiosity about Chinese kungfu.
"The original plan was to stay in Guangdong for three weeks in 2001, but I extended it to three months. I came back one year later for kungfu and again the year after that," he said.
The big move awaited Chiali after his frequent visits, but instead of picking hot spots for expats such as Beijing, Shanghai or Guangzhou, he chose an unexpectedly remote village in Hubei province.
"It was three hours driving from Wuhan and you can hardly find it on the map," said Chiali.
"I went to Xingou to learn qigong and the language. The place was like France 100 years ago, and there was not even a proper road in that village," said Chiali and said he was trapped in mud with his Gucci shoes when he first arrived.
That pair of shoes soon went back into his suitcase.
"I picked that Hubei village as I was younger then and I wanted to experience more. I started picking up Chinese quickly without a day in language school- the trick was to hang out with locals," he said and added he still had connection with his qigong master in that village. Though Chiali's new Chinese identity is well-masked behind his suave French appearance, the cat scoots out of the bag as soon as he speaks.
He now speaks with a strong Beijing accent, and Chiali jokes that he moved to the country's capital to get rid of his country tones.
"And Shanghai would be my last stop," said Chiali, who works as an executive assistant to the president at the private club House of Roosevelt after gaining experience in Guangdong, Hubei, Sichuan and Beijing.
Wine lovers will feel like mice in a cheese factory when they walk into Chiali workplace.
With 3,000 labels and 20,000 bottles in 2,000 square meters, the wine cellar located on the second floor of Roosevelt is serious about matching great wine with exceptional food.
"That's not even the best part," said Chiali who moved to Shanghai two years ago and rented an apartment near the Bund.
"You've got the view of the Bund anywhere in the House of Roosevelt.
"I never expected I could be lucky enough to work on the Bund - the Bund is something one can never get tired of, even if you're working there."
Dealing with hundreds of reds and whites from abroad everyday, Chiali says he still prefers Chinese wine and business culture over the Western one.
"The thing is, Chinese don't talk about business on the dining table, they drink and seal the deal afterwards, sort of depending on whether their business partners are drinking frankly and straightforward," he says.
"That's different in France, you start talk about business right from the beginning.
"In that sense, I love the Chinese way better."
Chiali prefers a balanced approach towards food, choosing Chinese food for one day and French cuisine for the other.
"I'd feel uncomfortable if I'm eating too much Western food, just like I'd miss China if I stayed more than one month in France visiting family and friends."
You can contact the writer at shiyingying@chinadaily.com.cn.
China Daily