Texan tracks cellphone's impact on China's migrants
Updated: 2011-12-11 08:58
By Matthew Woolbright (China Daily)
| | | | | | | | | | | |
| --- | --- | --- | --- | --- | --- | --- | --- | --- | --- | --- |
|   | | Comments() | | Print | | Mail | | Large Medium  Small | 分享按钮 | 0 |
It has become a rite of passage in the West. It's used to plan gatherings with friends, check in with parents and make life as easy as possible for children and teens in affluent places like Texas, where social researcher Cara Wallis lives.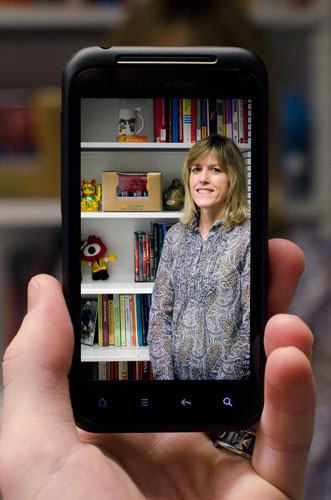 Cara Wallis studied the life-changing implications of cellphones in China. Joshua Morton / for China Daily
The cell phone have changed the world, as Wallis documented over the last decade as her work took her from poor, rural parts of China to the capital. For young migrant women trying to make it in Beijing on their own, the cell phone is nearly as vital as food.
"A lot of young people feel like if they're going to have any kind of a future or make a living, they need to migrate to a big city," says the faculty member at Texas A&M University who has focused her research on China. "Having a cell phone as your only means of communication has really interesting implications, unlike for [Westerners], where having a cell phone is just one part of the whole array of devices."
Wallis' research specifically focused on Chinese females between the ages of 16 to 23 who migrated from rural regions to Beijing and the ramifications of cell phones on their lives. The effects are magnified because people in this group move from small communities where they know everyone, to some of the world's largest cities where they are often by themselves.
Wallis met women in many venues - one of her interview subjects was knitting arm warmers and a purse for her. She also made good use of trips to hair salons, sometimes going to get a massage and haircut just to meet women to talk to for her research.
"If you think about never having had a landline even and being with a cousin or sibling, or often nobody, and having this device that connects you - you see how important it is and how they use it," Wallis says. "It's a very simple technology, but it has very creative uses."
Young women migrating to Beijing and the eastern coast from rural provinces inland used the purchase as a cultural identifier, she found. Often phones would cost a month's salary, meaning the women would save for months to make their first major urban purchase.
The ability to contact others from their homes did not come without some negative aspects, however. Suddenly, a woman's ability to leave work - and any troubles with superiors or co-workers, at the door when she went home for the night - vanished.
"If you don't have a landline, you go home and people don't have a way to contact you or bother you, but suddenly employers can text you and harass you," Wallis said. "That was a very negative thing because of the power differential."
About two years after Wallis began her research, a true game-changer emerged from the ranks of cell phones. The iPhone in 2007 suddenly introduced the Internet to mobile phones in a new way. Before the iPhone the mere ability to talk and text changed many migrants way of life, but having the Internet at their fingertips gave them so much more.
The social possibilities soared. Many of the women became avid users of China's QQ - the social networking site similar to Facebook, only larger. One woman, for example, used her phone to build a virtual resume of her work as a hair-dresser. But perhaps the most significant effect on this specific group, and the thing that surprised Wallis the most, was the cultural shift in the women's romantic lives.
"They're autonomously and independently starting these relationships without necessarily getting the blessings of their parents," Wallis said. "It is really interesting."
"Right now everyone is talking about microblogging in China, especially Sina Weibo," she says, "but on my most recent trip last summer I did not find many rural-to-urban migrants using Weibo. The Internet for them is mostly about QQ." But she expects that to change rapidly, too.
The totality of Wallis' findings will be published in her book, Mobile Bodies, Mobile Technologies, that will be released next year. The book represents years of research that began simply with a few conversations.
While Wallis was an undergraduate at the University of California at Santa Barbara, she volunteered to be a conversation partner for foreign students. By chance, she continually was paired with Chinese students. Over two years of such conversations, her interest and curiosity about China became insatiable.
The rapidly increasing prevalence of cell phones in the early 2000's, coupled with her interest in China, gave Wallis a focus for her research.
"It was a matter of bringing my interests together and looking at a very important research topic that hadn't really been explored - in a very important country," Wallis said.
At Texas A&M, Wallis is developing a new generation of researchers to disburse across the globe and broaden understanding. She is far from alone in her awareness of China.
The campus hosted a high-level US-China academic conference this fall, and thanks to its China Club and a vibrant Confucius Institute, about 100 "Aggies" will be coming to Tsinghua University next summer for a three-week exchange program. There is also a Chinese Students and Scholars Association.
"China will continue to grow in importance in the years to come, so we must prepare our cities, business leaders, universities and economic development organizations to relate to this essential trading partner," says one of the university's most high-profile alums, Governor Rick Perry.
"At this university there is recognition that China is an important country to understand and have connections with, and be involved with," Wallis said.
You can contact the writer at sundayed@chinadaily.com.cn.
For China Daily