Handicapped street artist writes his way to fame
Updated: 2011-10-25 07:41
By Huang Yuli (China Daily)
| | | | | | | | | | | |
| --- | --- | --- | --- | --- | --- | --- | --- | --- | --- | --- |
|   | | Comments() | | Print | | Mail | | Large Medium  Small | 分享按钮 | 0 |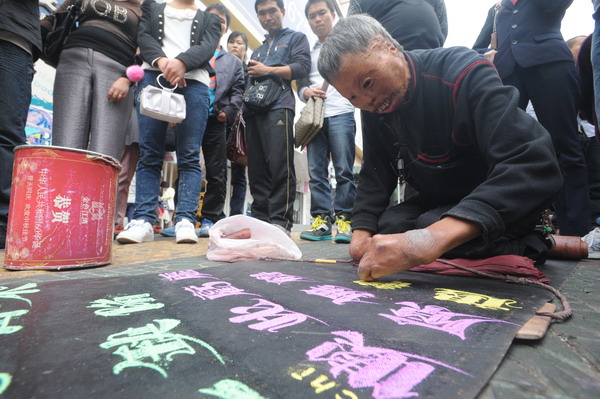 Cui Xianren, who was severely injured in an explosion, earns money by writing characters with chalk on the street in Qingdao, Shandong province, on Oct 12. His unique font has attracted the attention of Founder Type, a font developer, to create a new font based on Cui's calligraphy. [Photo/Provided to China Daily]
SHENZHEN, Guangdong - He rolls out a long strip of rubber and kneels down on the ground in front of it. Grabbing a piece of chalk in his deformed fingers, he begins to make strokes on the sheet.
He pauses - considers his work - then continues stroke by stroke as people gather to watch. And they are quickly amazed.
For Cui Xianren is a master calligrapher, a trade he fell into literally by accident, and his particular style, and the gnarled hands he uses to hold the different sizes and colors of chalk, have made him a bit of a celebrity.
"Isn't he Brother Chalk?" asked a middle-aged man who thought he recognized him from the Internet.
"The writing is beautiful," said a young boy as he pulled out a digital camera to shoot Cui's calligraphy.
For nearly a decade, Cui has made a living on the street by writing traditional Chinese characters in chalk, with crippled hands caused by an explosion some 18 years ago.
The 49-year-old man became the center of public attention recently after a photo of his unique street art in Yantai, Shandong province was posted and reposted on the Internet.
Among those who recognize Cui's talent is domestic font developer Founder Type, which has just signed a contract with Cui to include his calligraphy in the company's character base.
"Cui Xianren touches us with his independence and persistence," said Wang Haichao, project manager of Founder Type. "In such a physical condition, he can still write so beautifully, which is already enough to move people."
Cui wears an old blue plaid shirt, a gray cap and sunglasses to cover his burned and distorted face as he writes.
A native of Northeast China's Heilongjiang province, years ago Cui tried to charge his motorized tricycle with a bucket of diesel, which exploded.
The accident left him incapable of doing manual work, but he could not stand wasting time at home. So he dug back to something he had always loved since primary school - writing calligraphy.
"Chalk is short and thick, it is the only writing tool I can possibly hold," he said.
He first practiced regular script on a wooden board at home. Later he tried to add a personal style to the characters, such as finishing strokes with a tiny tick, and making strokes thicker or thinner, as his characters began to take on an individual style.
In 2003, he started to showcase his calligraphy on the street in Harbin, capital of Heilongjiang province. At first he felt embarrassed and nervous, but appreciation from the crowd of passers-by encouraged him.
In the beginning he wrote directly on the ground, but urban management officers stopped him from doing that, so he wrote on a black rubber board.
"Every time I wrote, there were always many people surrounding and watching me," he said. That attention not only encouraged him to continue writing, but also brought him some income - in good times more than 80 yuan ($13) a day.
Wanting to see more of the world and know different people, he has tramped through more than 10 cities with his chalk art.
"Most of the time people are nice," he said.
A security guard in Mudanjiang, Heilongjiang province, gave Cui his coat when the temperature suddenly dropped. Another man in Qingdao, Shandong province, brought him a cup of warm tea on a cold day.
Sometimes, though, he found it hard to keep writing because other peddlers came and took over the area. At such times he always had to leave.
"They are healthy people, I can't compete with them."
Now that he has become popular, Cui believes his days of wandering on the street will come to an end.
The contract with Founder Type also includes profits from sales of the font for the next 50 years. And he has received 50,000 yuan from Founder Type as living subsidy, which he deposited into the bank account of his only son.
"Let more people help him, so that he could make a better living with his hands, his writing," said Founder Type's Wang.
Hot Topics
New sex education textbooks were introduced to pupils in Shanghai on Monday after numerous debates on early-age sex education in China.