Drowned man declared a hero
Updated: 2011-10-24 08:10
By Zheng Caixiong (China Daily)
| | | | | | | | | | | |
| --- | --- | --- | --- | --- | --- | --- | --- | --- | --- | --- |
|   | | Comments() | | Print | | Mail | | Large Medium  Small | 分享按钮 | 0 |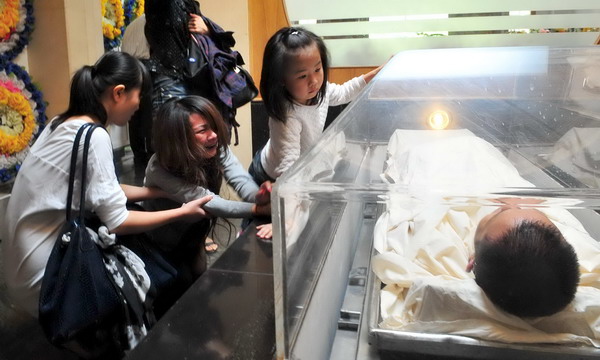 The dead body of Niu Zuotao lies in a coffin on Oct 21 as his wife and daughter bid a final farewell in Guangzhou. His wife said, "It is like a nightmare, when I close my eyes he is right in front of me." [Photo by Yao Sidong/for China Daily]
City honors the ex-soldier who gave his life in a futile attempt to rescue a stranger
GUANGZHOU - A man who died last week trying to save a drowning woman has been declared a hero by the city government.
Niu Zuotao, 31, a retired soldier, originally from Heze of East China's Shandong province, was walking along the river with friends when they saw a woman jump into the Pearl River at about 8:40 pm last Tuesday, police said at a news conference on Saturday.
Niu quickly took off his shoes and jumped into the river. He tried to pull the woman from behind to the riverbank, but the terrified woman made it difficult for him to get a grip on the bank and they drifted out into the middle of the river, until both were out of strength and drowned. Niu's body was found the next day.
His wife Chen Pingyan is still coming to terms with his death.
"It is like a nightmare, when I close my eyes, he is alive right in front of me," she said.
Chen said Niu was an honest man and she consoles herself with the knowledge that his act of bravery has been affirmed as a moral act of courage.
The Guangzhou government was quick to award Niu with the title of hero and rewarded his family with 300,000 yuan ($47,000) and a certificate to recognize his courage.
Su Zhijia, deputy Party chief of Guangzhou, who presented the reward to Niu's wife and their 5-year-old daughter at the news conference on Saturday, said Niu's bravery has touched the heart of many people.
"We are proud of his heroic act, which is a model for all citizens. His spirit of trying to save others at the cost of his own life will not be forgotten," Su said.
The public has hailed Niu as a hero who "warmed up" the province, which gained a reputation for coldheartedness when 18 passers-by failed to help a 2-year-old girl who was run over by two vehicles in Foshan city. The girl died on Friday, provoking widespread soul searching about the state of the nation's morality.
Wang Fangcheng, a Guangzhou office worker, said Niu's spirit of selflessness deserves honoring and should be used to cultivate a willingness to help others.
"Society has become more and more commercialized. It needs many more people like Niu Zuotao to help raise residents' awareness of their duty to help others," she said.
Niu joined the People's Liberation Army in 1998, and retired from army in 2003. He worked as a driver and then a road maintenance worker in Guangzhou before quitting the job and starting a company with friends earlier this year, providing a chauffeur service for over-the-limit customers and household management services.
Niu's mother Zhou Cuiying, 63, in Shandong province, passed out when she was told about her son's death. She said her son was a filial man and the pillar of the family after his father died of cancer several years ago.
Niu's elder sister Niu Xinli told Shandong Business Daily that he was good at swimming and had saved a few people in the past.