A life behind the lens
Updated: 2011-10-05 11:15
| | | | | | | | | | | |
| --- | --- | --- | --- | --- | --- | --- | --- | --- | --- | --- |
|   | | Comments() | | Print | | Mail | | Large Medium  Small | 分享按钮 | 0 |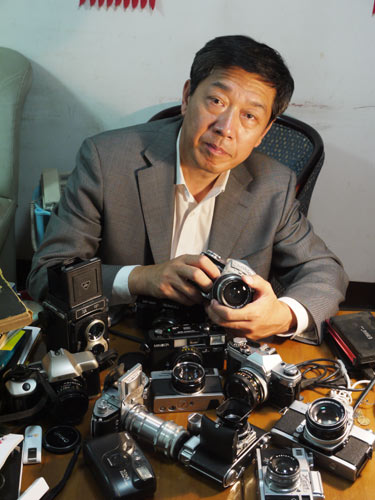 Chen Zhongyuan shows off some of the cameras he has collected since the 1960s, when he first discovered the joy of photography. [Provided to China Daily]
Traditional cameras and new models click with longtime photographer. Zhang Yue in Beijing reports.
Chen Zhongyuan fell in love with photography when he was a young boy. Smitten, the 56-year-old has watched the technology advance far beyond his wildest childhood dreams and says modern models make it easier than ever to take good pictures. He prides himself on keeping up with the latest gizmos and gadgets. Yet, for him, the old ones are still the best.
"Digital photography takes just a second. Press the button and the image is on the screen," says Chen. "It took a week to develop film in the 1980s."
And that's not to mention having to deal with things like lighting or adjusting the focus and shutter speed.
"All that helped slow things down, though. It made it more important to think and get the picture right (at the moment). Sometimes I feel we're rushing all the time," he says.
Chen, editor-in-chief of Popular Photography, a Chinese monthly magazine, discovered his favorite pastime in the 1960s while growing up in Beijing.
Cameras were rare in China at the time, and he recalls that his family was the only one in his residential building that had one.
"My father was an engineer and he used a camera for his work checking factory components," he says. "That's when I became obsessed. I read all kinds of books about the functions of cameras and different models."
As he grew older, Chen eventually found himself working with an opera troupe in Shandong province as a clarinet player.
Even though 20 years had passed, he was still the only one in the troupe with access to a camera.
He took numerous pictures of performances and spent much of his spare time capturing the things around him.
"We used roll upon roll of film," he says. "We could crop and change photos then, a bit like Photoshop today, but instead of cropping on a computer screen, we did all the work in a darkroom."
However, building your own darkroom was expensive, especially for an amateur photographer. So, instead, for more than a decade, Chen had to wait until his wife and child went to sleep so he could switch off every light in the house and develop his film.
Today, Chen's work allows him to test out all the latest cameras and gadgets, including those made by international brands such as Sony and Olympus. Yet, he still goes back to film from time to time.
"Sometimes I pick up a camera that I bought decades ago and go back to a place I once took pictures, then take new ones of what these places look like now," he says.
During the 1980s, the 135 camera soared in popularity in China. At one point, annual sales reached more than 6 million.
Invented in 1908 in Russia, one type of these cameras is known in Chinese as cameras for "silly" photographers because they required just the click of one button to take a shot.
Chen has a collection of more than 80 different types of 135. "No matter how cameras get more sophisticated, becoming a good photographer has never been easy," he says, adding that point-and-shoot models make it even more important for photographers to have a keen sense of beauty.
"It's never been about the equipment," he adds.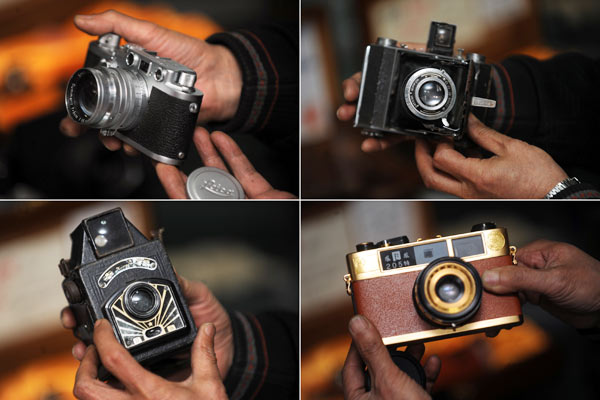 Some of the cameras Chen Zhongyuan has collected since the 1960s. [Photo/Xinhua]
Even some new cameras are trying to imitate the effects of outdated ones, he said.
One model he was asked to test out in September, for example, came from Olympus. He said it functions like a modern model but takes pictures that come out looking like ones taken in the 1970s.
"It just goes to show," he says. "The single-lens cameras many young people are using today involve very simple elements that date back a century ago."
Despite leaning toward nostalgia, Chen said he is intrigued by the latest developments in technology and admits regularly using his iPhone 3G to take snapshots while he's out and about.
"It doesn't have many functions like a well-equipped single-lens camera, but the world is changing, and I would love to know how to take good photos with a cell phone," he says. "It's all the rage now."