Walk in each others' shoes
Updated: 2011-10-04 07:57
By Tang Yue (China Daily)
| | | | | | | | | | | |
| --- | --- | --- | --- | --- | --- | --- | --- | --- | --- | --- |
|   | | Comments() | | Print | | Mail | | Large Medium  Small | 分享按钮 | 0 |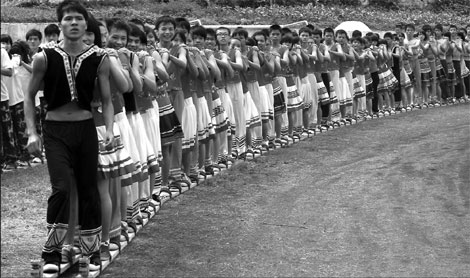 Two 120-people teams broke the Guinness world record by walking on 50-meter-long specially designed plank shoes for more than 180 meters at a local sports festival in Hechi, Guangxi Zhuang autonomous region on Sept 22. [Photo by Tang Yue / China Daily]
It was no stroll in the park, but two teams of 120 people broke a world record through teamwork and perseverance, traveling 180m on pairs of plank shoes, Tang Yue writes
You must have seen hundreds or even thousands of people walking together in the same tempo, like a military parade. But what about doing it in one pair of shoes?
Last month, two 120-person squads broke the Guinness world record by walking on 50-meter-long, specially-designed plank shoes for more than 180m at a local sports festival in Hechi, Guangxi Zhuang autonomous region.
Each shoe consisted of nine pieces of wood, linked by hinges and bolts, and 120 half-round iron hoops attached to it, into which you could put your foot. It meant all the people on the super-long shoes had to maintain the same pace to keep moving. Either that, or they would stop or even fall down.
"It was really incredible when we first heard of the idea. It just sounded so crazy," said Wu Boning, 16, from the Jinchengjiang No 1 Middle School.
Walking on the plank shoes is a traditional sport among many Chinese ethnic minorities. However, to do it with five or nine people, as it is usually done, is one thing. To do it with 120 people is another matter.
To complete their "mission impossible", they started with nine people together and gradually increased the amount.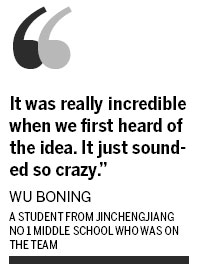 Once all 120 people were wearing the shoes, the most difficult part was not to keep moving, but how to start.
"Since the team was so long, if one player said, 'ready, go', the member on the other end may not hear it clearly. So the teacher shouts it alongside," Wei Qiwen, the instructor of the other team, Guangxi vocational school, said.
"But there was still a problem. Some players just started walking at the same time when they heard 'go', while others just paused before moving. Even a very small time difference could stop the squad from moving.
"Sometimes, they were excited to get off to a nice start, but then they lost their tempo and fell."
With so many people in the same shoes, it was just like dominoes, Wei said. Some students, trying not to disrupt their teammates, chose to fall to the side and injured their ankles.
However, it only took the team a week to get into a proper rhythm.
"This is the greatest thing I have ever done in my life," said Wei Minlan, 21. "If there is something called sense of achievement, I think I have a great taste of it.
"Especially when you do it with 119 other people. You just move at the same pace and you feel the power of solidarity.
"I thought I couldn't make it at first, but we did it and broke the world record. Now I want to do it with more people in the future."