Race for beauty's crown
Updated: 2011-10-04 08:16
By Raymond Zhou and Cheng Shuying (China Daily)
| | | | | | | | | | | |
| --- | --- | --- | --- | --- | --- | --- | --- | --- | --- | --- |
|   | | Comments() | | Print | | Mail | | Large Medium  Small | 分享按钮 | 0 |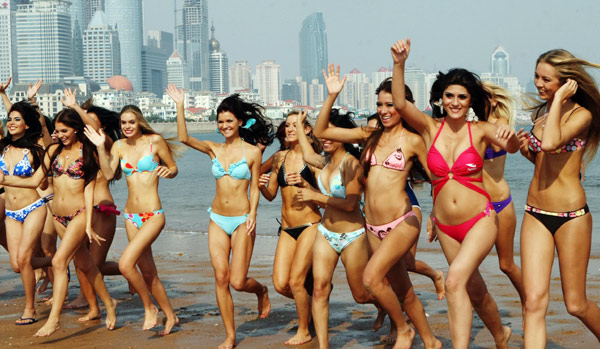 Finalists of the 36th Miss Bikini International World Contest pose for a photo at a beach in Qingdao, a coastal city of East China's Shandong province, Sept 22, 2011. [Photo/China News Service]
Beauty pageants were once taboo, but they are now being embraced by local governments as a way to attract attention to local charms, report Raymond Zhou and Cheng Shuying.
Beauty may be only skin deep, but it can stimulate an economy. Or so say some local officials and pundits. Sanya, a city on the southern tip of Hainan Island, has hosted five Miss World pageants, as well as all of the New Silk Road model competitions in the new millennium. It has been reported that Sanya paid large sums for the rights to hold these events, but some say it was worth it: The resort hotel where the Miss World pageants took place brought in 100 million yuan ($15.6 million) in revenue during the first year and took the lead in both room rates and occupancy rates among the elbow-to-elbow luxury properties that line Yalong Bay. Foreign tourists have been swarming in.
Milestones in China's path toward beauty pageants:



 While Miss Hong Kong could well be the benchmark in star-making power of beauty pageants across China, not to say clout and sleaze, China has slowly gone from denying any interest to finally falling head over heels.

1946: Miss Hong Kong contest started. TVB took over in 1973 and turned it into a television behemoth.
1985: Guangzhou Communist League Committee launched a competition euphemistically named "Youthful Beauty in Goat City".
1989: Guangzhou Television Station initiated "Beauty in Flower City", outwardly to select candidates for commercials and advertisements. (Goat City and Flower City are nicknames for Guangzhou, capital of Guangdong province.)
1989: New Silk Road model contest was started. It was called a costume performance but patterned after Hong Kong-based Miss Asia Pageant, and later it evolved into China's best-known and most prestigious event for professional fashion models.
1993: College student Gao Jing wrote an article titled "Peking University girls reject beauty contests", which was published on the front page of Beijing Youth Daily.
1994: All-China Women's Federation issued an official stance: it does not support, endorse, organize or participate in beauty contests.
1994: Pan Tao, then 22 and winner of a city-level contest, overcame great difficulties and traveled to South Africa to compete for Miss World. She had only two sets of formal wear with her.
2001: Li Bing became the first to be formally entered in a world competition. She finished fourth in Miss World.
2003: Miss World was held in China. The word "beauty pageant" eased into official usage.
2007: Zhang Zilin, a professional model, was crowned Miss World, the first ever Chinese to win such a title on a global stage.
2010: Zhang Zilin appeared in the nation's image advertising spot, signaling a further acceptance of beauty pageants by the government.
It may be the same rationale that prompted the Southern Media Group to buy the license last year to organize Miss China pageants for the next five years, feeding winners to the Miss World event.
"The so-called beauty economy is a platform for generating attention because we have attracted a lot of eyeballs, which, if handled properly, can be transferred elsewhere where they can create value," said Wang Dong, secretary-general of the Committee of Miss World China Pageant 2011.
Wang revealed that wherever they stage events, local officials greet them with open arms.
"Local governments are aware of the power of cultural activities to boost their image," he said. "They have realized that the girls are not only gorgeous, but talented, and they are more willing to be involved."
The beginning
This was a far cry from a few years ago when China toyed with the "bourgeois" game that focused on physical beauty.
In the 1980s, Guangzhou, the southern metropolis most receptive to Hong Kong influence, made two attempts to launch a beauty pageant. The first, in 1985, attracted 550 participants, who were put through an audition and a written test that included questions such as "Who is the current US president?" and "Who wrote Hamlet?"
Physical appearance accounted for only 15 percent of the score. Beauticians from Hong Kong were hired to "touch up" the crowd, who were unaware how much they were frowned upon by the establishment. In the end, press coverage was allowed only on the condition no images would appear.
Three years later, a local TV station took another stab this time televising the contests. There was a swimsuit segment, which was so controversial it caused a backlash. In the end, four contestants from the military had to be pulled out for the show to go on. One of the top winners - the beauty king - suffered such discrimination even one of his classmates wrote him a letter to express his disapproval and contempt.
To deflect criticism, the early pageants always included male participants even though nobody paid them much attention. Another strategy was to call the contests anything but beauty pageants. Sometimes it was to select fashion models or television personalities.
The 1990s saw beauty contests gradually accepted as long as they adopted an alias. The criticisms that they objectified women still lingered. The All-China Women's Federation issued a rare non-endorsement, and a Peking University female student stood up against "treating women as ornaments and designing every standard from the aesthetic perspective of the male".
By the new millennium, beauty pageants no longer aroused grimaces among college students. Even women from top schools would jump at chances to become fashion models, some with so much bravado that it would make their predecessors blush. By 2003, the year Miss World descended on Sanya for its final rounds, the word "beauty pageant" had lost its connotation of decadence.
In 2007, when Zhang Zilin became the first Chinese to win an international beauty competition - Miss World in this case - nobody showed any displeasure. As a matter of fact, she was later called on to star in a national image campaign that included a starry roster of government-sanctioned celebrities.