Migrant workers share stories through hands
Updated: 2011-09-24 08:37
(China Daily)
| | | | | | | | | | | |
| --- | --- | --- | --- | --- | --- | --- | --- | --- | --- | --- |
|   | | Comments() | | Print | | Mail | | Large Medium  Small | 分享按钮 | 0 |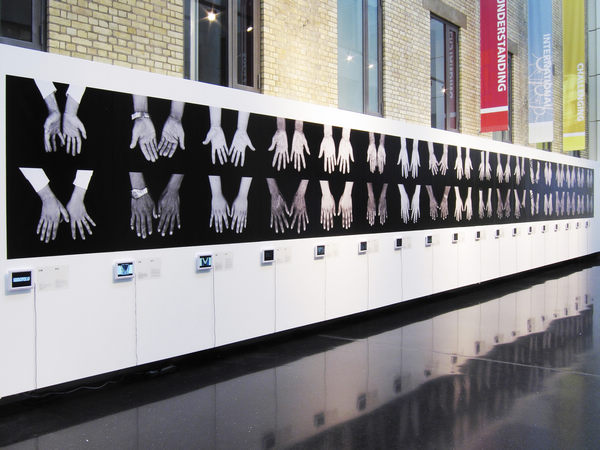 "Substructure" by CYJO in collaboration with the charity Compassion for Migrant Children on exhibition at the LSE Atrium Gallery. [Courtesy of CYJO]
LONDON - A young Chinese migrant worker was surprised to be asked to have her hands, permanently marred by a gas tank explosion, photographed and filmed. "Are you sure you want to shoot me?" she asked. "My hands are not very pretty."
"What are you talking about?" the photographer replied reassuringly. "Your hands are beautiful because they are yours."
The woman, in her early 20s, went on to share her life story with confidence. She said that her accident inspired her to become a mentor in her local community so that she could help others going through difficult situations.
Referred to only as "No 35", she is one of 50 migrants profiled by Korean-American photographer Cindy Hwang, also known as CYJO, for her "Substructure" project, currently on display at the London School of Economics (LSE) Atrium Gallery. Her story is represented by a set of photographs of her hands, accompanied by a short film of her hand gestures as she tells her story.
Hwang was born in Seoul, South Korea, in 1974 before emigrating to the United States in 1975. She moved to Beijing in 2009, where she felt compelled to spread the stories of China's large internal migrant population, estimated to be more than 120 million, according to figures from the Organization of Economic Cooperation and Development.
"The plethora of migrants, the amount of cheap labor in China compared to US and how they mixed in with rest of the group was significant," said Hwang.
She developed a vision to spread the stories of the migrants, which materialized after she met Jonathan Hursh, founder of the charity Compassion for Migrant Children (CMC). CMC provides social and educational programs for migrant children at its multiple community centers in Beijing and Shanghai.
In the summer of 2010, Hwang traveled to three different migrant centers with the goal of providing "an educational platform" to increase awareness of the difficulties experienced by the migrants. Hwang focused on the hands as both an expressive tool and anonymous means of sharing these migrant voices.
With the help of a translator, she selected at random migrants who were acting as vendors, picking up trash or simply walking through the areas, for profiling.
Most were happy to share their stories of their journey, background and current situation, as well as their views on China.
The individuals, who range in age from 5 to 80, hail from a variety of different professional and personal backgrounds. Hwang described her varied experiences when interviewing different generations of Chinese migrants.
"The older individuals were very talkative, chatty," she said.
Hwang was surprised to find that interviewees of all ages were very focused on the future of China.
"When you are in a situation where you don't have much and you are constantly looking for resources, you don't have time to think about a lot of these things," she said.
"I was very surprised because a lot of them were very aware or wanting to be aware of the overall picture. I feel like their vision was a little broadened."
She added: "The basic necessities and wants and dreams for them were very reasonable, very modest" and jokes that, "nobody said they wanted a Ferrari".
Walking through her Substructure exhibition in London, Hwang pointed out No 20, a trash collector, who said that she was happy because her daughter was employed in the film industry in Beijing.
This recurring theme of hope for China's development is juxtaposed with stories of the deep struggles of the individuals depicted in the project. Hwang emphasized that they were all determined to work hard despite the tough environment in which they lived.
She recounts her meeting with No 32, a teenager whose disability is manifest in a disfigurement in his hands and arms.
The orphaned youth regarded himself as "very lucky" because he was looked after in his orphanage, and described his current role as a volunteer teacher in a Beijing orphanage as "a source of happiness".
Hwang had previously worked on the topic of identity and migration in her "Kyopo" project, which dealt with the Korean diaspora in the US. However, she emphasized that her Substructure project was a profoundly different experience as she was working with a single socioeconomic level. She sought to highlight the all-too-often forgotten voices of these migrants.
"I wanted to show other sides of the story - to show the individuals who were building amazing buildings, helping deliver food and really contributing toward the amazing changes which we are seeing in China today."
Hwang, who describes migration as a "huge global issue for the 21st century", spoke of the common theme that tied her project together. Ultimately, with each Chinese migrant interviewed, she saw and aimed to capture a "human story that any individual can relate to of wanting to better your life".
Substructure is on display at the LSE Atrium Gallery until Sept 30.
Hot Topics
Organ transplant bonds mother and son