China sets new world record with hybrid rice yield
Updated: 2011-09-19 20:05
(Xinhua)
| | | | | | | | | | | |
| --- | --- | --- | --- | --- | --- | --- | --- | --- | --- | --- |
|   | | Comments() | | Print | | Mail | | Large Medium  Small | 分享按钮 | 0 |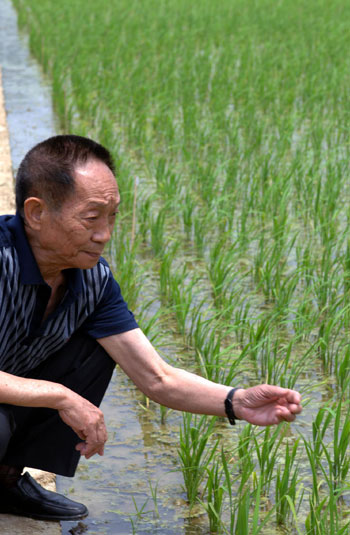 Yuan longping, academician of Chinese Academy of Engendering and known as "father of hybrid rice", examines rice crops in this file photo taken in May of 2007. The yield of China's hybrid rice breed, which is known as super rice, has exceeded 900 kg per mu (0.067 hectare), setting a new world record in rice output, according to China's Hunan provincial academy of agriculture at a press conference on Monday. [Photo/Xinhua]
CHANGSHA - The yield of China's hybrid rice breed, which is known as super rice, has exceeded 900 kg per mu (0.067 hectare), setting a new world record in rice output.
The rice breed, DH2525 (Y two superior No. 2), produced a harvest of 926.6 kg per mu during its trial plantation in Longhui County in central China's Hunan Province, according to the provincial academy of agriculture at a press conference on Monday.
To ensure the accuracy of the yield, a team of experts under the Ministry of Agriculture (MOA) randomly selected three out of the 107.9 mu trial field's 18 plots and supervised the harvest on Sunday.
However, the breeding can not be deemed a success until the new breed produces the targeted yield of over 900 kg per mu on at least 100 mu of farmland for two consecutive years, said the team's leader Cheng Shihua.
"We have another year to go," he said.
DH2525 was developed by Yuan Longping, known as the "father of hybrid rice," who started developing hybrid rice in the 1960s. His research team reached the target unit yield of 700 kg per mu and 800 kg per mu in 1999 and 2005, respectively, setting world records both times.
With skills honed by his team over several decades, Chinese farmers are estimated to have harvested 300 billion kilograms more in aggregate output. Their hybrid rice, therefore, has become known as super rice.
Wang Huayong, a farmer who contracted the trial field, said the field had a yielded 841.6 and 872 kg of rice per mu over the past two years, respectively, and the yield finally exceeded 900 kg per mu this year.
"The seed was further upgraded, new manure was used, and we also received the guidance of Mr. Yuan himself," Wang said.
Eighty-one-year-old Yuan visited the field in early September and checked the growth situation.
"He issued a clear instruction on water management in the field," said Wang.
Li Guoxiang, an expert on agriculture with the Chinese Academy of Social Sciences, said the higher yield target was of great significance for both heavily populated China and the world at large.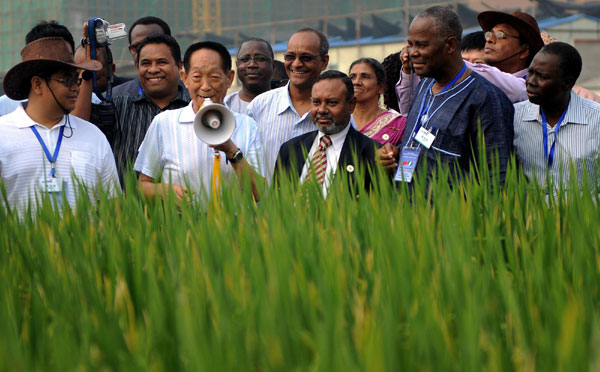 Yuan longping, academician of Chinese Academy of Engendering and known as "father of hybrid rice", shows foreign guests around rice crops in this file photo taken in September of 2009.  [Photo/Xinhua]
Although China is basically self-sufficient in producing grain to support its population of 1.3 billion, more grains are needed for subsidiary food products and animal feed, Li said.
For example, according to Li, China needs 700 million mu of crops for the manufacturing of plant oil, but only 200 million mu is currently available in addition to farmland producing the country's main foods.
"High-yield super rice helps Chinese people spare more farmland and water resources for other agricultural products," he said.X   The super rice will also help increase rice production all over the world and lift people out of hunger, Li said.
According to the United Nations, a billion people suffer from hunger and malnutrition, and grain production output needs to increase by 60 percent by 2030 from the output of 1995 to meet the food demands of the world's population.
By 2009, super rice had been planted in India, Vietnam, and the United States, among others, and covered a total of 3 million hectares. The average unit yield had increased by 15 percent.
Yuan believes the yield could eventually increase further to 1,000 kg per mu.
"I hope it can be realized when I am 90 years old," said Yuan.
Hot Topics
Organ transplant bonds mother and son