Traffic fight fuels claims about noted 'dad'
Updated: 2011-09-13 07:36
By An Baijie (China Daily)
| | | | | | | | | | | |
| --- | --- | --- | --- | --- | --- | --- | --- | --- | --- | --- |
|   | | Comments() | | Print | | Mail | | Large Medium  Small | 分享按钮 | 0 |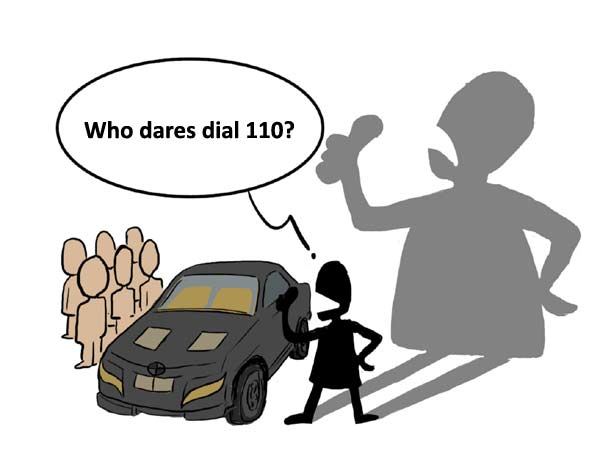 Cartoon by Zhao Shunqing [http://cartoon.chinadaily.com.cn/] 
BEIJING - A whistleblower claimed on Monday that he hopes he will be sued by a police officer in Shanxi province, who he said was the father of an 18-year-old Audi driver who brutally attacked the driver of a Buick in Beijing last week.
Liu Jianjun, a former reporter for Shanxi Evening News, said in a statement that Su Hao, deputy head of Shanxi public security department, was the father of Su Nan, the driver of an Audi detained by police on Sept 6 after he attacked a Buick driver for blocking his way.
Su's friend, a teenage BMW driver who is the son of prominent military singer Li Shuangjiang, was also detained by police for joining the fight.
Su Nan is allegedly the illegitimate son of police officer Su Hao, who had an affair with a college student from Jingle county of Shanxi over several years. Quoting sources close to Su in the public security department, Liu said in his blog that the woman petitioned many times after she had a child with Su Hao.
Liu told China Daily on Monday that Su Hao has already asked for legal help from a law professor but he has not received any notice from the court.
"I hope he (Su Hao) will file a lawsuit against me," Liu said.
"On the basis that if Su accuses me of libel, he must go through a paternity test to prove that he has no genetic relationship with Su Nan, and that will be impossible."
The Audi driver, Su Nan, also claimed that his father was Su Hao after he was detained in a police station in Haidian district in Beijing, but Shanxi public security department denied this claim.
Su Hao responded to the accusation on Sunday, saying that Su Nan's father, who ran a car sales company in Beijing, had already been detained by Beijing police for making a fake car plate number for Sun Nan's Audi, according to a report in Guangzhou-based New Express Daily.
Xinhua News Agency on Monday confirmed the detention of Su Wenbin, the man Su Hao said is Su Nan's father, citing "relevant authorities".
Liu Hu, a reporter from New Express Daily who is covering Su Nan's story, told China Daily on Monday that some of Su Hao's colleagues, including Yan Heping, deputy head of Shanxi public security department, had confirmed that Su had an affair with a woman who petitioned many times after having Su's child.
China Daily could not reach Su Hao and Yan Heping for comment before press time on Monday.
The case over the car attack, which occurred on Sept 6, continues to grow online even though Li Shuangjiang, the military singer, apologized on Thursday to the Buick driver who was beaten by his son.
One entry on Li's micro blog had drawn 11,000 comments by Monday afternoon, most of which blamed him for failing to teach his son to behave well.
Some netizens compared the incident with a hit-and-run case in which Li Qiming, the son of Li Gang, deputy director of the public security bureau of Beishi district of Baoding city, Hebei province, ran over two students in a campus in October 2010, killing one and injuring the other.
"My father is Li Gang," Li Qiming shouted when he was stopped by other students. The soundbite has now become synonymous with privilege.
Li Yiming, a columnist and commentator, said that the incident reflected the public's anger against the behavior of the arrogant children of some wealthy people and high-ranking officials, alleging that these children are always exempt from punishment even though they have broken the law.
Hot Topics
Fifth Apple store in China to open in Shanghai