More reservoirs to beat drought
Updated: 2011-09-09 07:37
By Qiu Bo (China Daily)
| | | | | | | | | | | |
| --- | --- | --- | --- | --- | --- | --- | --- | --- | --- | --- |
|   | | Comments() | | Print | | Mail | | Large Medium  Small | 分享按钮 | 0 |
Guiding, Guizhou - Wang Kai is worried that residents in Xinpu township will not have any water to drink unless it rains in the next 15 days.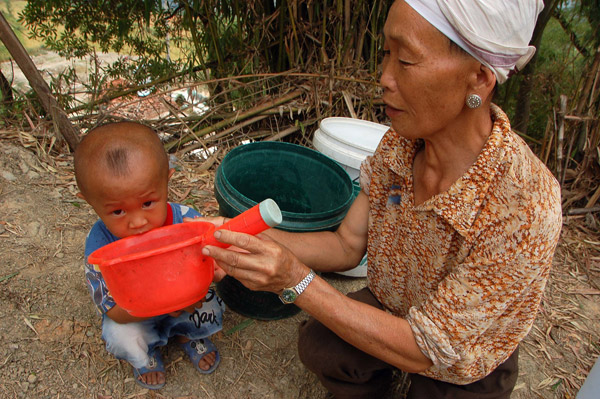 A child drinks water at Maji village in Huangping county, Guizhou province, on Wednesday. The lingering drought has affected the drinking water for more than 300 farmers in the area. [Photo / China Daily]
"Our wells may dry up the town, from where water is delivered to us in trucks, will also face shortages," the Xinpu township official said.
The township in Guiding county, Southwest China's Guizhou province, has been suffering from drought since the end of June and some 16,000 people out of a population of 18,000 are facing a shortage of drinking as they rely on wells for their water.
Guiding county is one of the worst drought-hit areas in Guizhou.
Although the county's government has carried out a range of measures, Yang Xianyun, the head of the county's water resources bureau, admitted that the water supply in Guiding might get worse.
"We are lacking in water storage facilities," he said.
But Yang said two medium-scale reservoirs - Machanghe Reservoir with a capacity of 34 million cubic meters and Changlin Reservoir with 11 million cubic meters - are expected to break ground in two years, thanks to the State Council's overall program.
"We'll try our best to finish the bigger one by the end of 2016," he said.
The government is planning to construct 114 large and medium-sized reservoirs during the next five years in Guizhou province, which has been continuously hit by drought in recent years, an official with the provincial water resources department said.
Zhao Yun, deputy chief of the provincial drought relief headquarters, told China Daily on Thursday that three large-scale and 111 medium-scale reservoirs are expected to break ground during the 12th Five-Year Plan (2011-2015) period.
He added that 20 reservoirs have started construction.
He explained that medium-scale means a water storage capacity of more than 10 million cubic meters while large-scale means a capacity of more than 100 million.
"Another 32 are in the blueprint for the five years after that," Zhao said.
Li Ping, head of Guizhou provincial department of water resources, told media earlier this week, that "some 200 billion yuan ($31 billion) will be invested in constructing water facilities in Guizhou in the next five to ten years".
He said the projects will guarantee a water-supply capacity of 16 billion cubic meters a year and will "fundamentally reverse the backward status for water facilities in Guizhou".
Guizhou now maintains 2,304 water facilities, of which 1,896 are reservoirs, of these none are large scale and only 34 are medium scale. He also said the per capita water supply in Guizhou is only 59 percent of the country's average.
"The drought situation in counties with medium-scale reservoirs is better than those without," said Zhao.The annual average rainfall in Guizhou is around 1,200 millimeters, which is much higher than the national average.
The State Council approved a 95 billion yuan investment in building 521 major water facilities from 2011 to 2020 in order to optimize Guizhou's allocation of water resources and ensuring drinking water for residents.
People's Daily reported that by the end of August, the ongoing drought has affected all 88 counties in Guizhou and more than 6.23 million people face a shortage of drinking water. The drought caused 1.76 millions hectares of crops damaged and direct loss of 12.2 billion yuan.