An orphan among orphans
Updated: 2011-09-02 08:49
By Guo Yali (China Daily)
| | | | | | | | | | | |
| --- | --- | --- | --- | --- | --- | --- | --- | --- | --- | --- |
|   | | Comments() | | Print | | Mail | | Large Medium  Small | 分享按钮 | 0 |
BEIJING - Being an orphan who lost both legs hasn't stopped Xu Yuehua from having a room full of her own children.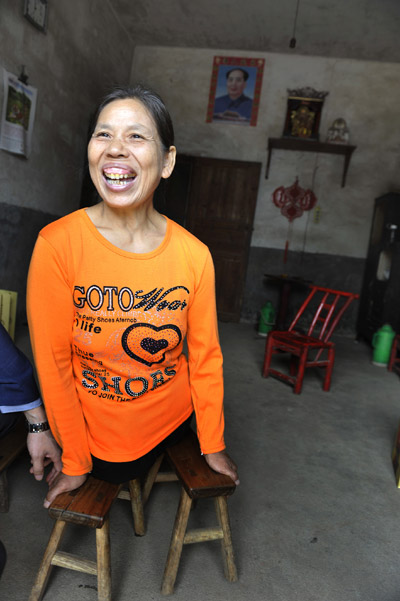 Xu Yuehua lost her legs in an accident at the age of 12 and volunteered to take care of orphans at a social welfare institution in Xiangtan, Hunan province. [Photo / China Daily]
The 55-year-old, who gets around by walking on a pair of stools, is "mother" to more than 100 children from an orphanage in Xiangtan, Hunan province.
"She's got a way with kids after all these years nursing and caring for the children, many of whom are disabled or mentally challenged," said Li Yilong, deputy director of Xiangtan City Social Welfare Home.
The home has around 80 children in its kindergarten.
"She is always cheerful playing with them and never gets upset with the mess she has to deal with," Li said.
An orphan herself, Xu has been taking care of the children in the welfare home for 38 years.
"I felt like a burden to others being taken care of and doing no work," she said when talking about her early days in the welfare home.
Xu's father died when she was one year old and her mother passed away when she was 12. Only three months later she lost her legs after being hit by a train when picking up coal cinders on the tracks.
Her aging stepfather and young sisters took care of her the first few years, but in 1973 the family was not able to support her any more and the local welfare home accepted her.
When the head of the home visited her, Xu asked whether she could do something for the children.
"But she said she would only assign me some job if I could walk," Xu recalled.
With her legs amputated, she was not able to use crutches or get artificial limbs.
"But seeing a toddler learning to walk against a stool, I realized stools would help me walk, too," Xu said.
Then she got two handy stools, and practiced moving little by little.
To walk, she grabs the stools with her hands and moves her body onto one stool at a time for balance.
A few months later she was able to walk to the head office and got permission to take care of the infants.
"She taught me to be open-minded and optimistic," said She Shengli, who was once an abandoned baby born with cleft lip and palate and abandoned as a baby.
Shengli was found on the street in March 1973 and became the first child Xu looked after at the welfare home.
It's not easy to feed a baby with such a defect as they usually have problems sucking and swallowing. But Xu managed to feed the infant drop by drop.
When Shengli underwent surgery at Xiangtan Center Hospital, Xu was by her side day and night nursing her.
In the eyes of Shengli, her "mother" is always spirited.
"She taught me to face life with a smile," said Shengli, who is already the mother of a 15-year-old boy.
Now Shengli takes her son to visit "grandma" regularly, like other children Xu has brought up.
In 1987, Xu married a kitchen worker at the welfare home and they had a healthy boy in 1990.
Xu's own son, Lai Mingzhi, said he once envied the children of the orphanage as they took away the love from his mother.
"When my mom went to the kindergarten, she used to lock me up at home," recalled Lai Mingzhi, now 21, and a soldier of the People's Liberation Army based in Jilin city, Jilin province.
"But I gradually understood that the orphans need her more than I do."
And her husband, Lai Ziyuan, a simple and honest man, has been supporting Xu through the years.
"Our life is happy and she takes good care of our family," he said.
Xu said she never thought about giving up attending to the children.
"I feel very, very happy being with the children."
Xu received an electronic wheelchair as a gift from China Central Television's Channel 7 early this year.
"I ride it to the kindergarten, and it takes only a few minutes to get there. So fast and convenient," said Xu excitedly.
"But I always carry the stools with me, because I need them when moving in the house and taking care of the babies," she added.