Typhoon Muifa – LIVE REPORT
Updated: 2011-08-05 14:09
(chinadaily.com.cn)
| | | | | | | | | | | |
| --- | --- | --- | --- | --- | --- | --- | --- | --- | --- | --- |
|   | | Comments() | | Print | | Mail | | Large Medium  Small | 分享按钮 | 0 |
Welcome to our live coverage of final stages of tropical storm Muifa. Here we will bring you the latest news, information and storm tracking updates as it ebbs from Liaoning to Jilin and Heilongjiang provinces.

August 9

5:27 pm
Outer reaches of Muifa are still causing problems for China with what is known as the "dirty side of the storm" bringing thunderstorms to the capital this evening as you can see from this satellite image.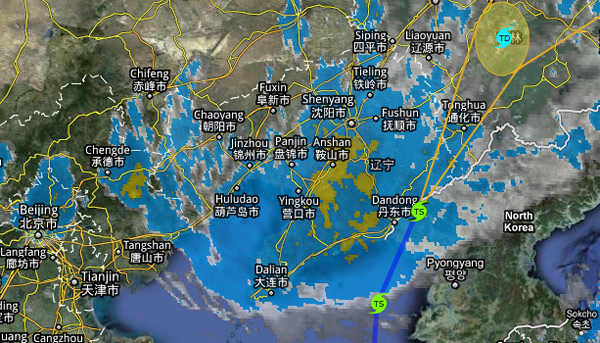 4:41 pm
The National Disaster Reduction Committee Office of China says a total of 3.6 million people were affected by Muifa, 1.353 million were evacuated, more than 600 houses collapsed and more than 4,800 houses were damaged. The direct economic loss was 3.1 billion yuan, People's Daily reports.

2:53 pm
Central Meteorological Station forecasted that from Tuesday to Wednesday morning, Muifa will still bring rain to Northeast China and gales off the coast of Liaoning. It warned local governments to be on alert for geographical disasters.

1:47 pm
This is the latest computer model from tropicalstormrisk.com showing the probability for tropical storm force winds over the next 24 hours. The purple areas indicate a 90 percent chance of winds from 63 to 118 km/h. Red is 60 percent, yellow 40 percent, and blue 10 percent.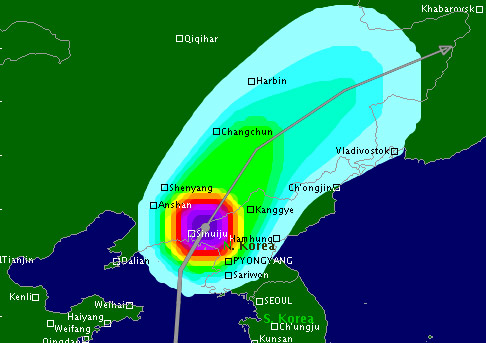 1:35 pm
Heavy rain and winds battered 183 counties in China's coastal provinces of Liaoning, Shandong, Jiangsu, and Zhejiang, and the economic hub of Shanghai.
The storm had toppled more than 600 houses and damaged nearly 5,000 others, according to the National Disaster Reduction Committee.

1:21 pm
The National Disaster Reduction Committee says about 1.35 million people were evacuated as a safety precaution during tropical storm Muifa, Xinhua reports.

12:19 pm
China says the tropical storm caused losses of about 3.1 billion yuan ($480 million), destroying hundreds of homes as it battered the country's east coast before slamming into Democratic People's Republic of Korea on Tuesday, AFP reports.

11:14 am
The latest tracking model from Weather Underground shows the storm heading through Jilin and Heilongjiang.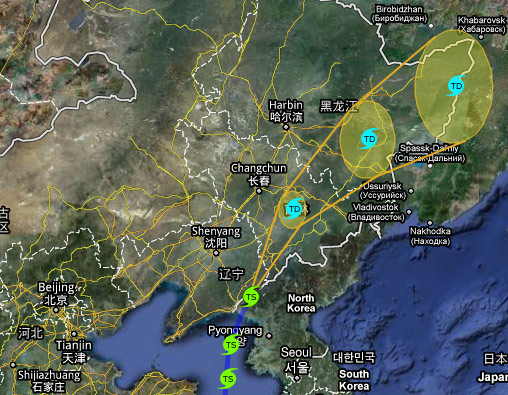 10:09 am
China's weather agency says the storm Muifa is still lashing northeastern China with torrential rains and winds despite having weakened to a tropical depression, AP reports. The storm is moving northeastward with winds of 47 kph. It says Muifa should continue to weaken though winds could gust up to 62 kph along the coast.

10:07 am
Most coastal regions of China are breathing a sigh of relief this morning with no reports of any fatalities from the powerful storm that battered China's coastline, destroyed nearly 200 homes and brought down power lines.

9:01 am
Transport authorities have deployed a range of measures to ensure traffic safety as the powerful Muifa is sweeping along China's eastern and northern coasts, according to a report released Monday on the website of the Ministry of Transport.
All transport departments in areas threatened by Muifa should work with local governments and maritime departments to improve early warning and prevent disasters, said Minister of Transport Li Shenglin.

Welcome to our live coverage of typhoon Muifa. Here we will bring you the latest news, information and storm tracking updates as it moves North towards the provinces of Liaoning, Jilin and Heilongjiang. The storm brushed along China's east coast but avoided a direct hit on Shanghai and Shandong as it veered north. More than 610,000 residents were evacuated as the strong wind and rain destroyed homes and brought down power lines with direct economic losses estimated 1.87 billion yuan.

August 8

5:30 pm
Here is the latest tracking map from Weather Underground.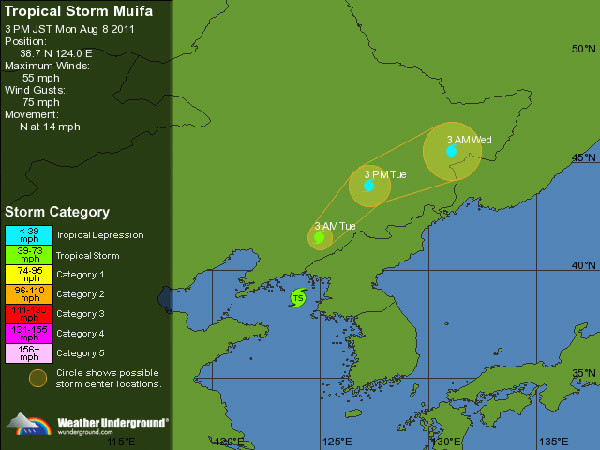 5:22 pm
Four people have now died in the Republic or Korea from tropical storm Muifa, Yonhap news agency reports. Two others are missing.

4:59 pm
More than 1,000 firefighters, troops and border guards are battling to plug the breached dike at Fujia industrial chemical plant near Dalian, reports People's Daily.
They are trying to block the 200 m wide breach with rocks and sand to protect a storage area containing around 20 metal tanks holding oil-based chemicals.

4:45 pm
All passenger liners shuttling between the port cities of Dalian in Liaoning and Yantai in Shandong have been suspended, Xinhua reports.

4:31 pm
All long-distance buses will stop operating from midnight Tuesday in Dandong, Northeast China's Liaoning province, the local Huashang Morning Post said on its Weibo micro blog.

4:21 pm
China's Central Meteorological Office says there will be force 7 to 8 winds in east part of Bohai Sea, Bohai Strait, most places of the Yellow Sea and Liaoning Peninsular and its coastal area and Shandong Peninsular until 9 pm Tuesday.

4:17 pm
This is the current scene from the border city of Dandong in Liaoning province where tropical storm Muifa is likely to hit later this evening. Local authorities have activated emergency response plans.
A total of 756 temporary shelters have been set up capable of accommodating more than one million people. Six thousand military personnel are also on standby to conduct rescue missions. Photo by Huangshang Morning Post/Weibo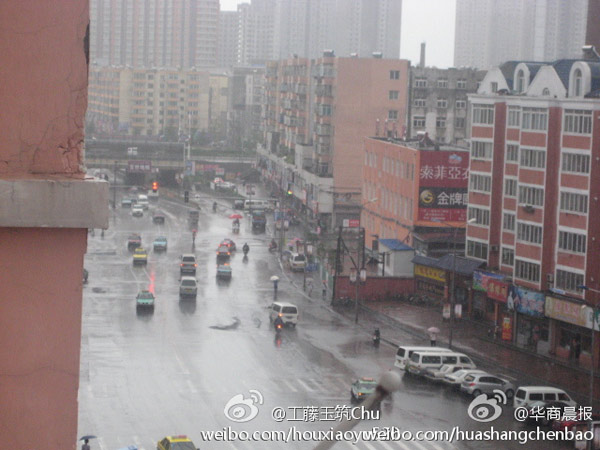 3:48 pm
Dalian, the city where emergency workers are currently battling to prevent a chemical leak at a breached dike, is currently under a levelⅡemergency response, Dalian News reports.
The city has 50,823 soldiers and police on standby to deal with any emergencies. All people who work in areas prone to storm damage have been given the day off and nearly 10,000 people have been evacuated.

3:19 pm
Workers race to prevent a toxic chemical spill by repairing a dike damaged by powerful waves from tropical storm Muifa in Dalian, Northeast China's Liaoning province, August 8, 2011.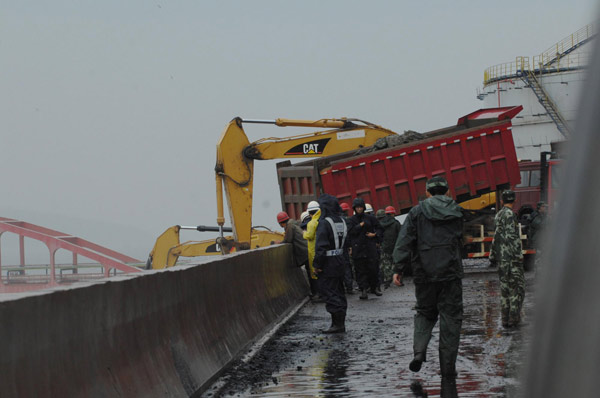 2:13 pm
The Jinzhou Economic Development Zone where a dike protecting a chemical plant has burst due to the force of tropical storm Muifa is located about 20 kilometers northeast of the city center and facing the Bohai Sea to the west. The Jinzhou Port in the Zone is the largest port in northern China. It has 10 berths for ships over 100,000 tons.

1:56 pm
Here is the latest computer model from Weather Underground. The trajectory shows the eye of the storm passing through Dandong in Liaoning later today.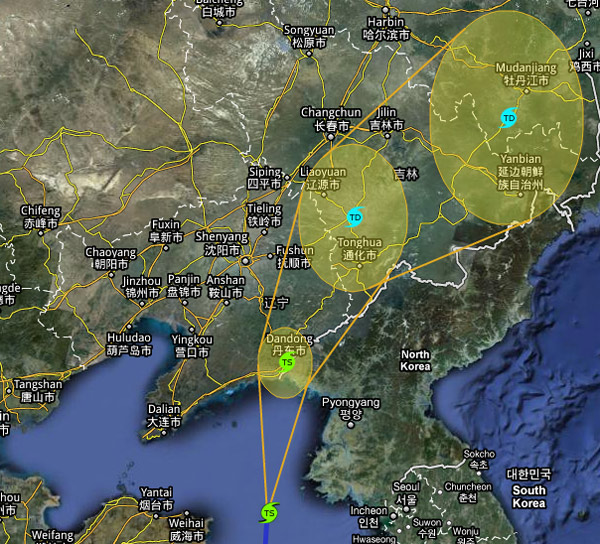 1:46 pm
Workers driving forklifts on Monday rushed to repair a dike guarding a chemical plant breached by powerful waves triggered by the approaching tropical storm Muifa in Northeast China over fears of a toxic chemical spill.
Waves as high as 20 meters, fueled by strong winds, broke the dike in Jinshan Industrial Zone of Dalian city, at about 10:30 am, threatening to hit the compound of Fujiahua chemical plant where toxic chemicals were held, said soldiers who participated in the rescue.
Residents in nearby areas are being evacuated.

1: 30 pm
Authorities say more than 100,000 people were evacuated in East China's Shandong province on Monday, Xinhua reports.

12:05 pm
Local authorities in Dalian have issued an urgent safety warning for people to minimize outdoor activities as Muifa may lead to landslides, mudslides, dam reservoirs bursting.

11:44 am
Six thousand military personnel are on standby in Liaoning province to conduct rescue and repair work as Muifa approaches.
In the neighboring province of Jilin, the storm is expected to bring high winds and heavy rains, said Wang Xiaoming, head of the provincial meteorological observatory.
11:41 am
More than 700 temporary shelters have been set up in Liaoning's border city of Dandong, according to the Liaoning flood control and drought relief headquarters. The shelters are capable of accommodating over 1 million people, Xinhua reports.

11:33 am
Photos of massive waves battering the coastline have been sweeping across the Internet and micro blogs. Click for more photos.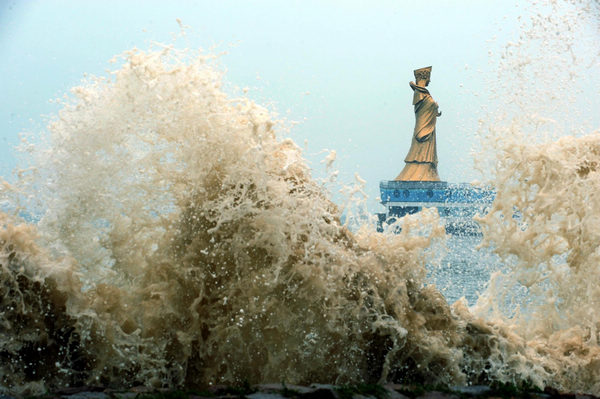 11:23 am
A crowd of young people are drenched by heavy rain in West Lake in Hangzhou. Photo by Shuangyu Xiaobeibei/Weibo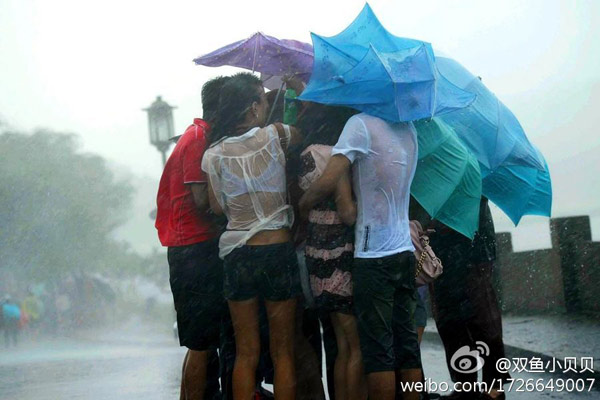 11:03 am
A street in Dalian, Liaoning province is flooded after heavy rain from Muifa. The picture was posted to the micro blog of Huangshang Morning Post on Weibo.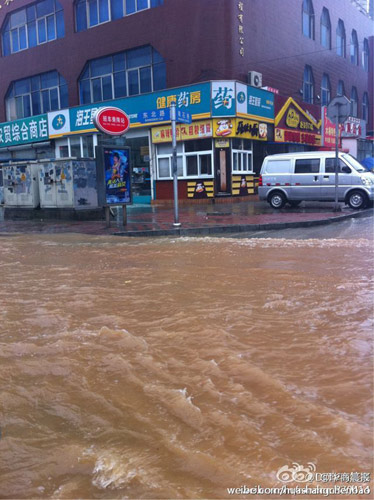 10:40 am
China's weather agency says Muifa will make landfall later Monday somewhere between northeastern China and western Democratic People's Republic of Korea with sea gusts of 102 km/h and traveling at a speed of 25-30 km/h, AP reports.
It says Muifa will weaken after making landfall somewhere between Zhuanghe in Liaoning province and western DPRK on Monday evening. It says it will bring heavy rain to Liaoning.

10:35 am
One person has died and two others are missing on the west coast of South Korea after wind and rain from the outer reaches of Muifa battered the peninsula.
A 75-year-old man was found dead late Sunday on the island of Wando. A 50-year-old woman went missing in South Jeolla Province, as well as a 64-year-old man in the southern port city of Busan, after being swept away by stormy seas, according t according to Yonhap news agency.

10:16 am
Here is the latest computer tracking model from Weather Underground.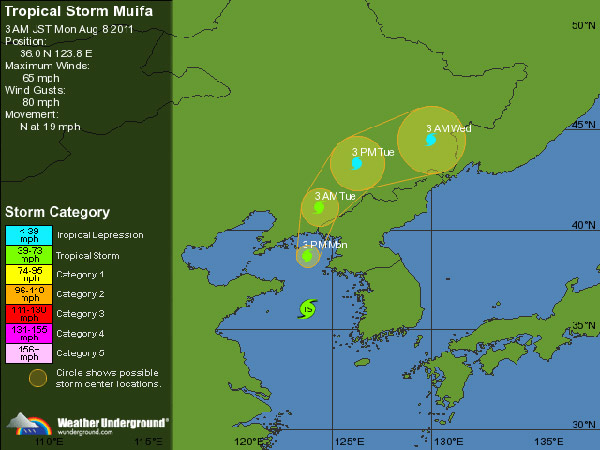 10:14 am
Muifa is now expected to make landfall along the coast of Liaoning on Monday night with tropical storm force winds powerful enough to bring down power lines and damage homes. Current computer models then show the storm tracking northward over the province of Jilin before dissipating further inland on Tuesday.

10:05 am
Muifa has now been downgraded to a tropical storm with winds of 101 km/h as it travels towards Dandong in Liaoning province.
10:02 am
Here is the latest tracking model from tropicalstormrisk.com.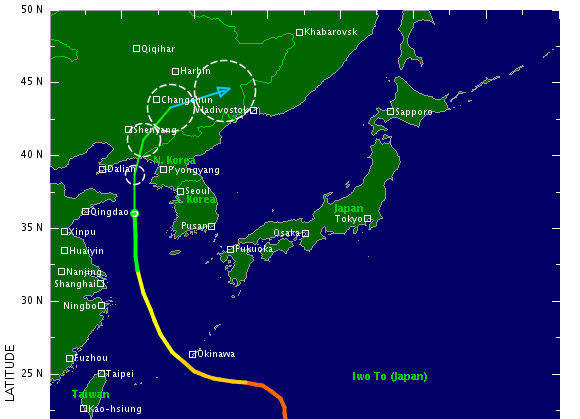 7:10 am
Typhoon Muifa, the ninth typhoon to hit China this year, is weakening as it moves towards the country's key northeastern ports after forcing the evacuation of 610,000 residents on its course along the affluent and densely-populated east coast, authorities said Sunday.

Welcome to our live coverage of typhoon Muifa as China's southeastern coast prepares for one of the most powerful storms to hit the country in recent years. Here we will bring you the latest news, information and storm tracking updates as Zhejiang, Jiangsu, Anhui, Fujian, Jiangxi and Shandong provinces prepare disaster relief operations.

August 7
7:17 pm
Muifa, bringing gusts up to 178 km per hour, is moving at 25 km per hour towards the coast of Shandong Province where it is expected to make landfall Monday morning, the National Meteorological Center said in a bulletin.

7:11 pm
An emergency meeting chaired by Minister of Water Resources Chen Lei, also deputy head of the country's disaster relief agency, was held Sunday in Beijing to arrange prevention measures.
The agency ordered two more provinces -- Jilin and Heilongjiang in the northeast, to beef up disaster relief efforts as the typhoon heads towards them.

6:35 pm
On Sunday afternoon the Category 1 typhoon was about 420 kilometers southeast of Qingdao, passing west of South Korea with winds gusting at up to 137 kph per hour.

3:37 pm
High waters and heavy surf battered China's northern port of Qingdao as Typhoon Muifa approached Sunday on its way up the coast.

3:08 pm
Typhoon Muifa weakened as it approached China's coast on Sunday, avoiding a direct-hit on the financial capital Shanghai and veering north towards a tip of Shandong province that juts into the Yellow Sea.

11:47 am
Shanghai on Sunday closed a second major sea bridge linking the urban area to an outlying island amid gusts packed by Typhoon Muifa which swept across the region.
The closure of the 16.63-km-long Yangtze Bridge to traffic followed a similar action that sealed the 32.5-km-long East Sea Bridge on Saturday afternoon, local traffic authorities said.
The authorities also imposed speed limits on highways and launched a thorough safety inspection of transportation infrastructure.

10:37 am
Though earlier forecasts put Shanghai directly in Muifa's path, it looked likely to bypass the city and move further north. As a result, its impact would not be as strong as expected, weather forecasters said.

10:06 am
China Eastern and Shanghai Airlines will resume flights from Shanghai Hongqiao and Pudong airports to Beijing at 10:00 am Sunday. The flights MU5139, FM9103, MU5113 will take off as scheduled.

9:30 am
Here is the latest computer tracking model from Weather Underground.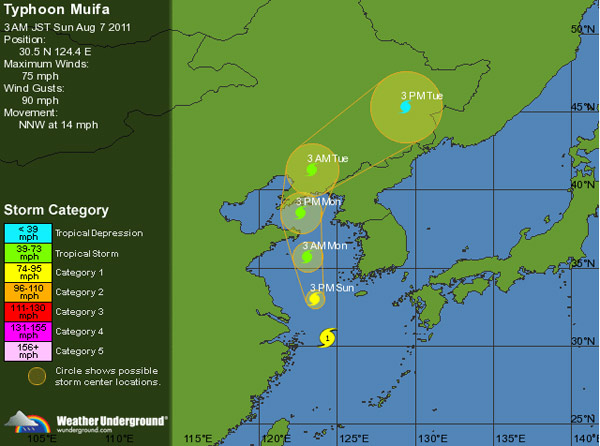 8:08 am
Clouds gather above Hangzhou, the capital of East China's Zhejiang province, on Saturday as typhoon Muifa approaches.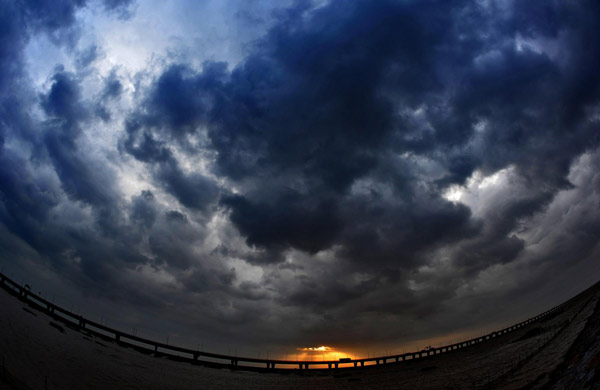 7:15 am
Thirty-five fishing boats that earlier were reportedly missing off East China's coast have been found, local authorities said late Saturday. The boats from East China's Shandong province with about 300 people on board once lost contact with their families in the sea off Zhejiang province.
Typhoon Muifa is most likely to brush Shanghai and continue moving northward to land in Shandong, rather than making landfall in Zhejiang province or Shanghai as previously expected.

August 6

8:38 pm
Zhoushan Bridge, which includes five bridges that connect Zhoushan city, a city of more than 1,300 islands, and coastal Ningbo city, was closed since 19:30. Winds on the bridge reached nine on the Beaufort scale, 89 to 102 kilometers per hour.
Explosive items or inflammables were prohibited from all the expressways in Ningbo, Zhejiang province, since 18:00.

7:24 pm
Typhoon Muifa is likely to make landfall over China's coastal Shandong Province next Monday, according to the latest forecast of China's National Marine Environmental Forecasting Center Saturday afternoon. 
The center forecasted that Muifa would move northwest at a speed of 15 km per hour.
Also according to the forecast, Muifa would affect waters off Jiangsu, Shandong, Hebei and Liaoning provinces in the coming 36 hours.

6:00 pm
Taiwan lifted the sea warning for Typhoon Muifa Saturday as the storm shifted direction northward.
4:54 pm 
Hangzhou Xiaoshan International Airport in Zhejiang's capital Hangzhou saw the cancellation of 140 flights Saturday. Air China canceled all inbound and outbound flights scheduled Saturday afternoon, said airport staff.
Shanghai railway authorities have established an emergency response plan and stepped up inspection for high-speed railway facilities.
Bullet train services should be suspended if winds reach over 108 km per hour, according to Nanchang Railway Administration.

4:34 pm
Local authorities are now reporting more than 10 fishing boats with about 200 people on board were missing off east China's coast as of Saturday morning. Searches for the missing vessels are ongoing.
Rescue is underway for another 25 fishing boats trapped off the coast of Zhejiang province. Winds of nine on the Beaufort scale, 75 to 88 kilometers per hour, have been reported in the area where the boats are believed to be trapped.

2:45 pm
More than 206,000 residents in the coastal areas of Zhejiang Province have been evacuated since Friday.
A total of 75 flights scheduled to depart from Shanghai on Saturday afternoon were canceled, but no flights had been affected in the morning, according to Shanghai airport authority.

11:54 am
Residents were evacuated and ships were called back to port as Typhoon Muifa is approaching east China's coastal areas.

11:35 am
China's National Marine Environmental Forecasting Center issued a red alert for sea waves on Saturday as the powerful Typhoon Muifa is sweeping across the southeastern part of the East China Sea.

9:25 am
China's National Marine Environmental Forecasting Center issued a red alert for sea waves on Saturday as the powerful Typhoon Muifa is sweeping across the southeastern part of the East China Sea.

August 5

9:50 pm 
The US government has warned Americans living or traveling in East China to "stock up on emergency supplies of food, water, and cash in case of storm-related power outages."

9:32 pm
China's National Marine Environmental Forecasting Center warned Muifa could churn up 11-meter-high waves in the East China Sea and five-meter waves off the coast.

8:40 pm
Shanghai rail authorities will inspect local high-speed rail networks and warned that some services could be halted or delayed depending on the storm's severity, Xinhua reports.

7:40 pm
Lou Maoyuan, deputy chief of the Zhejiang Provincial Meteorological Station says Muifa will probably move further inland after landing, bringing rainfall to more than ten provinces over an area of 1 million square km.

6:40 pm
China Southern Airlines cancelled more than 140 flights to eastern China from Saturday afternoon while Shanghai-based China Eastern Airlines warned of a "severe impact" on services.

5:58 pm
AP reports Zhejiang, Shanghai and Jiangsu have been put on immediate alert, while Tianjin, Hebei, Liaoning and Shandong have been told to stand by, pending updates on the storm's direction.

5:55 pm
The latest picture from NASA's Terra satellite shows typhoon Muifa approaching China.

5:28 pm
Residents in some costal areas have been alerted to prepare for a possible evacuation as Muifa continues to head for the China's coast, Reuters reports. Sea ports in Ningbo and Zhoushan have cut operations as forecasters predicted they will be hit over the weekend.

5:15 pm
Here is the latest computer tracking model from Weather Underground.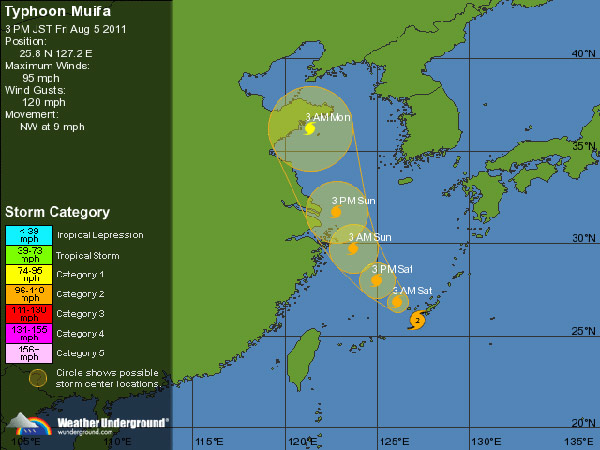 4:45 pm
China Eastern Airlines says flights to and from Shanghai Pudong/Hongqiao, Ningbo, Hangzhou and Wenzhou are expected to be seriously affected over the next few days. Passengers are advised to check their flight status before leaving for the airport.

4:41 pm
China Airlines has canceled two flights from Taipei to Japan's island prefecture of Okinawa Friday due to Muifa.

4:37 pm
China's Ningbo Port, one of the busiest ports in the country, has partially shut operations due to an approaching typhoon, AP reports.
The port, located in the eastern coastal province of Zhejiang, is no longer allowing vessels to berth but is allowing outgoing ships to sail away, a port official said.

4:24 pm
Chinese micro bloggers have given Muifa the nickname "Mei Chaofeng", also known as "Iron Corpse", after a character from Jin Yong's kungfu novel The Legend of the Condor Heroes. Mei means plum, Chao means super and feng means wind. Muifa actually means plum blossom.

4:15 pm
The Taipei Dadaocheng Firework Festival, planned for Saturday to celebrate Chinese Valentine's Day, or Qixi Festival, postponed the show 'indefinitely' due to the typhoon.
4:05 pm
Yao Jianqun, deputy director of Shanghai Meteorological Bureau says Muifa could be the strongest typhoon in the city's history with more destructive power than Matsa in 2005. Four people died and some 15,500 houses were damaged. Economic losses were estimated at 100 million yuan ($15.5 million).
A beach music festival in Shanghai's Jinshan district that had expected to draw tens of thousands has been cancelled and the city's amusement parks are preparing to close rides if necessary.

3:57 pm
Here is the latest tracking map showing the projected path of Muifa from tropicalstormrisk.com.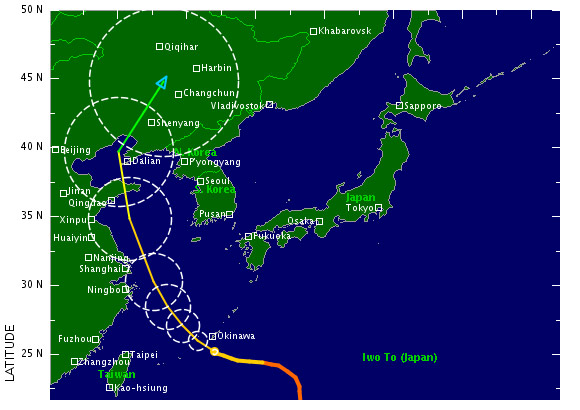 3:37 pm
The typhoon is currently near Japan's Okinawa island with wind gusting at 216 km/h, forcing ports to close, airports to cancel flights and 60,000 homes without electricity with at least a dozen people injured. 

3:29 pm
China's National Marine Environmental Forecasting Center says the East China Sea will see waves of 9 to 12 meters high and waters off Shanghai and Zhejiang will see waves of 3 to 4.5 meters high.
Coastal areas along the Yangtze River's mouth to Fujian will see their water levels increase by 50 to 120 cm.

3:16 pm
Muifa is currently listed as category 2 typhoon with winds of 157 km/h located about 700 km southeast of Ningbo city of East China's Zhejiang province travelling at 13 km per hour.
China's National Marine Environmental Forecasting Center says the storm will start to move over the East China Sea on Friday evening. An orange alert has been issued, the second-highest alert in the four-level high wave warning system.
More than 7,000 fishing boats were called back to port on Friday as six provinces were put on alert with many more preparing for rain storms.