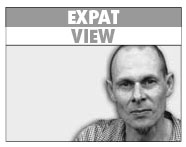 Comfortably insulated in Beijing's expat bubble it would appear China is dealing with the fallout of the world's financial house of cards better than most.
My fellow migrants in the capital largely expect to be employed for the foreseeable future, their wages and relocation packages are intact.
As for the big picture, China's GDP in the first quarter of this year is forecast to be more than 6.8 percent, according to a senior policy advisor on Wednesday.
But the news from overseas and anemic stock markets tells a different story; one of billion dollar bailout packages and finance ministers in crisis meetings.
I have lost money on shares in blue-chip companies, and an Australian firm that owes me is saying it can't pay because of the meltdown. My mother tells me not to bother returning to Britain (and she's not being unkind). It's a mess, she says, banks and house prices are collapsing, unemployment is rocketing and crime is rampant.
Of course, there has also been bad news about the Chinese economy. A 17.5 percent plunge in exports in January, compared with the same period last year, is worrying. A whopping 43.1 percent fall in imports is further cause for concern.
State authorities confirmed last month that 20 million migrant workers have lost their jobs and there are 6 million college graduates about to enter the market.
Factories have closed and there have been reports of "mass incidents" in Guangdong and Zhejiang provinces. As elsewhere, social cohesion is predicated on economic wellbeing.
The malaise started with the sub-prime mortgage crisis in the United States, the world's number one economy. Since it is in the driving seat and heading in the wrong direction there have been crashes. No country has been spared.
Those of us who appear to be in a fortunate position should realize we are in the same boat as everyone else. Even if we are not at the center of the storm, it may be coming our way.
On the plus side there has been action. In the US, Europe and elsewhere there have been initiatives to boost stalling economies with stimulus packages. Here, too, leaders have moved quickly in order to boost consumption, shifting from a "prudent" economic policy to an "active" one.
A spending plan of 4 trillion yuan ($585 billion) has been rolled out to improve agricultural infrastructure, build subsidized housing and boost education and healthcare, among other projects. Further investment is being considered.
Tinkering with the economic software, such as tax on citizens and businesses, while encouraging investment should also help alleviate hardship.
Ahead of the National People's Congress, President Hu Jintao was quoted saying 2009 would be the toughest year of the new millennium because of the financial crisis.
A full-scale depression would undo much of the progress made by the People's Republic of China since it was established 60 years ago, particularly over the past 30 years following the reform and opening-up policy.
It is make or break and even the US seems to be counting on China to keep the global economy going, as Secretary of State Hillary Clinton's visit last month confirmed.
My bet is, since China is the world's workshop and therefore controls the means of production, it is in a relatively strong position. Meanwhile, I will be in my Beijing bubble, hoping it won't burst.
Jules Quartly is a senior copy editor with China Daily
(China Daily 03/06/2009 page7)