HONG KONG -- Asian stock markets rebounded Wednesday as hopes China would expand measures to revive its economy countered growing signs of economic decay in the US and other major countries. European shares also gained.
The upward move followed heavy selling over the last two days and bucked a fifth-straight day of declines on Wall Street.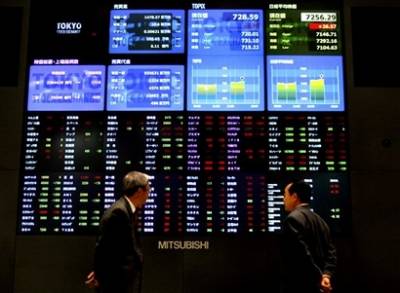 Visitors look at the stock prices on the electronic board at Tokyo Stock Exchange in Tokyo, Japan, March 4, 2009. [Agencies]
Chinese shares led the region's advance, with Shanghai's index jumping more than 6 percent on speculation the country's leaders would unveil new initiatives to bolster the world's third-largest economy, its growth now sputtering, at a legislative meeting that opens Thursday. That gave a boost to other Asian markets, including Japan and Hong Kong.
Also helping sentiment were figures suggesting Chinese manufacturing, while contracting again in February, did so at a slower rate than the previous month. For many investors and analysts, the news signaled the country's downturn may be bottoming out. As one of the few major economies still expanding, China is being closely watched amid hopes its demand and trade can help the region weather the most severe global slowdown in decades.
Optimism over China helped offset more economic gloom elsewhere, this time in Australia, whose economy shrank 0.5 percent in the last quarter of 2008. The contraction, which surprised economists, was the country's first in almost eight years.
Despite the gains, economic and industry data in most countries is still dismal, and analysts were bracing for more selling that could lead Asian benchmarks to test lows reached last year at the height of the credit crisis.
"There are still too many uncertainties," said Peter Lai, investment manager at DBS Vickers in Hong Kong. "The news around the world is still bad and investors are still pessimistic. People are waiting for good news, but no one knows when that's coming."
In Japan, the Nikkei 225 stock average was up 61.24 points, or 0.9 percent, to 7,290.96, while Hong Kong's Hang Seng added 297.27, or 2.5 percent, to 12,331.15. South Korea's Kospi climbed 3.3 percent to 1,059.26.
In the Chinese mainland, Shanghai's index surged 126.68, or 6.1 percent, to 2,198.11. Analysts said reports the government may consider lowering fees collected on stock trading supplied an additional jolt.
Markets in Taiwan, Singapore, and New Zealand also gained. Australia's index shed 1.6 percent.
In early trade in Europe, Britain's FTSE 100 was up 2.4 percent, Germany's DAX gained 2.9 percent and France's CAC-40 added 2.3 percent. US futures pointed to a solidly higher open for Wall Street on Wednesday. Dow futures rose 119, or 1.8 percent, to 6,788 and S&P500 futures gained 14.3, or 2.1 percent, to 704.
Overnight in the US, Wall Street fluctuated throughout the day before closing down after Federal Reserve Chairman Ben Bernanke said economic recovery depends on the government's ability to stabilize weak financial markets.
Investors were also unnerved by figures showing US auto sales plunged 41 percent in February from the previous year, hovering near historic lows.
The Dow fell 37.27, or 0.6 percent, to 6,726.02, its lowest close since April 21, 1997. The index is now down more than 52 percent from its record of 14,164.53 set in October 2007.
Broader stock indicators also fell. The S&P 500 index slid 4.49, or 0.6 percent, to 696.33.
In stocks, Chinese gains spread across most sectors, with resources, properties and banks especially strong. Major state-owned lender, Bank of China, rose 9.4 percent in Shanghai, while Aluminum Corp. of China soared 6.6 percent in Hong Kong.
In Tokyo, material and machinery companies rose on expectations of greater Chinese demand, with Hitachi Construction Machinery Co. up 7.4 percent.
However, Japan's major automakers were hit by selling on last month's sales reading in the US Toyota lost 2.5 percent to 2,985 yen, and Honda fell 3.5 percent to 2,205 yen.
Oil prices rose in Asian trade, with benchmark crude for April delivery up $1.03 to $42.68 a barrel on the New York Mercantile Exchange. The contract added $1.50 to settle at $41.65 overnight.
In currencies, the dollar fell to 99.33 yen compared to 98.43 yen. The euro fell to $1.2513 from $1.2531.