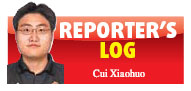 For a young reporter, nothing is more challenging than covering the annual legislative meeting.
I say this for three reasons:
No 1: You suddenly have all of China's problems swarming your mind, and the questions are big enough to drive you crazy.
How should the nation cope with, and recover from, the economic downturn? That is just one conundrum from the grab bag of stumpers surrounding investment, consumer spending, employment, energy prices, stock markets and housing markets.
In addition, there are new, less directly economic questions about food safety, military spending and reforming healthcare, education and social security.
Also, there are questions springing from the past that impact the future, such as those surrounding the 15-year-old Three Gorges Dam project, its impact on residents and the local ecology to date, and climate change in the coming years.
Who could find any sense of peace when mulling over these issues all day long for 13 days straight? You feel overwhelmed by all the good questions you have that it makes them difficult to remember.
No 2: It is not easy to get answers to the questions above.
The meetings have attracted the country's most brilliant minds, but they are cunning - and always running and hiding. State leaders have shortcuts to and from the sessions, of course. Ministers come and go through a special entrance, as do some celebrities. So journalists have to identify and "intercept" them to grab comments.
It is not like the Olympics last summer, in which journalists stayed in a designated "mixed zone". For the sessions, everywhere is a mixed zone. And even if you get interviewees in front of you, they can still be slippery.
On the political advisory meeting's opening day, a woman journalist practically pinned down Beijing Olympics director Zhang Yimou, trying to feed the dynamo, who will produce a National Day gala for China's 60-anniversary this year, to her evening news audience. She got nothing.
Yesterday morning, the National Energy Administration head Zhang Guobao also showcased his acting skills. The 64-year-old, who refused to give even a hint about China's future energy policies, could not help but laugh at himself while pretending to scold journalists who encircled him in a corner.
It is dismaying when you have found the person with the answer, but the answer is: "No comment".
No 3: You have the accreditation for the meeting, but find yourself to be a green hand before such a giant meeting. I, for one, am a good example of this.
As you read this newspaper this morning, China Daily's writers, photographers and multimedia cameramen are already skittering about Tian'anmen Square.
There will be 3,000 legislators, 2,300 political advisors and 3,000 journalists playing a Tom and Jerry game at the Great Hall of the People's east gate.
I just hope you can imagine a little bit of the misery that goes into getting every story in this newspaper or others. We try our best to feed you.