'Shanzhai' or copycat culture, a popular phenomenon which has stirred hot debates in China, is attracting the attention of political advisors who are now in Beijing to attend their annual meetings.
China should pass legislation to eliminate the so-called shanzhai culture, said Ni Ping, a famed television anchorwoman and a member of the Chinese People's Political Consultative Conference (CPPCC) on Tuesday.
Shanzhai, which literally means 'mountain village' in Chinese, is now a popular contemporary Chinese Internet slang referring to copycat or clone culture. As a fast-growing phenomenon, more and more people, especially youth, are jumping on the bandwagon to share and create shanzhai items. One can find a shanzhai version for almost everything, from big brands to movies, songs, and even pop stars.
"While the country is cracking down on the IPR violation, young people are enjoying infringed work online. The shanzhai culture hurts the cultural industry's interest," Ni said, showing her discontent with the phenomenon.
Related readings:


Reflecting on 'Shanzhai' Complex in China's grassroots culture


 Copycat 'Shanzhai' culture takes on life of its own in China


 'Shanzhai': Faking it for money or fun?
Ni planned to submit a proposal, calling for legal means to get rid of the shanzhai culture and support the original cultural concept. "If we don't do something to eliminate shanzhai, we will soon see a country with a sea of similar books, TV programs, movies and dwindling cultural creativity."
The rampant shanzhai culture is poisonous to youngsters' minds, according to Ni. "With easy access to the Internet, they can easily get lost in a world of shanzhai that cultivates distorted judgment. Ultimately, they may develop a low taste," she explained.
Blaming shanzhai items for plagiarism, poor imitation and complete fraud, she said they are actually degrading the intrinsic qualities of China's culture under the banners of grass-root creation and people's wisdom.
Some netizens voiced their support for Ni's proposal. "Shanzhai, to some extent, is stealing,' said a netizen named 'mrj0054' on ynet.com.
"It will thwart the development of original work in the long run. Now is the time for China to emphasize creativity rather than 'borrowing'. A country will never make progress without innovation, " the netizen added.
Some others disagree, arguing that it is unfair to label shanzhai culture as IPR violators, as many of the works are creative, such as the 'Shanzhai Olympic Torch Relay' held by villagers from Hui County, Henan Province last July.
An anonymous netizen from ynet.com said the villagers' move is really touching and brilliant. The shanzhai version of the Dream of the Red Chamber, directed and performed by a family from Luzhou in Southwest China's Sichuan Province, is not only funny but also contains new interpretations of the classic novel, he said, adding China needs a law to recognize and protect the creative shanzhai culture.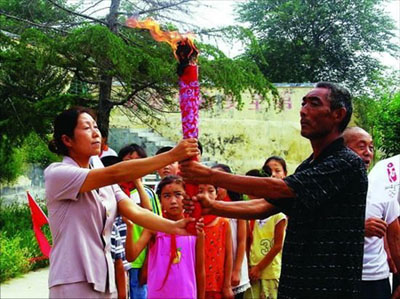 The Shanzhai Olympic Torch Relay is held by villagers from Hui County, Henan Province last July. [cnwest.com]
Han Han, a writer born in the 1980's, said it is more reasonable to define the meaning of shanzhai before legislation. "Shanzhai, as a grass-roots culture, is different from pirating. The former is for fun and the latter is for profit. If it doesn't hurt anyone, I'm okay with it," he said.
"But if the work violates the rights, leave it to the court," Han added.
Writer Jiang Fangzhou also shows tolerance. "Not all shanzhai items are bad. The Shanzhai Spring Festival Gala adds flavor and color to our lives. Having fun, rather than cloning, is the core of shanzhai."
The Shanzhai Spring Festival Gala sprang up before the 2008 Chinese Lunar New Year, attracting people for its variety, when the traditional CCTV program became less and less appealing to audiences.
"Despite its coarse techniques and operation, the shanzhai gala meets the psychological demands of some people and could be a comfort to their minds," said Xie Xizhang, a literature critic.
Shanzhai "represents non-mainstream ideas and innovations, and it's also a new way for common people to express what they want," said Li Zonggui, a professor at Sun Yat-Sen University in South China's Guangdong Province.