The consumer inflation in China eased in May, official statistics showed on Thursday, reducing the pressure for harsher monetary tightening.
The consumer price index (CPI) grew 7.7 percent last month over a year earlier, the National Bureau of Statistics (NBS) said in a statement on its website, 0.8 percentage points lower than the decade-high growth of 8.5 percent in April.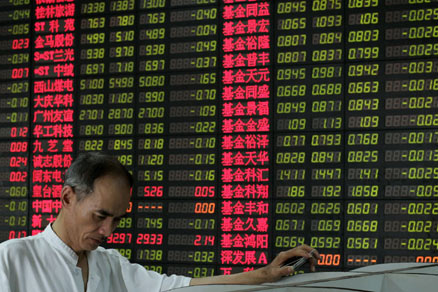 A man stands in front of an electronic board at a brokerage house in Shanghai June 12, 2008. China's main stock index tumbled below chart support on Thursday to a new 14-month low, hit by worries about high inflation and tightening monetary policy, large supplies of fresh equity, and weak global markets. [Agencies]
While in line with economists' expectations, the figure is far higher than the official target of 4.8 percent for 2008, thus re-igniting stock investors' worries over a fresh round of monetary tightening.
They went into panic selling, pushing the benchmark Shanghai Composite Index down by as much as 4.10 percent to 2,900.12 points, the lowest level in more than a year. Bargin-hunters then returned to help the index regain part of the losses to end the session at 2,957.53 points, 2.21 percent lower than the previous close.
That marked a loss of 11.17 percent in three sessions after the central bank hiked commercial banks' reserve ratio by 100 basis points to a record 17.5 percent during the weekend. It was the 15th increase in the percentage of deposits commercial banks must park with the central bank as reserves.
Food prices, which account for one third of China's CPI, continued to be the key driver of the headline inflation, jumping 19.9 percent, according to the NBS. Non-food items rose 1.7 percent.
Among food items, meat prices surged 37.8 percent, with that of pork, a staple meat for the Chinese, rising 48 percent, while cooking oil price went up 41.4 percent.
In spite of the hefty rise, food prices showed signs of moderating as they rose 22.1 percent year-on-year in April.
Analysts expect the consumer inflation to continue the downward trend in the coming months. However, a spike in the wholesale inflation last month suggested the fight against inflation will remain an arduous task.
The producer price index (PPI) accelerated to a three-year high of 8.2 percent in May on soaring energy prices, the NBS said on Wednesday. The PPI, which measures factory-gate prices, is believed to be a key leading indicator for the CPI and may lead to a rebound in consumer inflation.