Now that the rescue operation following last month's devastating earthquake has ended, the focus has shifted to reconstruction, of an area about the size of Greece or Iceland.

Quake survivors return to their home in Leigu Town of Beichuan County, Southwest China's Sichuan Province, May 24, 2008.  [Xinhua]
City planners are rushing to make blueprints for community reconstruction while the resources necessary in the massive task, from financial to personnel, are being tapped nationwide to rehabilitate the victims, whose number could exceed Canada's population.
Among the roughly 30 million people affected by the quake, 5 million have lost their homes and are in immediate need of relocation. Direct losses from the quake could amount to 200 billion yuan while indirect losses are still incalculable. Apart from the loss of lives and properties, a good number of public infrastructure such as railways, highways, bridges, power network, communication facilities and water conservancy works have been damaged or even destroyed. It may take months to repair them as recovery efforts have been frequently disrupted by mudslides.
Experts say the reconstruction will require a colossal amount of money. So far, the government has provided 70 billion yuan; the banking regulators have allowed an extra lending quota of about 100 billion yuan for the affected regions; more than 32 billion yuan of donations had been pledged as of last Tuesday; and the Sichuan provincial government is expected to invest heavily in the reconstruction projects.
The total amount that will go into rebuilding the disaster zone could be well above those figures put together since the reconstruction process may last many years. Tangshan, which was hit by an earthquake of 7.8 magnitude in 1976 killing 240,000 people in Hebei province, took 10 years to be completely rebuilt.
The country's sound fiscal condition will ensure adequate funding for the reconstruction, says He Fan, an economist with the Chinese Academy of Social Sciences (CASS).
Fiscal revenues amounted to 5.13 trillion yuan last year, up more than 30 percent year-on-year. Revenues are expected to increase to more than 6.4 trillion year this year, says Liu Yuanchun, economist and head of the School of Economics at the Renmin University of China. "Therefore the funding demand can be met by adjusting the government expenditure structure and using private donations."
"In the worst-case scenario (in the event of fiscal difficulties), China can use financial instruments such as a 30-year special quake treasury to pool money," says He from CASS. "In this way, it can spread out the fiscal pressure."
Agrees Li Xiaoxi, a senior economist with the Beijing Normal University, who says the government can also design policies to woo private investors to participate in the reconstruction.
Li Ke, a professor with the business school of Japan's Nihon University, says although government-led efforts are important, the market should be fully utilized. Although the local economy of Sichuan is comparatively underdeveloped compared with major economic belts such as the Yangtze River Delta, it has its own competitive edge, such as its tourism, thanks to its beautiful natural scenery. Both Dujiangyan and Wolong, severely damaged in the quake, are famous tourist destinations.
"The BOT (buy-operate-transfer) model could be explored in reconstruction in those regions," Li says. Under the BOT model, private developers are contracted to finance the cost of the reconstruction in exchange for which they are allowed to operate local tourism resources for a set period of time, say 10 years, before transferring them to the local government. In this way, the local infrastructure could be restored and jobs created while bridging the funding gap, if any, Li adds.
Minister of Civil Affairs Li Xueju has reportedly said his ministry is planning to launch a relief lottery nationwide to pool money for quake-hit regions.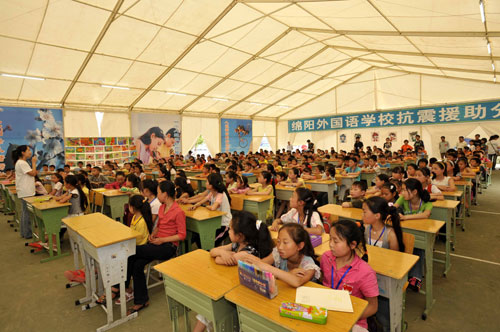 Pupils have a class in their camp classroom in Jiuzhou Stadium in Mianyang City of Sichuan Province May 23, 2008. Nearly 1,000 students from the neighboring quake-affected areas have resumed classes in the temporary camp school. [Xinhua]
The process begins
The central authorities have mobilized 20 provinces to pledge to help Sichuan build 1 million temporary houses within three months. Each house, according to the initial plan, will cover 20 sq m. By the end of June, the first batch of 250,000 such temporary houses will be provided to the quake victims. Primary and middle schools, clinics, stores, rubbish collection and water supply facilities will also be established alongside these houses.
But there are issues of bigger and longer-term significance that need to be worked out, experts say. To begin with, a comprehensive plan of reconstruction in the coming years, not months, must be mapped out and the key goals specified. A unified high-profile agency in total charge of planning and reconstruction must be put in place to avoid policy conflicts between departments.
Lessons should also be learnt from post-quake reconstruction in other countries, says Hu Angang, director of the Center for China Studies co-sponsored by the Chinese Academy of Sciences and the Tsinghua University. "International experts can be invited as advisers, who can participate in discussions and the policy consultation process for the reconstruction."
Some international organizations such as the World Bank have shown keen interest in providing their expertise in this hour of need. "We can help the local and central governments analyze the destruction and set the priorities for rebuilding," David Dollar, World Bank's country director for China, has said. "We can offer the government technical assistance. We can very quickly mobilize international experts to work with their Chinese counterparts in assessing the damage."
Reconstruction planning should be phase-based and have concrete goals, says Hu. The first phase could cover the first year of reconstruction and target the basic necessities of the victims, such as food supply, temporary housing and jobs. The second phase could cover reconstruction in the next three or five years. Ultimately, the planning should chart reconstruction in the coming decade.
Sichuan has reportedly drafted a reconstruction plan, which includes recovery of urban and rural facilities, industrial and services sectors, and geological and environmental disaster management.
If again?
A major concern in the reconstruction policymaking is the possibility of recurrence of earthquakes in the coming years. Experts say studying the local geological conditions must be given the priority in choosing the reconstruction sites.
The quake-hit regions are in the ring of fire caused by the collision of the Pacific Plate and the Indian Ocean Plate. The last major earthquake of 7.5 magnitude occurred 55 years ago in these regions. So another major earthquake within five or six decades in the same place can't be ruled out. The reconstruction, therefore, must be undertaken away from steep mountains (to avoid post-quake mudslides) and in relatively open places, says Li Kaifa, a Beijing-based urban planning expert.
Entire Beichuan, one of the worst hit counties in Sichuan, is expected to be moved to a new place. But experts are divided on how to deal with other counties and towns similarly affected and located in the seismic hot spots. Even if those counties and towns remain in their old location, their buildings will have to be made quake resistant, they say. For facilities such as schools, the standards must be set even higher than ordinary buildings.