Visiting Kuomintang (KMT) Chairman Wu Poh-hsiung on Friday vowed to go all out to achieve peace and stability across the Taiwan Straits.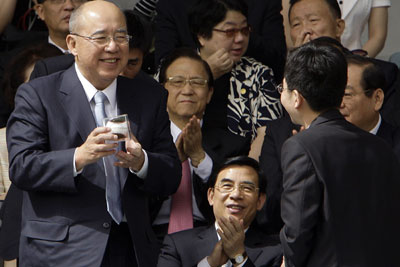 Wu Poh-Hsiung (L), Kuomintang Chairman Wu Poh-hsiung, accepts a baseball as a gift while visiting the Beijing Olympic Games baseball stadium May 28, 2008. [Agencies]
"It has been the mainstream idea within the KMT that the two sides across the Straits can develop peacefully, avoid war and create a win-win situation," Wu said.
"As KMT chairman, I will take responsibility for peace and stability across the Straits," he said.
Related readings:


Hu urges restart of cross-Straits talks


CPC-KMT inter-party forum undecided


Cross-Straits talks begin next month


Kuomintang Chairman visits Shanghai
Wu was speaking to media on Friday night, the penultimate day of his six-day visit to the mainland.
Talking about his trip, which he had earlier described as "fully satisfactory", Wu thanked the mainland for the kindness it had shown him and gave special mention to Hu Jintao, general secretary of the Communist Party of China (CPC) Central Committee.
"Hu is farsighted (in regard to his policies on Taiwan)," he said.
On Wednesday, Hu told Wu that any problem could be discussed under the pretext of having mutual standing and under "the 1992 Consensus". Hu also pledged to resume regular institutionalized cross-Straits talks as soon as possible.
On his first visit to the mainland as chairman of the KMT, Wu was seeking to consolidate agreements reached by the two sides in previous talks and to push forward cross-Straits economic communication as pledged by KMT's Ma Ying-jeou, who was recently sworn in as leader of the island.
The most urgent issues to be discussed include weekend charter flights and the opening up of Taiwan to more mainland tourists, Wu said.
Exchanges between the KMT and the CPC will continue to play an important role in building relations across the Taiwan Straits, he said.
The platform between the two is vital to peaceful development and will not collide with talks between the mainland-based Association for Relations Across the Taiwan Straits and the Taiwan-based Straits Exchange Foundation, Wu said.
"The two channels are like the two legs of one person, and can benefit each other."
He said the platform has played a stabilizing role and helped the sides avoid deadlocks when relations were at their lowest point.