CAPE CANAVERAL, THE UNITED STATES -- US space shuttle Discovery, with seven astronauts aboard, soared into space at 5:02 pm EDT (2102 GMT) on Saturday as scheduled from its seaside launch pad at the Kennedy Space Center in Florida.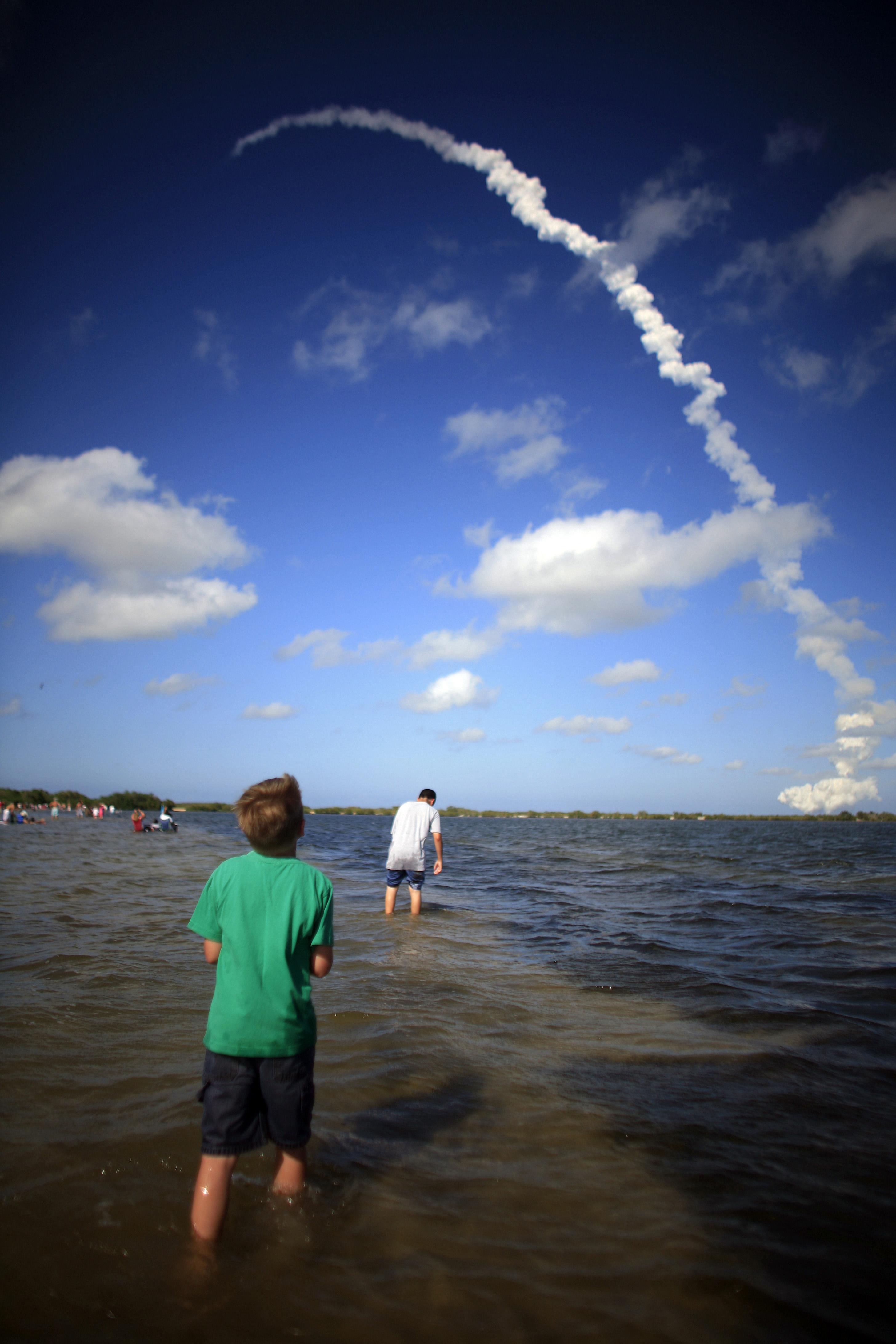 Spectators watch from Titusville, Florida as the space shuttle Discovery launches from pad 39A at the Kennedy Space Center in Cape Canaveral, Florida May 31, 2008. [Agencies]
"Best of luck to the International Space Station's newest laboratory!" NASA launch commentator Allard Beutel broadcasted.
The afternoon weather in this Atlantic coastal area cooperated fairly with clear skies and a comfortable breeze.
Several minutes after the liftoff, controllers confirmed a good solid rocket booster separation and external fuel tank separation." It's a flawless ascent," said the ground control center. Discovery is "in its preliminary orbit," and it will chase the space station during the next two days.
At the post-launch, NASA administrator described the launch day as a "huge day," with everything going extremely smoothly.
Led by Commander Mark Kelly, the six-man, one-woman Discovery crew includes Akihiko Hoshide, who represents the Japan Aerospace Exploration Agency (JAXA).
The main goal of Discovery's STS-124 mission is to deliver the main part -- Pressurized Module -- of JAXA's Kibo (which means "hope" in Japanese) laboratory to the station.
This is the second of three flights that will launch components to complete Kibo, which is Japan's primary contribution to the ISS program.
The Pressurized Module of Kibo is 37 feet long and 14.4 feet in diameter, about the size of a large tour bus. It will be the biggest room once installed at the orbital outpost.
After linkup with the ISS, the shuttle and station crew will install Kibo science module to the left side of the Harmony connecting node, opposite to the European Columbus science lab that was installed in February.
They will also assemble Kibo's remote manipulator system, which consists of two robotic arms that supports operations outside of Kibo.