BEIJING -- Wang Yali is busy packing her groceries at a supermarket as usual. However, something is different today: she doesn't put her goods into plastic shopping bags, but stuffed them all into her own bag.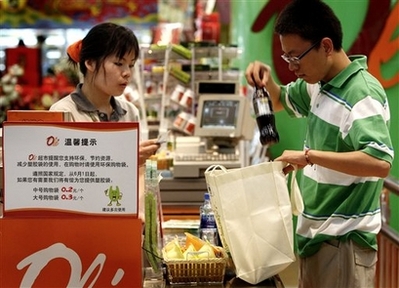 With a notice board on the left reads 'Starting from June 1, all plastic bags will be charged', a Chinese man uses his own bag to put his grocery at a supermarket in Beijing Sunday, June 1, 2008.  [Agencies]
From Sunday on, all Chinese retailers, including supermarkets, department stores and grocery stores, would no longer provide free plastic shopping bags. China will try to reduce the use of plastic bags in a bid to reduce energy consumption and polluting emissions.
"It doesn't matter how much the plastic shopping bag costs. What matters is our sense for environmental protection," Wang said.
"Customers are encouraged to carry their own bags," an official with the Ministry of Commerce, Men Xiaowei, said in an on-line interview earlier. "It is a 'habit revolution'. To limit the use of plastic bags is to protect our environment."
Chinese have enjoyed free plastic shopping bags for more than a decade. Those shopping bags used to bring lots of conveniences to Chinese shoppers. However, they also caused heavy burden to the environment.
According to an estimation of the National Development and Reform Commission, the country's top economic planner, every two people would consume at least one plastic bag one day. At least 1,300 tons of oil must be consumed every day to produce plastic shopping bags for supermarkets alone.
In addition, China has banned ultra-thin plastic bags, or those thinner than 0.025 millimeters.
"Plastic bags are difficult to be degraded," Men said. "The plastic waste accounted for more than 3 to 5 percent of the daily waste, most of which came from plastic bags."
Retailers have begun to charge fees, ranging from 0.2 yuan for small sized plastic bags to more than 10 yuan for fabric ones, for the shopping bags.