More teenagers are becoming addicted to tobacco, the 2008 China Tobacco Control Report said.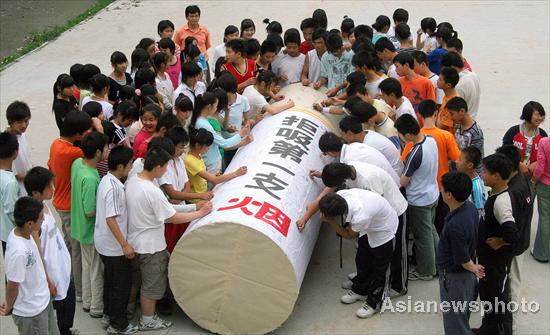 Middle school students in Huaibei, Anhui Province, make a huge cigarette printed with the words "refuse to try your first cigarette", May 31,2008. More than 700 students signed on it, pledging to abstain from smoking. [Asianewsphoto]
About 40 million of the country's 130 million children between 13 and 18 have tried smoking, and 15 million of them have become addicted.
Nearly 68 percent of them have had their first whole cigarette before they had reached 13, with those in big cities doing so at an even tenderer age, said the report, released on World No Tobacco Day on Saturday and themed "Tobacco-free Youth" this year.
The rate of addiction among girls is much higher than what it was among their mothers, said Sarah England, an official with WHO China office.
Yang Gonghuan, deputy director of Chinese Center for Disease Control and Prevention, blames tobacco advertisements and promotion for the rising rate of tobacco addiction. Tobacco companies target youths by falsely associating tobacco use with glamour, energy and sex appeal.
And Yang said smoking scenes in films and TV programs, and parents and teachers who smoke have a strong impact on youths as well.
Easy access to tobacco products is also to blame. The three top selling cigarettes in the country are priced under 5 yuan ($72 cents), the report says. The huge number of low-priced cigarettes somewhat facilitates smoking among youths.
In addition, more than 90 percent of the young smokers have never encountered a shopkeeper's "no" despite the ban on selling tobacco to children under 18.
To break the tobacco marketing chain and better protect the youths, the World Health Organization has urged China to totally ban tobacco advertising, promotion and sponsorship.
Laws and regulations have already been enacted to save youths from tobacco addiction, Yang said. The government has taken every possible step to make the Beijing Olympic Games smoke-free, she said. "And its efforts won't stop with the end of the Games."
But Zhang Baozhen, deputy director of the State Tobacco Monopoly Administration has a different view. As a developing country, China still needs the tobacco industry, because it is one of the main sources of tax, he said during last year's sessions of the National People's Congress and Chinese People's Political Consultative Conference.
"Smoking harms health but a curb on smoking would upset social stability," he said.
That, however, is not the whole truth, said Yang. "Even highly effective smoking control won't reduce the number of Chinese smokers substantially because of the steady increase in the country's population."
"So it won't affect the country's tobacco industry in the next 20 to 30 years when the smoking population would remain around 300 million."
"That is a long enough time for tobacco firms to shift to new ventures and help sustain the country's tax earnings," she said, and suggested that government functions be separated from tobacco business management.