BEIJING - More details of the long-anticipated China telecoms industry reshuffle were revealed on Monday as China Unicom, the country's second largest mobile service provider, said it would acquire fixed-line operator China Netcom Group Corp. with a share swap deal.
The deal was valued at 439.17 billion Hong Kong dollars (US$ 56.34 billion), based on Monday's closing price of China Unicom at 18.48 Hong Kong dollars per share.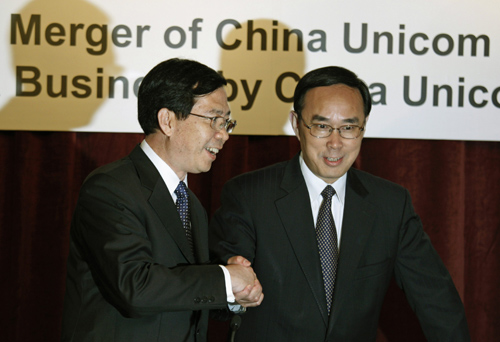 China Unicom Chairman & CEO Chang Xiaobing (R) shakes hands with his China Netcom counterpart Zuo Xunsheng during a news conference announcing the merger of the two Chinese telecom companies in Hong Kong June 2, 2008. [Agencies]
China Unicom said in a statement that each China Netcom share would be valued at 1.508 new China Unicom shares, while each American Depository Share of China Netcom would be valued at 3.016 American Depository shares of new China Unicom.
The merger is expected to introduce more competition into the telecoms industry, as part of the overhaul planned by the State-owned Assets Supervision and Administration Commission of the State Council and the Ministry of Industry and Information.
China Unicom also announced it signed a deal on Monday with China Telecom, the country's largest fixed-line operator, to sell its code-division multiple access (CDMA) operations and network for 100 billion yuan (US$ 14.49 billion).
The new China Unicom, by incorporating China Netcom, would focus on its global system for mobile communications (GSM). China Unicom originally operated both mobile networks.
China Unicom said following the CDMA sale, the company would be able to concentrate on development of its GSM technologies for the third-generation high-speed wireless services (3G).
China Mobile Communications Corp. (CMCC), the first to reveal the broader plan for the whole industry, released on May 23 plans for its acquisition of fixed-line operator China Tietong Telecommunications Corp. (China Tietong).
Analysts believe that the five state-owned companies in the telecom sector, namely China Mobile, China Telecom, China Unicom, China Netcom and China Tietong, will be restructured into three groups, each able to provide both mobile and fixed-line services.
They had also expected the restructuring to give impetus to the country's preparation for the long-awaited 3G technologies, which require huge investment.