Hanwang -- Health authorities vowed Monday to push ahead with measures to ensure the health of victims and prevent any outbreak of disease following last month's deadly earthquake in Sichuan Province.
Water and food safety, proper hygiene at shelters, and the disposal of dead bodies and garbage are top priorities, the Health Ministry said.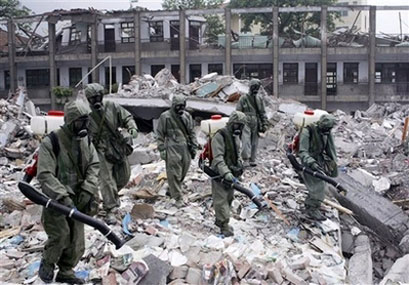 Soldiers disinfect the debris of the collapsed Beichuan Middle School in Beichuan County, southwest of China's Sichuan province, May 24, 2008. [Agencies]
"If we can do those four things properly, we have the confidence to guarantee there will be no epidemics after the disaster," ministry spokesman Mao Qun'an said in an online interview on the central government's website www.gov.cn. He said there was no evidence of contagious diseases among the 5 million homeless in the quake zone.
Bodies discovered in the rubble were being "scientifically handled" and would not contaminate water sources, Mao added. 

Any bodies that could not be cremated were being buried far from natural water sources, and more than 10,000 injured people had been transferred to hospitals outside Sichuan for treatment, he said.
The 8-magnitude earthquake on May 12 has killed 69,107 people, with another 18,627 people are still missing.
As of Saturday, hospitals in major cities had treated 89,818 quake survivors, of whom 59,877 have been discharged, latest official statistics have showed.
More than 16,000 epidemic control experts are working on the ground to guard against major epidemic outbreaks, Mao said.
The authorities in Sichuan have also stocked up vaccines for diseases such as rabies, anthrax, measles, and hemorrhagic fever, and are ready for mass inoculation when necessary.
Move to Drain Quake Lake
Rescue workers are not likely to start draining out water from a major quake lake near Beichuan county in Sichuan province till Thursday, two days later than originally planned, Xinhua reported Monday.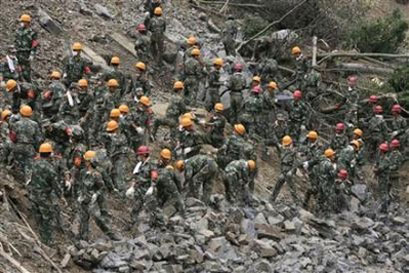 Soldiers work to reinforce the bank of the Tangjiashan lake in the quake-hit Beichuan county, Sichuan province May 30, 2008. [Agencies]
Water needs to be drained out of Tangjiashan lake to prevent it from bursting its banks and destroying life and property in the quake-ravaged areas downstream.
The water level in the lake rose 1.2 m in the 24 hours till noon Monday. But experts said the rise in water level will slow down because not much rain is likely in the next few days.
The National Meteorological Center (NMC) Monday forecast cloudy skies and/or light showers for the quake-hit areas till tomorrow. But moderate rain is likely to hit the region later in the week.
Heavy rain will increase the risk of the quake-formed lakes bursting their banks and flooding human settlements downstream.
Tangjiashan lake is the most dangerous of the 34 such lakes formed when post-quake landslides dammed the rivers on the mountains.
Meanwhile, more than 700 People's Liberation Army soldiers completed a water diversion project, digging a 475-m channel from the Tangjiashan lake dam on Saturday night, five days ahead of schedule.
According to the disaster relief headquarters in Mianyang, a major city downstream, 210,000 people have been evacuated to save them from being swept away in a possible flash flood.
Reconstruction Plan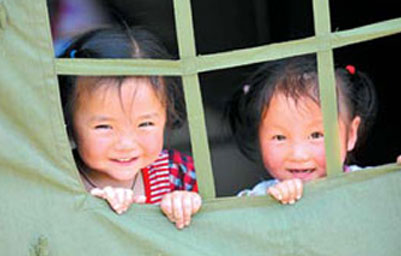 Wang Qiqi (left) and Wang Qian peep through the window of their tent at a resettlement zone in the town of Zhuyuan in Sichuan, June 2, 2008. More than 800 survivors are being housed in 90 tents at the site, which also provides them with food and water. [China Daily]
A reconstruction committee under the National Development and Reform Committee, the country's top economic planning body, has agreed on a list of tasks and a general schedule for completion, the NDRC said in a news release issued Monday. It gave no details and did not say when the list was agreed.
Committee members have dedicated themselves to a reconstruction plan that is "of high quality, that will stand the test of time, allow victims to rebuild their homesteads, and create a solid foundation and conditions for wider scale reconstruction," the news release said.
Authorities have rushed to construct tent camps and prefabricated housing for the millions of homeless ahead of the summer rainy season and the expected hordes of disease-bearing mosquitoes.
Government Response Praised
Elsewhere in the quake zone, Hossam Elsharkawi, head of support operations for the International Federation of Red Cross and Red Crescent Societies, said his organization was preparing to bring in two large water purification units that will provide clean water to 15,000 people each.
"The government is doing an excellent job in urban areas, but it's taking time in places like this because it is so dispersed," said Elsharkawi, speaking in the village of Jiulong village, just north of the provincial capital of Chengdu.
Elsharkawi said the federation expected to be helping with relief work in Sichuan for three years and would ship in 100,000 tents by the end of June.
While describing the scale of the disaster as "massive," Elsharkawi praised the government's rapidly moving recovery effort and mobilization of aid.
"They can teach the world a thing or two on responding to such large-scale disasters," he said.